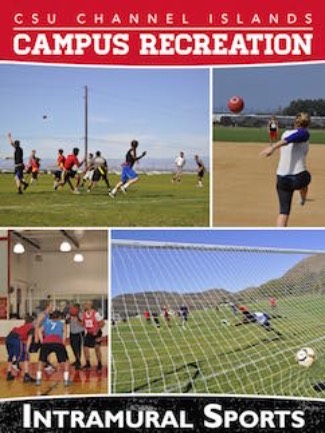 Get Involved!
Step 1: All participants must first do this
All participants in Leagues and designated competitions must complete the Membership and Passes information each academic year prior to utilizing Campus Recreation facilities.
* Instructions for creating an individual registration.
Step 2: How to create or Join an existing team
* Instructions for creating a team or to join an existing team.
Select an activity for registration information. Please make sure to follow steps 1 and 2 above.
Fall Activities
Day(s) of Play
Mandatory Captain's Meeting
Flag Football
Saturday
Thursday, September 13 from 5:00 p.m. - 5:30 p.m. in Student Union Building 1080
Indoor Soccer
Friday

Thursday, October 18 from 5:00 p.m. - 5:30 p.m. in Arroyo Hall 

Friday

Thursday, October 18 from 5:00 p.m. - 5:30 p.m. in Arroyo Hall 

Ping-Pong Ladder

TBD

Thursday, October 11 from 6:00 p.m. - 6:30 p.m. on the Recreation Center front steps 

 

Wednesday

No Captain's Meeting - Teams show up 30 minutes early to event day of. 

Wednesday, October 17 from 6:00 p.m. - 9:00 p.m.
Intramural Sports Program
The Intramural Sports Program provides current CI students with an opportunity to participate in organized sporting events, take part in various leisure activities and eventually gain access to the competitive sports club arena with one the finest and fastest growing sports club programs in the CSU system. This participation is governed only by the students' time and interest. In addition to providing activities, equipment and facilities for students, the program also provides the same amenities for faculty and staff members who have obtained Memberships. Ability is not important; all a person needs is an interest in the activity and the desire to have fun participating.
Consistent with the aims and goals of the Division of Student Affairs & Academic Affairs, our Intramural Sports Program will:
Enhance campus global awareness and complement the international perspective of the campus and local community.
Coordinate activities that enhance campus awareness of interdisciplinary and integrative studies and their importance to the life of the campus and local community.
Encourage the campus community to focus on how diverse communities build sustaining cultures that model alternatives to prejudice and how individuals create and maintain authority and integrity in atmospheres of discrimination.
Promote civic engagement and service-learning initiatives in the local and global communities for a mutual, positive benefit.
Remain centralized around the values of sportsmanship and fair play and an all-inclusive environment.
Intramural Sports Aims
Provide a wide variety of easily accessible extracurricular activities aimed to help a diverse student body relieve stress and have fun in a safe, healthy way.
Organize and structure competitive sporting activities for a diverse student body that are consistent with the standards and expectations of the national governing body presiding over such activity.
Provide a sustainable intramural sports program focused on increasing student leadership, collaboration, fair play and volunteerism.
Organize and structure recreational sporting activities for a diverse student body that aim to promote fun, fair play and an overall inclusive campus culture.
Organize awards and recognition events for participants to celebrate their unique abilities and accomplishments with their teammates and peers.
Offer skill development workshops and clinics in collaboration with various sport clubs and local sports officials associations to assist students in developing a thorough understanding of a particular activity.
Contact Information
If you have any questions, comments or suggestions regarding our Intramural Sports Program please email or call at: campusrecreation@csuci.edu or 805-437-8902
To view Adobe PDF documents, please download and install the free Adobe Reader.