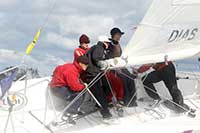 Channel Islands' First All American Austin Dias
Camarillo, CA. Austin Dias, a native of San Diego, California and recent 2009 graduate from California State University Channel Islands, was selected by the Inter-Collegiate Sailing Association (ICSA) of North America as an All American. He was inducted into the Hall of Fame on June 3, 2009 in San Francisco, California for the James Rousmaniere Award for Student Leadership.
The award is presented annually, recognizing extraordinary leadership and achievement by an undergraduate whose efforts have made a significant contribution to the development, progress, and success of his team, conference, or the ICSA. The individual that demonstrates leadership over a period of years, rather than a single year, received the most serious consideration and Dias has gone above and beyond to exemplify student leadership as he is the founder of CSUCI Sailing. The President of College Sailing wrote, "Your hard work and energy in building a sustainable and successful program at CSUCI is inspiring."      In the spring of 2006 Dias started working on developing the first sport at California State University Channel Islands (CSUCI), Sailing. Over the past three years the Team would have to deal with a variety of issues from insurance to funding and then finally competing. Dias spent the first year mainly engaged in paperwork and numerous meetings with faculty and staff to gain funding and support for the sailing team.  Throughout endless hours of dedication, Dias developed the first intercollegiate sports team for CSUCI all the while obtaining a 3.1 GPA and double majoring in Business with an emphasis in Entrepreneurship and in Political Science.    The list of Dias lead success spans from competition to fundraising. Purchased three brand new boats and one used boat, a brand new enclosed trailer, and fundraising of over $45,000 in the first year of the team's existence. Here are some highlighted results (Dias was the skipper in each of these events):
2007 CSUCI Sailing Keelboat Team was in the top three teams of the Southern Conference and qualified for the Pacific Conference Championships for Keelboats
2008 CSUCI Sailing Dinghy Team 5th out of 20 boats at UCLA hosted race
2009 CSUCI Sailing Dinghy Team 5th out of 19 boats at UCSB hosted race
2009 CSUCI Sailing Offshore Team Tied for 2nd at the Harbor Cup Regatta (National Event)
2009 CSUCI Sailing Dinghy Team qualifies for the Pacific Coast Championship for the first time
He has also worked to revived youth sailing in Ventura County. Dias helped get summer youth programs flowing and for CSUCI sailors to teach them so that we were developing their skills as sailors while growing sailing in the surrounding communities. Local high school sailing programs in the area have been developed due to Dias's leadership and enthusiasm at the university and in the community. In 2006 there were three FJs between the two harbors of Channel Islands and Ventura (which have five yacht clubs) and now in 2009 there are now at least 17 FJs all directly due to CSUCI Sailing and Dias's influence and encouragement.