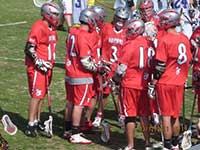 Tyler Larson #3
Member of the CI Lacrosse Club named to All-Conference 2nd Team Junior Tyler Larson led the Channel Islands Lacrosse team with 25 goals and nine assists in the 2011 season, earning him All-Conference Second Team honors in the Southwestern Lacrosse Conference (SLC).
A founding member of the Lacrosse Club, Tyler served as Club President this year and was instrumental in player recruitment and development initiatives, the recruitment and selection of a volunteer coach, and effectively serving the players and the University as the official CI representative of the SLC.
Tyler played four years of Varsity lacrosse for El Toro High School, which won the state championship in 2006 and made it to the CIF final game in 2007. In high school Tyler was the senior captain for lacrosse and was mainly a support player and did not start every game.
Tyler has been put in the leadership role here at CI since the beginning on and off the field which has been a big challenge. "My first two years playing college ball were difficult in some ways, it was a big transition from playing with experienced players in my high school years, but as the team got better with each coming year, so did I. After only scoring 7 goals and 5 assists in our first year in the MCLA, quite a disappointment for me, I was able to improve my numbers greatly this past year, earning me the honors of SLC All Conference."
Last season Tyler scored 30 goals and had 9 assists, and was leading scorer for the team. Tyler dedicates his accomplishments to the support and dedication of the rest of the team. He is dedicated to the team, and the team showed its dedication back to him. "I am grateful for the recognition, I felt as though my hard work both toward myself and my teammates had paid off, and I gave a reason for my school to be proud of the lacrosse program."
Congratulations to Tyler, for his accomplishments both on and off the field.