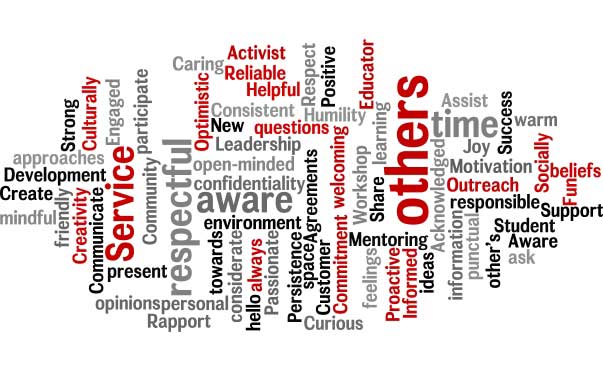 "We are very pleased with the work the CSUCI STEM Corps students are doing with our community. We have seen a positive impact on student learning and motivation which especially critical in this time of distance learning." .

Rebecca Kruse, Special Projects Coordinator at University Preparation

I am proud of being able to enhance the education of other students during this pandemic. Many students and teachers struggle to adapt to online learning but being able to help others who have had a harder time adjusting has been fulfilling. I am proud of creating safe spaces for students who feel scared and nervous about their education and online learning.

Yareli Moreno, CSUCI STEM Corps member & Biology Major
CSUCI STEM Corps Program
Center for Community Engagement in collaboration with the Math & Science Teacher Initiative launches the CSUCI STEM Corps program! To lessen the loss of learning that may happen due to COVID-19 and the pivot to virtual learning, CSUCI STEM Corps aims to add extra STEM and academic support to elementary school-aged children by having university students act as tutors/mentors in a virtual setting. STEM Corps members will provide one-on-one virtual learning support and enrichment activities focused on advancing K-12 student learning in 30-minute increments.
Who are our Partners?
The CSUCI STEM program will be providing tutoring/mentoring services at University Preparation School and Cabrillo Economic Development's housing communities - Meta Street Apartments and Villa Cesar Chavez.
Program Goals:
build and support a network of community-committed students from CSUCI in their academic, civic, and professional development while increasing their community involvement in meaningful ways;
foster connections between the University, its students, and the community; and,
provide pathways for CSUCI students entering graduate school or the workforce.
Applicant Criteria:
be a current CSUCI undergraduate student
be majoring in Science, Technology, Engineering and/or Mathematics
commit to working 10 hours per week in the fall and spring semesters
available to tutor between the hours of 3:00PM-7:00PM
make a one-year commitment
familiarity with Zoom
enjoy working with children and comfortable tutoring in K-12 subjects
bilingual, Spanish-speaking is a plus as is previous experience tutoring, mentoring or working with K-12.
Please send your cover letter and resume to pilar.pacheco@csuci.edu

This program is made possible with funding from the Strategic Resource Planning Committee and the Math and Science Teacher Initiative program.
Meet Our 2020-21 STEM Corps Members
Amanda Fierro

Amanda Fierro is an Economics major at CI and was interested in this position because it is great way for her to gain teaching skills. Amanda wants to apply to a teaching abroad program after graduation and being a CSUCI STEM Corps member is a great way for gain the tools available to continue education through online learning. She loves music and going to concerts. Her favorite color is sunshine yellow, she loves tie dye shirts, and her favorite Netflix show is The Office. Amanda's goals for this year to gain more communication skills and strive for excellence in her classes so that she graduates in spring 2021.

Evelyn Garcia

Evelyn Michelle Garcia is double majoring in Anthropology and Biology. Evelyn is interested in being a CSUCI STEM Corps member because she believes that students need all the help they can get in any situation, and learning the STEM field is always something that becomes an adventure. Especially in times like this, she sees that having any form of help in any class would benefit the students' learning. It will also help her to go over the basic math concepts as they are still important regardless of age and years of schooling. Evelyn hopes to impart that knowledge to the students.

Sofia Gutierrez

Sofia Gutierrez is from Port Hueneme, California and went to Hueneme High School. Sofia is a Sociology major and wants to help people and the community. She was interested in being a part of the CSUCI STEM Corps program because she had previous experience tutoring at her high school and it was something that she really enjoyed. Sofia was also interested because seeing others succeed makes her happy especially if she is that person who maybe helped them get a better grade or do better overall. Some of her goals for this year are to strive for good grades and come out of her shell more, and also to try to make new friends.

Danna Hernandez

Danna Hernandez is beginning the Teaching Credential program with an emphasis in Math Education. Danna was interested in this position because of the possibility to make a difference in the academic experience of youth in our community. As a child she didn't have a lot of academic support in STEM subjects at home from family members and it created a challenge in her academic life. Through this opportunity, Danna knows she can give that support to youth. She realizes that with today's online learning and the current pandemic, students will need all the support they can get. Therefore, Danna is eager to provide assistance to University Preparation Charter School students and families during this critical time. Her long-term goal is to become an educator. She believes that this position will add to her experience and will prepare her for that goal of earning a teaching credential while making a difference in her community.

Warit Kritalukkul

Warit Kritalukkul is a Junior studying Computer Science and will be graduating in May 2023. Warit was interested in the CSUCI STEM Corps program because the position aligns with his previous work experience at a community college. He loves the field experience and engagement with students the work provided him. Warit's goals for this year include: to be better with his programming languages and to do well in all of his fall courses.

Yareli Moreno

Yareli Moreno is entering her third year at CSUCI as a Biology major. Yareli is first generation Latinx college student who plans to pursue a career as a Physician Assistant to help underserved communities. Helping others is her passion so she knew a position as a CSUCI STEM Corps member this would fit her perfectly. As a STEM Corps member she strives to help students in their education by providing guidance,hope, and the necessary resources to be successful. Giving back to her community has always been a goal and this year she will continue to fulfill it. Another one of Yareli's goals this year is to enhance school clubs that she is a part of which are Physician Assistant Student Club and Empowered Womxn of Color Club and continue her independent research project.

Sarah Tilley

Sarah Tilley is a biochemistry major and an avid snowboarder who enjoys camping and hiking. Sarah is interested in the CSUCI STEM Corps program because she would love the opportunity
to help children in her two favorite subjects; science and mathematics. She thinks that oftentimes there is a stigma around these fields that makes them seem intangible unless someone is able to understand them right away. However, like many things in life, she see it is actually something to keep working at and eventually it all comes together. She feels that children are very
receptive to complex ideas without even realizing it. The thought of inspiring someone to go into
STEM is fulfilling, it would be an honor to her. Her main goal this year is to finally decide what graduate program is right for her. This goal requires Sarah to maintain her GPA and continue
to be open minded and positive about her education.

Mayra Zavala

"Mayra is a senior majoring in Biology and minoring in Chemistry. She is a first-generation college student who wants to someday be a Physician Assistant. She joined STEM Corps because she want to inspire students to work hard for their dreams because with the right resources available to them, they are capable of achieving anything they want. She also knows that school can be challenging especially during this time so she wants to give students guidance and help them academically so they can be successful. She enjoys being outdoors, going hiking or going to the beach. Some of her goals for this year are to stay positive and healthy.

Hania Angeles

Hania Angeles is from Oxnard, California; she is in her last year at CSUCI as a Biology major. After graduating she intends to become a middle school teacher. Hania is grateful for the opportunity to join CSUCI STEM Corps as it will allow her to develop her professional skills and increase her community involvement. Her year goals are to maintain a positive mindset towards learning, stay focused, and always strive for excellence.

Isabelle Mandon

My name is Isabelle Mandon, I grew up in the "Pastures of Heaven" Monterey, California. As a child climbing trees, catching lizards, swimming in the ocean, and stopping at every single new flower or plant I found, were all I desired. As a young adult, little has changed. When considering a major in college, my mom told me there was a major for all the outdoor activities I loved. Since I made the decision to be an Environmental Science and Resource Management major, I pursued various environmental opportunities. I was drawn to being a STEM tutor because it is in my blood. Everyone in my family is a teacher from my mom, dad, sister to cousins, aunts. I still love to teach but my calling is not in the classroom it is in mother nature. Where I am the most submerged in flora and fauna and the ocean and rivers is where my personality blossoms. I have always loved plants and gardening, my dad is a strong enthusiast I have taken a biology course a CSUCI and thoroughly enjoyed broadening my knowledge. I believe this will be an amazing learning experience while also discovering other viable aspects of online learning.