The Center for Community Engagement (CCE) hosts many workshops, meetings and events designed to gather stakeholders together for informational, networking, service and celebratory opportunities. The following events are the CCE's signature events. For more information, please contact Pilar Pacheco, Director at pilar.pacheco@csuci.edu or 805.437.8851.
2018-2019 EVENTS & WORKSHOPS
Community Partner Orientation: Friday, July 13, 2018 from 9:00am-11:00am in Ojai Hall 1986. A workshop focused on the service-learning process and understanding program procedures in order to build strong, effective partnerships between faculty, students and your organization. Join us for a light breakfast and networking followed by informational sessions presented by CCE staff and other campus representatives. This workshop is highly recommended for new community partners and site supervisors working with students. Please RSVP for Community Partner Orientation.
Soup, Salad, and Service: An informal luncheon for faculty held each semester to allow those interested in the pedagogy of service-learning and best practices to network and informally share successes and discuss issues or challenges. More information to come. 
Community Partner Roundtable: Thursday, November 15, 2018 from 9:00am -11:00am at the Santa Paula Art Museum. An informal breakfast gathering designed to give community partners the opportunity to meet, network, and discuss service-learning best practices and challenges. Please RSVP to attend.
Celebration of Service: Thursday, May 9, 2019 in the Grand Salon. A poster session is held from 11:00AM-12:00PM followed by an awards luncheon from 12:00PM-1:30PM. The CCE's annual end-of-the-year event to highlight community engagement projects and publicize best practices in a celebratory context, including campus community engagement awards and poster presentations. Please RSVP for Celebration of Service.
CO-CURRICULAR SERVICE-LEARNING EVENTS
Co-curricular service-learning events include any service activity not specifically associated with a class. The following CCE sponsored events are open to the campus community with dates given for the 2018-2019 academic year.
Constitution Day: Monday, September 17, 2018. In remembrance of September 17, 1787, the day that delegates in Philadelphia signed the U.S. Constitution into Law, the CCE celebrates this historical event with various on-campus activities. 
Hunger and Homelessness Week: November 12-17, 2018. National Hunger & Homelessness Awareness Week is held each year the week before Thanksgiving. This is a time for us all to consider what we are thankful for and a perfect time to share our compassion with our local neighbors who are experiencing homelessness and/or food insecurity. The CCE will hold a Holiday Street Store event providing clothing to those in need in a dignified manner, while offering respect and kindness to this population. 
Farmworker Immersion Project: March 2019. The Farmworker Immersion Project (FIP) is a program that places students in the community to learn about farmworker rights and immigration issues. The FIP guides students through a first-hand experience of typical farm work life in Ventura County. We will visit a local berry farm where students will learn about the agricultural business in our county, then work for more than an hour in the field as the farm manager instructs on how to harvest berries. In the afternoon, we will travel to an affordable housing community to speak with farm worker families in their homes. Finally, we will come together for a group reflection. This event has very limited space and requires a mandatory orientation.
Club & Organization Mixers: For Club/Organization officers to meet and mingle while learning about the CCE's resources and service events for club members. 
Peace Corps & Pizza Information Sessions: If you are inspired by impact that is hands-on, grassroots-driven, and lasting, join the regional Peace Corps Recruiter to learn more about this international service opportunity. 
SERVE IT UP SERVICE DAYS 2018-2019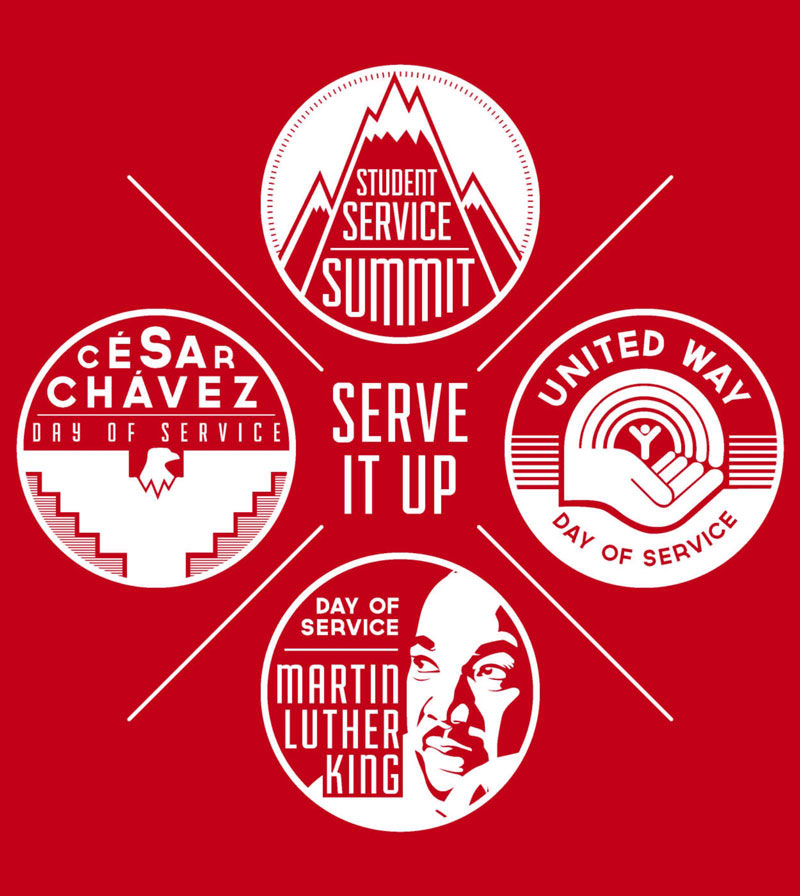 SERVE IT UP is a yearlong program, developed in collaboration with the Center for Community Engagement, Retention, Outreach, and Inclusive Student Services (ROI), Veterans Affairs, and Campus Life that provides the Channel Islands community with day-long volunteer opportunities throughout Ventura County. All participants will be provided with a Serve It Up T-shirt and water bottle, lunch, transportation and a great experience.
United Way Day of Caring: Saturday, September 29, 2018.

Each year, the CSUCI community participates in United Way's annual Day of Caring, an event which brings together students, staff and faculty, along with 1000's of other volunteers to help nonprofit organizations in the community with a variety of tasks. This year CSUCI will be volunteering at the Boys and Girls Club of Camarillo. Please RSVP for the United Way Day of Caring.

Veterans Day of Service: Friday, November 9, 2018.

In honor of Veterans Week and in recognition of the immeasurable service provided by our military personnel past and present, CSUCI is partnering with non-profit organizations to engage students, faculty, and staff in a day of community outreach. Please RSVP for Veterans Day of Service.
These service days are open to students, staff, & faculty. For more information about service days please contact Mirayah Eapen at mirayah.eapen@csuci.edu