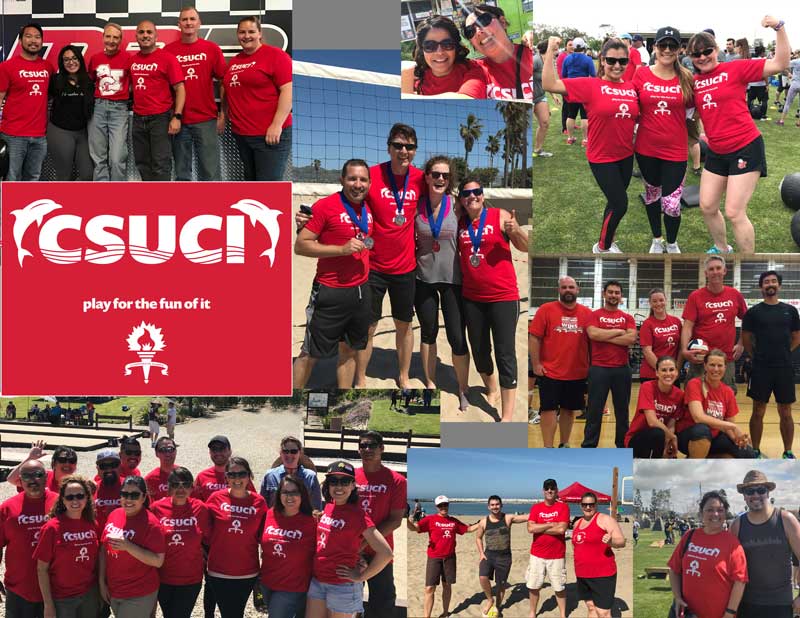 This year's event themed, "Excellent Adventure" was the city's 30th year of hosting the games, and CI's 7th year participating. Eighty different local employers joined the competition in 2019.
This year 82 CSU CI employees including Faculty, Staff, and Student Workers participated in 15 different events. From Indoor Volleyball to Beach Volleyball, Table Tennis, Speed Scrabble, Coed Softball, Paintball, MB2, Lazertag, Mini Golf, Darts, Basketball, Bowling, Cornhole, 5K, and Sand Sculpting, CI was there. Overall CI finished 7th out of 17 in Division B. Oxnard Police Department finished first followed by Teradyne taking second, and Patagonia placing third.
Medalists
For the first time(2018), CI took home both gold and silver for mini golf. Congratulations - Herb Aquino, Dawn Canfield, Jorge Galindo, and Adrian Rocha on your gold medals. Congratulations - Kim Gregory, Michael Ferguson, Marc Dubransky, and Anna Campbell on your silver medals

CI's 2018 beach volleyball team won silver for a second year in a row. Let's hear it for Matt Hughes, Peter Mosinskis, Lisa Racine, and Kari Moss.

CI's 2018 indoor volleyball team took home the bronze medal. Congratulations Tara Hughes, Matt Hughes, Mike Long, Christine Patton, Lisa Racine, Kara Naidoo, and Tom Emens on your medals.

In 2018, CI also took home the silver medal for paintball and the bronze medal for lazertag. Congratulations Kendon Carlson, Jerry Fernandez, Dale Velador, Anthony Mestas, Juan Rios, Casey Waltrip, Leo Ramirez, Jorge Galindo, Michael Ferguson, Kristin Steiner, Tara Hughes, Pedro Rivas, Leopoldo Cervantes, Anna Campbell, Jess Paredes, and Jeremiah Barrera.

Last but not least, in 2018, we had an awesome turn out at the 5K run where we had 27 runners representing CSUCI, and 4 of those medaled - Congratulations Arnie Camp, David Carlson, Caroline Doll, and Tom Schmidhauser on your medals.
Team Captains
Mike Long - Indoor volleyball, kickball, and beach volleyball
Jess Parades - Tennis
Roberto Raygoza - Table Tennis
Renee Fuentes - Speed Scrabble
Kristin Steiner - Coed Softball
Carlos Miranda - Basketball, Coed Softball and Texas Hold'em
Matt Hughes - Mini Golf and Soccer
Anthony Mestas - Paintball
Melissa Bergem - MB2
Juan Rios - Lazertag
Joanna Murphy - Horseshoes
Carrick Dehart - Golf
Melissa Bergem - Darts
Janet Korsmo - Bowling
Jennifer Kubel - Bocce Ball
For additional CI Corporate Games information, contact Melissa Bergem.