Performing Arts presents 'Damn Yankees' – April 3-12
Come see the students of PA 391 in their production of 'Damn Yankees,' the premier show for spring 2014.  Directed by Professor Bob Mayberry, 'Damn Yankees' is a modern retelling of a classic German folktale about a man who makes a deal with the devil in order to achieve astounding success. 
The show will take place in Malibu Hall 140.  Show times are as follows:
-April 3, 4, 5, 9, 10, 11, 12 @ 8 p.m.
-April 6 & 12 @ 2 p.m.
To purchase tickets, visit www.brownpapertickets.com or call 800-838-3006. 
For more information, contact Bob Mayberry, at ext. 2786 or bob.mayberry@csuci.edu.
Dolphinpalooza 2014 – April 5
You are invited to come out and celebrate Dolphinpalooza 2014!  Hosted by the Student Programming Board and I.R.A., the annual event will be held on Saturday, April 5, from 1 – 5 p.m. at Potrero Field.  To view the flyer, click here. (PDF, 1.6MB)

Free food truck vouchers will be distributed to the first 300 CI students.
Entertainment includes performances by Paperback Writer: The Beatles Experience, CSU Channel Islands University Orchestra and Good Deeds.

Attractions include food trucks, Euro bungee, Sumo wrestling, rock wall climbing, Ferris wheel, bounce house, Henna tattoos, a photo booth and more.
For more information contact Student Programming Board at ext. 2730 or asi.spb@csuci.edu.
STEM Diversity Speaker Series – April 7
The campus and community are invited to learn how the mathematical, natural, and social sciences are being used to help solve the world's health problems in CI's STEM Diversity Speaker Series. The free series is open to the public and includes two separate presentations by Dr. Carlos Castillo Chavez, a leading authority on mathematical biology and epidemiology and promoter of research opportunities for underrepresented minorities in Science, Technology, Engineering and Mathematics (STEM).

Castillo Chavez will trace the marriage of mathematics and epidemics from the early 1700s to modern times and discuss the important role mathematicians, biologists, and social scientists can play in combating disease, health disparities, and lack of access to health services. He will also share his own impressive journey from Mexican immigrant and factory worker to his current stature as one of the most highly acclaimed mathematicians, epidemiological modeling experts, and research contributors on the progression of disease in the country.

The first talk focuses on the topic "Mathematical, Computational and Theoretical Epidemiology: Challenges, Opportunities and Mentorship".

The second talk, from 7:30 - 8:30 p.m., is geared primarily to a high school and college student audience, but is open to all members of the community. For full details, view the flyer here. (PDF, 504KB)
For more information, contact Cindy Wyels, Professor of Mathematics, at ext. 3260 or Cynthia.wyels@csuci.edu.
CDS to Host 12th Annual Career & Internship Week – April 10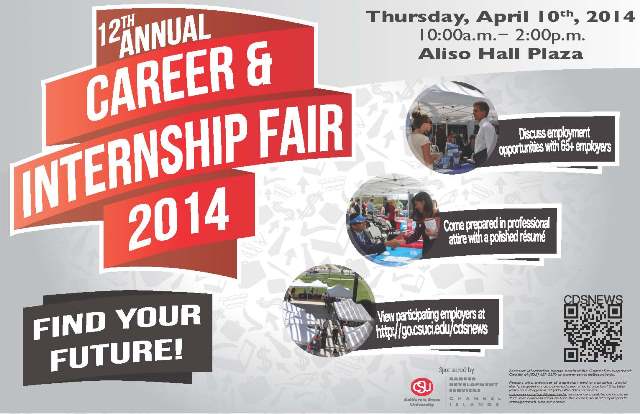 Career FairCareer Development Services is pleased to announce our 12th Annual Career & Internship Week! We are committed to assisting our CI students and alumni to obtain a professional internship or part-time/full-time employment positions.
On Thursday, Apr. 10, from 10 a.m. to 2 p.m. at Aliso Plaza, students and alumni can network with over 60 local organizations who are actively recruiting to fill internships, as well as part-time/full-time employment position openings. Participants should come prepared in professional dress and bring a polished resume for a potential interview with a future employer.
For a current list of participating employers, please visit:
http://www.csuci.edu/careerdevelopment/news/. 
For more information, contact Amanda Carpenter, Assistant Director for Career Development Services & Henry L. "Hank" Lacayo Institute Internship Program, at ext. 3565 or amanda.carpenter@csuci.edu.
Poe Symposium- Frontiers in Neuroscience – April 11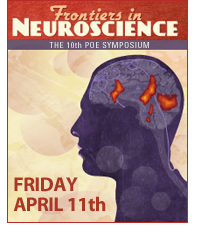 The Biology Program will present the 10th Annual Poe Symposium on "Frontiers in Neuroscience." The symposium will discuss new advances in neuroscience: the genetic basis of neurological disorders; use of stem cell and other strategies for the treatment and repair of brain damage; and new insights into brain function from advances in neuroimaging during tasks. The symposium will take place Friday, April 11 from 12:30 - 5:30 p.m., in Del Norte Hall, Room 1500 and is free and open to the public.
There are several scheduled speakers addressing a variety of subjects, including Dr. Dennis Clegg, UCSB; Dr. Chunnian Zhao, CSU Channel Islands; Dr. Scott Fraser, USC; Dr. Esther Krook-Magnuson, UCI and Dr. Nader Pouratian, UCLA.
To register visit: http://biology.csuci.edu/poe/poe10neuroscience. Pre-registration is recommended.
For more information about the event contact Dr. Charles Sackerson, Lecturer, Biology, at ext. 8806 or charles.sackerson@csuci.edu.
cinÉngage Presents: Very Young Girls – April 17
As a part of the cinÉngage documentary series, the Centers for Community Engagement and Multicultural Engagement present, "Very Young Girls" on Thursday, April 17 from 6-8 p.m. in Malibu Hall, Room 100.
This documentary is an exposé of human trafficking that follows thirteen and fourteen year-old American girls as they are seduced, abused, and sold on New York's streets by pimps, and treated as adult criminals by police. The 2007 film follows the barely-adolescent girls in real-time, using intimate interviews with them as they are first lured on to the streets and the dire events which follow. Run time 84 minutes. Q&A with Minh Dang, Child Abuse and Human Trafficking Advocate will follow. The event is made possible by funding from Instructionally Related Activities.
For more information, contact Pilar Pacheco, Managing Director, Center for Community Engagement, at pilar.pacheco@csuci.edu.
R.A.D. for Women – April 22
Could you effectively defend yourself if attacked?

R.A.D. (Rape Aggression Defense) is the largest women's self-defense training program in the country, being taught by more than 350 universities and municipal law enforcement departments nationwide. 

The Rape Aggression Defense System is a program of realistic, self-defense tactics and techniques. The R.A.D. system is a comprehensive course for women, which begins with awareness, prevention, risk reduction and avoidance, while progressing on to the basics of hands-on defense training.

The CI Police Department is offering R.A.D. class throughout the year for students, staff, and faculty. The next class session will be held on campus April 22, 24, 29 & May 1 from 6 - 9 p.m. Class size is limited;last day to sign up is April 11. This is a 12-hour class (3 hours each day) with a $20 registration fee due at sign-up. The fee will be fully refunded upon completion of program. Register in person, at Police & Parking Services located in Placer Hall. A waiting list will be established if needed.

If you have additional questions, please contact Rachel Huff, Community Involvement Coordinator, at ext. 8444 x7063 or Rachel.huff@csuci.edu or RAD@csuci.edu.
Celebration of Service - May 7
The Center for Community Engagement cordially invites the campus community to the 2014 Celebration of Service on Wednesday, May 7, from 11 a.m. – 2 p.m. in the Petit Salon, to honor faculty, community partners' and students' community engagement efforts. In addition to the awards luncheon and networking with community partners, the event will feature a poster session, highlighting several service-learning projects/research.
The Celebration of Service brings the community together to acknowledge the growth and impact that these projects/research contribute to our students and the community. We look forward to seeing you at this year's Celebration. To RSVP for the event, visit http://go.csuci.edu/cce.
This year's celebration will include a special presentation of the Richard E. Cone Award for Excellence & Leadership in Cultivating Community Partnerships in Higher Education. 

For more information, please contact Pilar Pacheco, Managing Director, Center for Community Engagement at pilar.pacheco@csuci.edu.
Return to the Table of Contents.
© Wavelength April 3, 2014