Career Development Services offers assistance with graduate school application advising, online Graduate School Bound Program, and resources.
Graduate & Professional School Resource Handbook  (PDF, 672.7 KB)
Accepted to Graduate School?
Congratulations! Please share this information with Career Development Services by completing a short survey.
Graduate School Application Advising:
Meet with a career services staff member during Drop-In Career Counseling to discuss the graduate school application process, planning, and preparation methods.
Graduate Studies Center: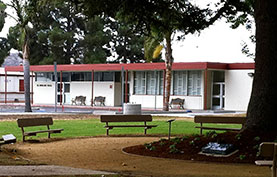 The Graduate Studies Center (GSC) is dedicated to providing academic, professional and personal support services for post baccalaureate students at CI. Our services aim to facilitate access to post baccalaureate programs, to promote student success and program completion, and to foster professional, personal, and workforce development.
Location: El Dorado Hall
Graduate Writing Studio:
Writing instructors are available to assist graduate students with thesis writing or prospective graduate students who need assistance with personal statements or letters of application for graduate program admission.
For more information, or to schedule an appointment, contact the Graduate Studies Center located in El Dorado Hall via email at gs.center@csuci.edu, call (805) 437-3579, or visit http://www.csuci.edu/gsc/
Graduate School Bound Program
The purpose of Graduate School Bound Program is to assist CI students who are interested in graduate school exploration, decision-making, planning and the preparation process of applying to graduate school. This program is intentionally designed to provide in-depth assistance with the graduate school planning process. Each semester a group of students will complete a series of online modules. The purpose of the seminars is to provide an opportunity to review content covered in the modules and answer specific questions related to the graduate school exploration and planning. Questions will be answered through the use of an online blog utilized throughout the semester to share graduate school resources.
The Graduate School Bound Program will be provided in a self-paced online format and weekly drop-in career counseling, see schedule information below for further details.
Learn about Graduate School Bound Program at weekly Drop-In Career Counseling located in the Career Development Center, Bell Tower 1548.
Graduate School Bound Program Schedule Information:
| Session Modules | How to Complete Each Module |
| --- | --- |
| #1 Career and Educational Goals | Complete Online-See Module Below |
| #2 Exploration and Research | Complete Online-See Module Below |
| #3 Graduate School Application Planning | Complete Online-See Module Below |
|  Mid-Semester Check-In, Overview & Questions | Attend Weekly Drop-In Career Counseling |
| #4 Financial Aid & Test Preparation | Complete Online-See Module Below |
| #5 Personal Statement & Letters of Recommendation | Complete Online-See Module Below |
| #6 Enrichment and Experience | Complete Online-See Module Below |
|  Final-Semester Check-In, Overview & Questions | Attend Weekly Drop-In Career Counseling |
Graduate School Bound Program Modules:
Title
Module
Supplemental Documents
#1 Career and Educational Goals
 Module #1 (MS Powerpoint, 241.5KB)

What To Do & When (PDF, 14.9KB)

#2 Exploration and Research
Module #2 (MS Powerpoint, 288KB)

Planning Guide (MS Excel, 37.5KB)

Evaluating Graduate Programs (PDF, 82.1KB)

Selecting a Graduate School (PDF, 81.5KB)

#3 Graduate School Application Planning
Module #3 (MS Powerpoint, 1.8 MB)
Questions to Ask Graduate School Representatives (PDF, 216.0KB)
#4 Financial Aid & Test Preparation
Module #4 (MS Powerpoint, 452KB)

GRE Test Preparation Resources (PDF, 195.9KB)

Graduate School Financial Aid Resource List (PDF, 172.16KB)

2012-2013 GRE Informational Booklet (PDF, 1.0MB)

#5 Personal Statement & Letters of Recommendation
 Module #5 (MS Powerpoint, 346.5 KB)
Graduate School Admissions Essays (PDF, 110KB)Sample Graduate School Admissions Essays (PDF, 87.5KB)
#6 Enrichment and Experience
 Module #6 (MS Powerpoint, 255KB)

Graduate School Interview Questions (PDF, 92.5KB)