The Wave

Spring 2008 | A quarterly online newsletter for Alumni & Friends of California State University Channel Islands.
The Bring-A-Friend campaign.
We need you to ask a friend to join!! The movie and theater discounts that come with membership by themselves are worth much more than $25!!!
Why? To increase awareness of our exciting young university and to allow us to provide more alumni services.
Ask your friends to go on-line and sign up. Alumni, students, parents, friends, community leaders...they can all be part of the CSUCI Alumni & Friends family.
NEWS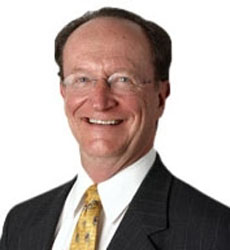 President Richard Rush

CSUCI President named Educator of the Year
California State University Channel Islands President Richard R. Rush has been named Educator of the Year by the Camarillo Chamber of Commerce. The Educator of the Year award is part of the Camarillo Chamber's Top Ten Community Awards, which honor 10 individuals and organizations that have made the Camarillo community a better place to live and do business. "It is an honor to receive this award. I have profound gratitude for the support the Camarillo community has given to me and the work it has done to build Cal State Channel Islands into the University it is today," Rush said. Rush was appointed President of CSUCI by the CSU Board of Trustees and assumed his duties in June 2001. He has worked relentlessly and diligently to serve the people of Camarillo and this region through providing increased educational opportunities.

2008 Commencement
All past CSUCI graduates are invited to attend this year's CSUCI Commencement Ceremony on Saturday, May 17 at 9 a.m. on the CSUCI campus, South Quad. If you are interested in attending, you must RSVP to obtain a campus parking permit no later than Friday, May 9. To RSVP, please call 805-437-8952.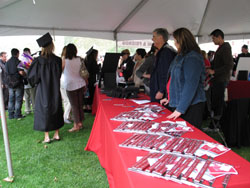 Volunteers Distribute License Plate Frames to Graduates

Volunteers Needed
CSUCI invites alumni and other members of the community to volunteer for its 2008 Commencement Ceremony to be held Saturday, May 17 in the South Quad of the campus. Assignments will include assisting with parking flow, distribution of programs to guests, assisting with refreshments, serving as campus guides for ceremony guests, and helping with the ceremonial procession. The event begins at 9 a.m. and lasts until approximately 12 p.m. Volunteers must be 18 years or older and are asked to arrive at 6:30 a.m. They will also receive a special campus t-shirt and complimentary gift bag supported with items from various local businesses. For more information, to volunteer, or to make arrangements for a business to help support 100 gift bags, contact Alumni Relations at 805-437-8952 or alumni.friends@csuci.edu.

University to Open Emphasis in Clinical Lab Sciences
CSUCI will introduce a new emphasis in clinical lab sciences within the bachelor of science degree in biology beginning with the fall 2008 semester. Clinical laboratory professionals provide service and research in clinical labs and related settings in hospitals, clinics and other health care institutions. Ching-Hua Wang, Chair of the Biology Program at CSUCI states, "There is a strong need for public health professionals trained to deal with epidemics and potential biological disasters, man-made or otherwise, caused by microorganisms. Today the average age of professionals working in the clinical lab science field is 53." To implement the program, the University has added new courses in medical mycology and hematology. For more information about the bachelor of science degree in biology with emphasis on clinical lab sciences contact Ching-Hua Wang, 805-437-8870 or ching-hua.wang@csuci.edu.

CSUCI Recipient of El Concilio Award
CSUCI has been honored with the 2008 El Concilio President's Building Bridges Award. The organization recognized the efforts of CSUCI for improving the quality of life and creating opportunities for members of the Latino community. University President Richard R. Rush accepted the award at a ceremony on Saturday, March 15. The mission of El Concilio del Condado de Ventura is to take the lead in improving the quality of life of the Latino community, and by extension, the community-at-large, by providing quality programs and services, advocating for the clients it serves, and collaborating with other community organizations and agencies.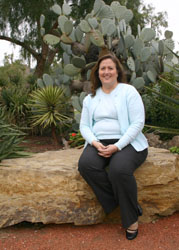 2008 Advocate of the Year Lori Macdonald '05

Alumni & Friends Visit Sacramento
On Monday, April 28, CSUCI staff, Alumni & Friends Association board members, alumni, and local business leaders will attend the 2008 Alumni Legislative Day in Sacramento. The CSUCI delegation will meet with area legislators to educate them on the possible affects of further budget cuts to higher education and its impact locally. The day also includes a special luncheon in which CSUCI alumna Lori G. Macdonald '05 will be recognized by the CSU and local legislators for her advocacy efforts supporting higher education.

Do You Know These Alumni? Let us know. We are trying to reach them.
Sigfredo Cruz B.S. 03' Mathematics
Jessica Heredia B.A. 06' Psychology
Alumni Relations: 805-437-8952 or alumni.friends@csuci.edu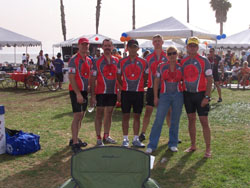 Past Cycling Dolphins

Cyclists and Sponsors Wanted for MS 150 Ride in September
The Martin V. Smith School of Business & Economics at CSUCI is sponsoring a bicycle team for the 2008 Start to Finish MS Bike Tour. This event raises funds for the Multiple Sclerosis Society. The event will be held on Sept. 20 and 21. The tour is a bike ride that will take riders from Camarillo through the Ojai Valley and end in Santa Barbara on the first day and day two will take the riders along the ocean, through the strawberry fields of Oxnard and end back in Camarillo. Last year the Cycling Dolphins raised almost $9,000 for the Society. To learn more about the MVS sponsored team or volunteer opportunities contact Andrew Morris, Associate Professor of Management, 805-437-2771 or andrew.morris@csuci.edu.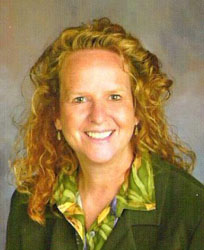 Provost Dawn Neuman

New Provost and Vice President for Academic Affairs
Dawn S. Neuman has been appointed as the new Provost and Vice President for Academic Affairs at CSU Channel Islands and will begin her duties on July 14. Her predecessor, Theodore Lucas, will take on liaison responsibilities with the statewide Community Colleges for the CSU Chancellor's Office. Prior to taking on this position, Neuman was employed by University of Nevada, Las Vegas for 15 years, including a position as Vice Provost for Academic Resources at the university for the past four years. "I am thrilled to join such an innovative university? I'm truly looking forward to helping CSUCI advance its ambitious plans," says Neuman of her new role at the University.

The Class of 2008 is looking for help to raise funds for a legacy brick wall to honor the Pathway of Excellence. Want to help?
Contact Alumni Relations at 805-437-8952 or alumni.friends@csuci.edu.

ALUMNI ANNOUNCEMENTS

Josh Saltee '06, B.S., Mathematics and Kerry Donlon '04, B.A., English
Josh is currently a Sales Account Representative with Dole Food Company, Inc. and is married to 2004 CSUCI graduate Kerry Donlon who is currently the Assistant Branch Manager for AIG. The couple has recently bought their first home and participated in the 2008 Alumni Dolphin Discussion Panel for Discover CI.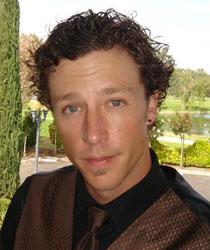 Chad Carson '06 B.A. History
After graduating from Channel Islands in Spring of 2006 with a degree in History and a double-minor in Spanish and Business, Chad Carson put his knowledge to work. He traveled to Chile, Argentina, Peru, and Uruguay visiting places like Machu Picchu for nearly 8 months, where he was able to further perfect his mastery of the Spanish language. Currently, Carson is working as a Sales Representative and Central Coordinator for Livity Outernational, an eco-friendly fashion company, and FedEx Kinkos. Carson plans on advancing his education with the pursuit of a graduate's degree in International Business at CSUCI in the Fall of 2008.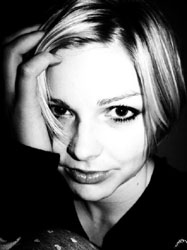 Shelley Hull '07 B.A. Psychology
As a 2007 graduate of CSU Channel Islands, Shelley Hull is currently working as a General Services Assistant at the J. Paul Getty Museum in Los Angeles, Calif. With her major in Psychology and minor in Anthropology, the museum has been an excellent work environment for the Channel Islands alumna. "I have taken on many new challenges at the Getty and am having a great time exploring what the Getty can offer," expressed Hull. Shelley also enjoys working on various photo-projects on the side, and is in the process of completing a book that tackles issues such as life, relationships and death.
Did you graduate in one of the first classes at CSUCI or CSUN-CI in 2002, 2003 or 2004?
Call us. We'd like to hear from you for our next issue.
Alumni Relations, 805-437-8952 or alumni.friends@csuci.edu


PARENTS AND COMMUNITY FRIENDS
The CSUCI Alumni & Friends Association welcomes all alumni, parents and community friends to participate in our programs. We hope you enjoy these great benefits and events and thank you for your support.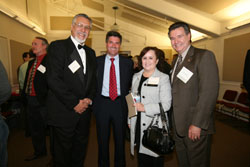 Community Leaders and Alumni get involved

Special Author Performances
Authors Jack Lopez and Sean Carswell will perform their works for the campus community on Thursday, May 1, 2008 at 7:30 p.m. in the Aliso Auditorium. This is a chance for students, faculty, and the community to see dynamic, vibrant writers read from the works that brought them so much acclaim. Jack Lopez is the author of the short story collection Snapping Lines, which was inducted into the Latino Literary Hall of Fame in 2002, as well as the novel In the Break and the memoir Cholos and Surfers. Lopez is a professor at CSU Northridge. Sean Carswell is the author of two novels and two short story collections. He will be reading from his brand new novel, Train Wreck Girl. He teaches literature at CSU Channel Islands. There is no cost to attend. Parking is $6. For further information, please call 805-437-3189.

Want to Teach?
Anyone interested in exploring the idea of becoming a teacher is invited to attend one of our once a month information meetings. These are extremely informative meetings where you can get all the information about becoming a teacher. Where do you begin? What are the requirements? What tests need to be taken? All these questions and more will be answered. The meetings are approximately an hour and half long, with time for one-on-one questions after the meeting. The meetings fill up quickly, please call to reserve a seat at 805-437-8953.

The Bring-A-Friend campaign

Ask your friends to go on-line and sign up. Alumni, students, parents, friends, community leaders.

They can all be part of the CSUCI Alumni & Friends family.

Sign them up on-line now at www.csuci.edu/alumni
UPCOMING EVENTS
Date Set for 5th Annual Alumni Dodger Night
Your favorite event is around the corner! Save the date for the 5th Annual Alumni Dodger Night on Saturday, Sept. 20 at 7:10 p.m. Los Angeles vs. San Francisco. Invitations will be sent via email in July and August. Look for yours this summer!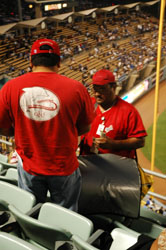 CSUCI Exhibitions Gallery Presents 'Cross Currents'
From Thursday, May 15 through Friday, Aug. 29, the CSUCI Exhibitions Gallery will be hosting a group photography exhibition titled "Cross Currents", featuring a first-time collaboration of students from CSUCI, Ventura College, Oxnard College and Moorpark College. CSUCI Exhibitions Gallery is located at 92 Palm Drive in Camarillo, CA 93010. The gallery is open from 10 a.m. to 4 p.m. Monday through Friday. There will be a closing reception on Thursday, Aug. 28 from 6 p.m. to 8 p.m. in place of the usual opening reception. Larry Lytle, Photography Instructor at CSUCI claims, "A coming together of artists from these four schools is a photographic event not to be missed. Work will range from classic black and white photography to abstract and photo-sculpture, making this show a must-see!"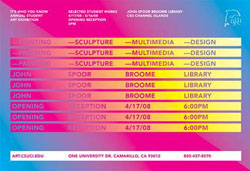 Student Art Exhibit

Student Art Exhibit at the Broome Library
The Broome Library is currently hosting and exhibition of CSUCI student artwork titled "It's Who You Know". The show opened on Thursday, April 16 and will continue through Sunday, May 18. Come visit the new university library and check out the work of the current students of CSU Channel Islands.

Alumni & Friends Annual Meeting set for Monday, May 19
CSUCI Alumni & Friends Association is holding is open annual board meeting on Monday, May 19 at 6 p.m. This board meeting is held once a year and the Alumni & Friends Membership is welcome to attend. The officers and new board members for the 2008-09 year will be elected. RSVP is required to attend at 805-437-8952 or alumni.friends@csuci.edu.
MEET YOUR BOARD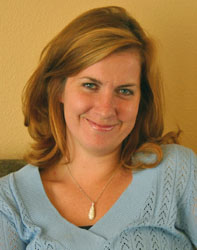 Sarah Hawkins '04

Sarah Hawkins '04 BA Liberal Studies

In 2002, Sarah Hawkins first stepped foot on the campus of California State University Channel Islands. Sarah was looking to transfer to a Cal State and had made the trip up from Orange County to check out Channel Islands. The beautiful green campus dotted with red flags, together with the kind and helpful people working in Admissions and Records, sealed the deal for Sarah. She was among the very first class of students enroll at Channel Islands and graduated in 2004 with a degree in Liberal Studies.

From the very beginning, Sarah dedicated herself to Channel Islands. She was elected as the University's first student body vice-president and was hired to work as the Resident Director for Student Housing after graduation. Today, Sarah is the Assistant Director for Housing and Residential Education, Management and Operations, in addition to serving on the Alumni and Friends Board. Sarah fondly remembers her first visit to Channel Islands and says, "now I am working to foster that same spirit so that each new generation of students will have the same great experience that I did."

Sarah married her husband Matt in the summer of 2004 and moved them both into student housing while she worked as the Resident Director and Matt commuted to Irvine for work. Recently, Sarah and Matt bought a home Fullerton and switched commutes. Now Sarah takes the train into Channel Islands every day. Sarah says, "I love Channel Islands. If I didn't, I wouldn't spend 4 hours a day on a train."

Sarah's commitment to the University is reflected in her history of service, including her current tenure on the Alumni and Friends Board, where she serves as the Secretary to the executive committee. Sarah is excited to be a part of the new Alumni and Friends Association and says, "I am looking forward to getting more alumni involved. We are working on creating a strong organization and we want to know how we can better serve the alumni of Channel Islands. Alumni can contact us through the website and tell us what is important to them, what they are up to, and how we can create a better organization. I think this is an important and exciting conversation to have."




SPOTLIGHT ON ACADEMICS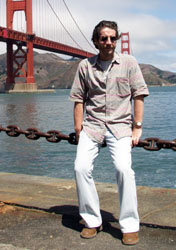 Professor of Physics Dr. Geoff Dougherty

Dr. Geoff Dougherty, Professor of Applied Physics and Medical Imaging

Geoff Dougherty, Professor of Physics and Medical Imaging at CSU Channel Islands, has recently been honored with the 2008 Faculty Leader of the Year Award, presented at the CSUCI Business & Technology Partnership's 2008 Leadership Dinner. With his unrelenting efforts toward the advancement of the sciences and technology at Cal State Channel Islands, it is easy to see why Dr. Dougherty was selected to receive this award.

Geoff Dougherty joined the CSUCI Faculty in 2002. He established the minor in Applied Physics, the Medical Imaging emphasis within the Biology major, and the upcoming major in Applied Physics which opens this fall. These programs feature an applied, interdisciplinary approach which incorporates the latest advances in science, technology, and the medical sciences, and addresses local employment needs. He supports and encourages Club Physics, the campus student organization for science/technology, which is constructing a trebuchet this year.

Professor Dougherty is actively pursuing research in medical imaging and image analysis. He has published numerous articles in international journals and several book chapters, and has won a variety of competitive research grants. He has just completed a manuscript for a textbook on digital image processing which will be published by Cambridge University Press later this year. His research interests in imaging link up with his leisure interest in photography. In the past year he has won a photography competition in Ireland, and has had an illustrated article published in an in-flight magazine.

Prior to his employment at CSU Channel Islands, Dr. Dougherty served ten years as Professor of Medical Imaging and Chair of the Radiologic Sciences Department at Kuwait University. Before that he served as the Chair of Physics and Physical Sciences at Oxford Brookes University, worked for the Open University in England, and has served on the faculties of the Science University of Malaysia and the University of the South Pacific. He has also engaged in research at the Swiss Federal Institute of Technology, Monash University in Australia, and Swarthmore College.

"We have had so many great students graduate from the University in the last few years. Our alumni are critical to enhancing the University's reputation and raising its profile through their successes and support. They are an important and integral part of our identity," said Professor Dougherty. The Alumni & Friends Association sends out its congratulations to Dr. Dougherty on this esteemed recognition.






WHAT'S HAPPENING IN YOUR DEPARTMENT?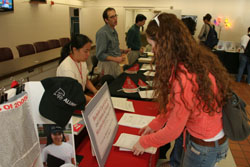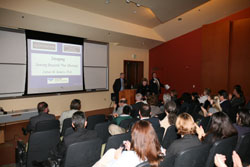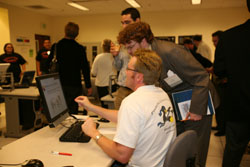 FEATURED MAY BENEFITS
CSUCI Alumni & Friends Members are invited to a Magic Mountain Private Party!
On Friday, May 2 from 7 p.m. to midnight Six Flags Magic Mountain, the Xtreme park, has the largest collection of Xtreme roller coasters on the planet, and now's your chance to enjoy all the rides, without the weekend crowds. Purchase early, tickets are limited. Tickets $24 (regularly priced at $59.99). Children age 2 and under are free.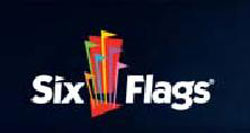 Attention golfers!
Discounted Red Dot Golf Guide available for $33.95 (regularly priced at $45.95). More than $12,000 in exclusive golf discounts. Deals like 2-for-1 greens fees and one-of-a-kind golf discounts at premier golf courses throughout Southern California. A 350-page course directory. Complete course information for every public golf course in Southern California. Detailed maps to each course. Unique spiral-bound format perfect for on-the-go.
It's Baseball Time!
Anaheim Angels and LA Dodgers discounted tickets available. Anaheim - A limited number of Terrace Box seats are available to select games $21 (regularly priced at $28). LA - A limited number of good infield-reserved, blue level seats between the bases are available to select games $17 (regularly priced at $28).
Anaheim vs. Chicago - Thursday, May 15 - 7:05 p.m. - Knit-Cap Beanie Day
Anaheim vs. Toronto - Sunday, July 6 - 12:35 p.m. - Family Sunday
LA vs. Houston - Friday, May 9 - 7:40 p.m. - Dodger Beanie Cap Day
LA vs. Cleveland - Saturday, June 21 - 12:55 p.m. - Hollywood Stars Game



FULL MAY RECREATION CONNECTION BENEFITS (PDF, 721K)
WORKING FOR CALIFORNIA
State Budget Crisis Hits Home
Students, professors, administrators, staff, and others gathered on Thursday, March 27 at California State University Channel Islands to highlight the negative impacts the Governor's proposed budget cut of $312.9 million for 2008/09 would have on the California State University's 23-campus system. The proposed budget cuts come only three years after the CSU budget was reduced by more than $500 million during the 2002-03 and 2004-05 fiscal years. In addition, the $73.2 million in General Fund revenue needed to buy out a student fee increase is not included in this year's proposed budget. The budget forum is part of an effort to detail the impacts to local campuses, and to encourage the entire CSU community to take part in a system-wide effort to urge lawmakers and the governor to restore the funding.
CSU Channel Islands President Richard R. Rush said the reduction would directly impact student access in the form of limits on enrollment, larger class sizes, less student support and potentially higher student fees. System-wide, the CSU estimates that the proposed reduction will reduce access by 10,000 students, and limit enrollment to 2007/08 levels. CSUCI could be cut $2.5 million.
Alumni and friends who can help, please contact Celina Zacarias at 805-437-8920 or email Celina.zacarias@csuci.edu. Visit www.calstate.edu/BudgetCentral/ for more information.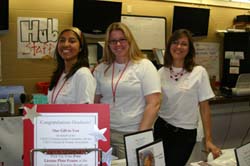 NOT A MEMBER OF THE ALUMNI & FRIENDS? CLICK HERE TO JOIN NOW.