The Wave
Fall 2006 | A quarterly online newsletter for the California State University Channel Islands Alumni & Friends Association.
Upcoming Events
Alumni Don't Miss This Great Career Opportunity
The CSUCI Alumni & Friends Association, in partnership with the CSUCI Business & Technology Partnership will host the Alumni Networking Skills Reception and Holiday Mixer on Thursday, December 7, 2006 at 4:30p.m. at the CSUCI campus to assist alumni in learning how to network. Alumni will receive free entry to a special networking speaker session and will be paired with a business leader who will demonstrate how to "work the crowd"; After the Reception, the alumni will attend the Holiday Mixer Program which will feature Gary Wilde, CEO and President of Community Memorial Hospital. We have very limited seating for this event, so call now. To attend and be paired with a business leader for the evening, please call Tania Garcia at 805-437-8952.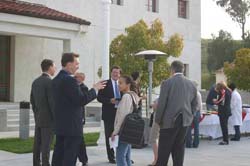 Do you know how to network?
Extended Education Study
Online Survey Participants Needed for Study of First-Generation College Students. Gary Berg, Dean of Extended Education at CSUCI, is looking for those who were the first in their families to earn a college degree to participate in a study on their experiences. The study examines how background influences a student's experience in college and subsequent mobility in society. All that is required is completion of a short online survey. Formal written permission will be gathered from subjects before using any attributed direct quotations in print. Dr. Berg is author of numerous articles on current issues in higher education and educational technology, as well as four books. Data collected will be used in a forthcoming book and related articles. To participate, please go to the following website: http://www.zoomerang.com/survey.zgi?p=WEB225M538ZL8C
Native American History
November is Native American History Month. Celebrate it by creating your own dream catcher on Tuesday, November 14, 2006 at The Multicultural Women's and Gender Center. [PDF] Native American Month
Grad School Information Fair
The Career Development Service Center is hosting its Annual Grad School Information Fair on campus Tuesday, November 7, 2006 from 10:30 a.m. to 2:00 p.m. The event is free for alumni. Parking is $6. If you have been contemplating going back to school, this is the event for you. For more information, please contact Career Development Services at 805-437-2745 or visit the Alumni & Friends web site at http://www.csuci.edu/alumni/index.htm and click on Career Development.
Csu Working For California
Did You Know?
The CSU is the largest university system in the United States made up of 23 campuses throughout California.
The CSU is made up of over 2 million alumni (We belong to a large & powerful family).
The CSU educates nearly 400,000 diverse students each year and graduates more than 80,000 annually.
The CSU alumni are the fuel to California's productivity and economy, making up a large portion of the state's skilled professional workforce.
For more information about the CSU visit: http://www.calstate.edu/impact.
Proposition 1D
Alumni & Friends: Take a moment to read information on Proposition 1D and how its passage it would positively impact CSU Channel Islands. If you should have any further inquiries, please contact CSUCI Government Relations at 805-437-3271.
Spotlight On Academics
Csuci Welcomes New Faculty
As the semester began, CSU Channel Islands announced the appointment of 14 new tenure track faculty members, four of whom have worked previously at the University. The new faculty are in the areas of performing arts, political science, history, nursing, mathematics, business-management, communication, education, business-finance mathematics, art-graphic design, biology, molecular, psychology, and librarian-digital resources.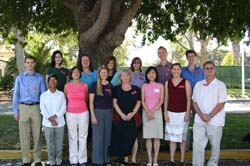 New Faculty Members
Nationally Known Economist To Speak At CSUCI
Martin V. Smith School of Business & Economics is proud to present a look at the U.S. Economy from a former policymaker's perspective with a presentation by Robert Parry (MVS School Professor, former President and CEO of the Federal Reserve Bank of San Francisco) on Thursday, November 16th at 6:30 pm, Malibu Hall 100. For more information, please call Callie Pettit at 805-437-8967.
News...
President's Dinner
More than 500 guests, students, alumni and staff attended the 7th Annual CSUCI President's Dinner (Dance in Confetti & Light) at the Ronald Reagan Presidential Library and Museum on October 7, 2006. Alumni were given a special half-price discount to attend. The fundraiser included a special gift bazaar, belly dancers, live music, corvette raffle and auction.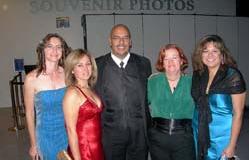 Alumni Yvette Bocz '02 and Manijeh Kuchikali '05 join in a group photo with VP for Student Affairs Greg Sawyer, English Professor Dr. Renny Christopher and Executive Secretary to the President Elizabeth Velasco.
Tradition Continues
More than 90 alumni, students, friends, staff and parents attended the 3rd Annual Dodgers Night on September 15, 2006 at Dodgers Stadium to continue the CSUCI alumni tradition and have a great time with family and friends. With all the excitement surrounding the Dodgers, the game was quite a blast, especially with the Dodgers pulling off a 3-1 win over the San Diego Padres. Families filled up on Dodgers Dogs and nachos and enjoyed a special evening together.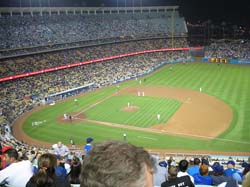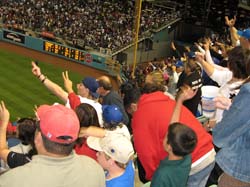 Dodgers pull off a 3-1 win The crowd goes wild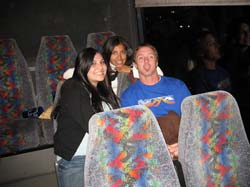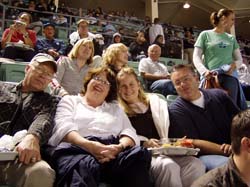 Students on the bus ride to Dodgers Stadium CSUCI alumni Chris Byhoffer '06 and family enjoy the game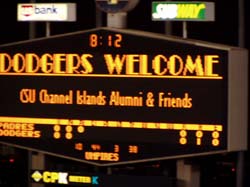 CSUCI Alumni & Friends creating tradition
Piece Of Cake...or Is It Pie?
Students, parents and siblings took on the challenge of eating a whole meringue pie at the Welcome BBQ Alumni Pie-Eating Contest on August 27, 2006 in the South Quad at the CSUCI campus - clearly having a little fun. Eleven contestants, old and young, donned aprons and raced to see who could eat the most pie in 7 minutes. Student Alec Macdonald came out a winner.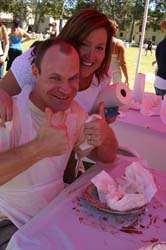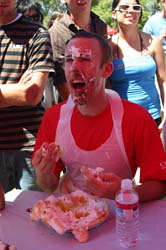 Alec and Lori Macdonald celebrate his win Student Brian McAleney gets a little messy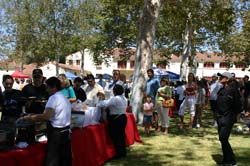 More than 2000 people attended the 2006 CSUCI Welcome BBQ Alec and Lori Macdonald celebrate his win
Alumni Share The Csuci Experience
CSUCI and CSUN-CI alumni returned to the CSU Channel Islands campus this past summer to visit with parents and share their experiences at the 2006 Island View Orientation Alumni & Friends Parents' Socials. The Alumni & Friends Association sponsored a wine and cheese event for each of the five orientations and invited parents to listen to various alumni talk about how CSUCI has helped them get to their careers. Elisabeth Freeman '06, Jan Neeley '05, Scott McNutt '02, Guillermo "Bert" Partida '05, and Sam Hunter '05 all shared their current successes.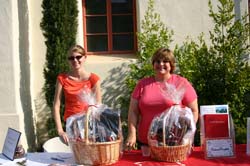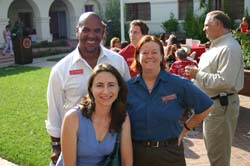 Courtney Pugh '06 and Valerie Patscheck '05 spend valuable time as volunteers Vice President for Student Affairs Dr. Wm. Greg Sawyer, CSUCI English Professor Renny Christopher and Alumni & Friends Association President Yvette Bocz '02 enjoyed talking with parents.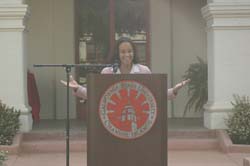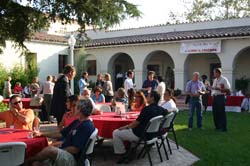 Elisabeth Freeman '06 asks parents to get involved during orientation activities More than 400 parents attended a special recognition with the President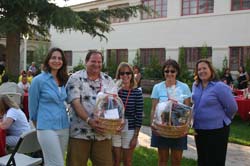 A few lucky parents went home with $100 gift certificates to the bookstore following the orientation recognition
Alumni Announcements...
Monaliza Menor
CSU Channel Islands alumna Monaliza Menor '04 represented the University in Washington, DC on September 20, 2006 at the 400-person California State Society's Back to College Night. Each year campuses of the CSU system attend this event and host a booth with campus information. Various legislative leaders attended the event as well as alumni from the area. This year's Congressional Host Committee included the Honorable Hilda Solis (Cal Poly Pomona alumna) among several others. Monaliza has been living in Germantown, Maryland and is working as a Project Accountant at Centex Construction. Monaliza enjoyed her time as a student and even now as an alumna representing CSUCI at Back to College Night, "I will definitely look forward to it next year. It was my pleasure to represent CSUCI. I had an excellent experience at Channel Islands educationally and personally." CSU Federal Relations Assistant and Policy Analyst Lucy Hamilton-Duncan said that Monaliza went "above and beyond" her efforts that evening and that "you should be very proud of how she represented CSUCI."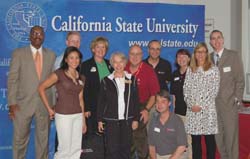 Alumna Monaliza Menor '04 (left, front row) joins other CSU volunteers for Back to College Night in Washington, DC
Saxon Knauss
CSUCI alumni Saxon Knauss '06 offers financial services to many at Santa Barbara Bank & Trust as Financial Service Representative, Saxon left the Camarillo office in November 2005 to work in Thousand Oaks offering such services as secured loans, CDs and business accounts to East County clients. A Malibu native and transfer from Moorpark College, Saxon entered CSUCI as a business major and now resides in Agoura Hills.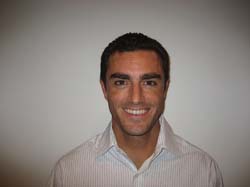 Saxon Knauss
Update Us With Your New Information Here
Please download our Alumni Update Form to stay in touch. [PDF] Update Form
Don't Forget...
Members of the CSUCI Alumni & Friends Association are a pioneering group of alumni, students, parents, faculty, staff and community leaders committed to connecting alumni to Cal State University Channel Islands. Alumni membership is a great way to show University pride and to be a vital part of CSUCI traditions. Catch the Wave and join the Alumni & Friends Association today. You'll receive a number of great benefits and services while supporting future students and the continued success of CSUCI. [PDF] Join Now
Order the CSUCI Yearbook "The Nautical" today. Download this flyer for more information. [PDF] The Nautical Flyer
November The Recreation Connection Newsletter is ready to be downloaded. [PDF] Recreation Connection