Volunteer Opportunities Open to All! 
Visit the Center for Community Engagement pages for additional volunteer opportunities and information
"Holiday Street Store" & Donation Drive
The Center for Community Engagement (CCE) is partnering with Westminster Free Clinic for a FREE, donation-based, Holiday Street Store! We are accepting new and lightly used clothing, toys, and books. Please drop donations by Ojai Hall 1934. Donations will be accepted through Friday, December 10th.
The Street Store will take place Tuesday, December 14th from 3:00 pm-5:00 pm at Westminster Free Clinic in Oxnard (St. Paul's United Methodist Church, 1800 South C Street, Oxnard, CA 93033) Volunteers are needed in shifts between 12:30 pm – 6:00 pm. If you are interested in volunteering for this event, register or view details here: Holiday Street Store Volunteer.
E-mail Laurie Geier at laurie.geier@csuci.edu if you have any questions
Past Fall 2021 Career & Alumni Member Events
---
Virtual Networking & Mentorship Night
Career Development & Alumni Engagement invites you to join us for this unique event. CSUCI students, alumni, faculty, and industry professionals are coming together for an evening of mentoring, networking, and career advice.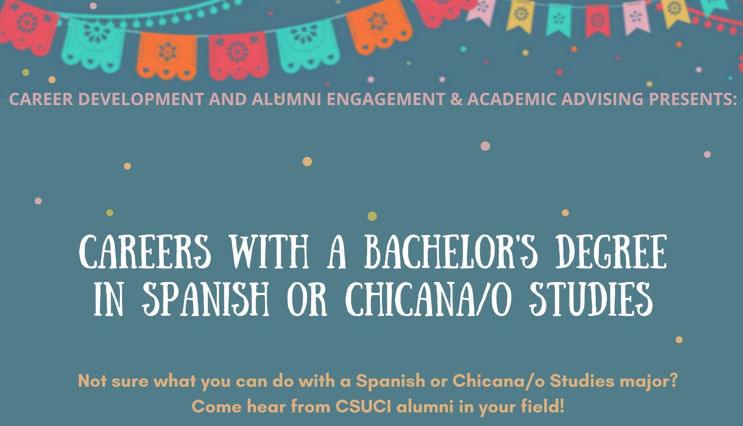 Wednesday, November 17, 2021
5:30 - 6:45 pm (PST)
via Zoom
Connect with Mentors in Your Field
Using industry-focused Zoom breakout rooms, you can ask questions, share advice, and have career conversations with people in your field.
Education

Advocacy/Non-profit

Law

Business 

Media 
Get Ready to Be a Mentee
Hi mentees! Join us for one of these virtual workshops to help you prepare and make sure you get the most out of the event:
Can't attend either session? Register anyway and receive a recording so you can review the workshop slides at your convenience. For more information, contact Jennifer Gonzalez, Career Counselor & Alumni Mentorship Coordinator, at jennifer.gonzalez@csuci.edu.
For more information about this event, contact career.services@csuci.edu or 805-437-3270
The University encourages persons with disabilities to participate in its programs and activities. If you anticipate needing any type of accommodation, or have questions about the physical access provided, please contact Disability Accommodations and Support Services at 805-437-3331 or accommodations@csuci.edu as soon as possible, but no later than 7 business days prior to the event.
---
Fall Job Search Support Group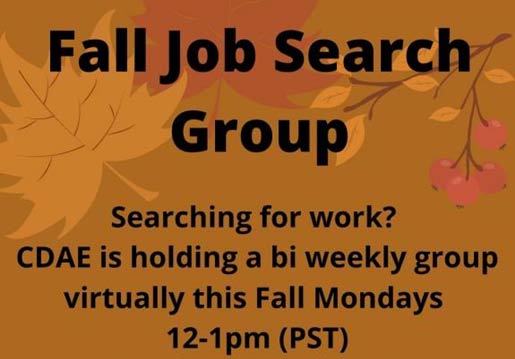 Are you looking for work and not sure where to start? Applying to jobs but not hearing back? We are here to help!
This Fall Group meets 6 times during the semester to cover a variety of topics and support your needs by answering any job search questions you have! The group will meet bi-weekly this Fall on Mondays from 12-1pm (Pacific Time). Come to one session or come to them all! There's no requirement to attend every session.
The format for each group session will include 15 minutes of topic overviews then, 45 minute discussions with Q&A's. Our goal is to meet the unique needs of students/alumni within each group. Here is a list of the following dates and topics:
Register for one of the sessions
We look forward to seeing you there!
Can't make it to any of the live sessions? Watch our Proactive Job Search video on YouTube! If you have any questions, please contact Jake Castellanos, Career Counselor, at jake.castellanos@csuci.edu.
---
Employer-Hosted Info Sessions
Log into Dolphin CareerLink (accessible through your myCI), to see workshops and info sessions hosted by employers such as the FBI, DC Scholars, and more! If you no longer have access to you myCI portal, please email the Solution Center via email (solutioncenter@csuci.edu). In the email include your myCI email address and university ID number.
Past Events

Wednesday, March 3, 2021
5:30 - 6:45 p.m. (Pacific Time)
via Zoom
In accordance with the latest update issued by the University, and for the safety and well-being of our alumni, the CSUCI Alumni and Friends Association is postponing all in-person events, on and off campus, until further notice. While we face extraordinary times, we face them together as a Dolphin family. Be well Dolphin Pod. For up-to-date information, please connect with us on our social media.
---
Campus Events