Need Help Now?
If you would like to speak to a clinician immediately, please call CAPS at 805-437-2088. If you reach the voicemail, select option 2 to access 24/7 phone counseling.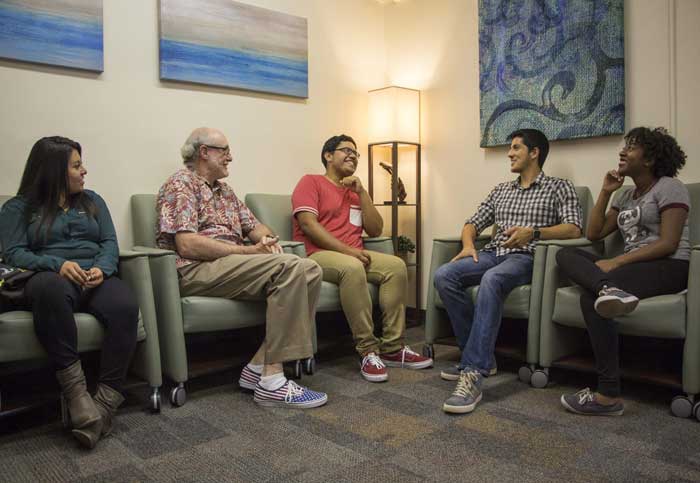 Group Counseling
Benefits of Group Counseling
Group Offerings
Joining a Group
Purpose of a Prescreen
Group Description
Benefits of Group Counseling
By nature, human beings are social and talking in a group can provide you with learning opportunities not achievable in individual treatment. CAPS is pleased to share opportunities for you to get together with your peers to talk in confidence about what disruptive life experiences you are having and how to help yourself overcome them.
Joining a group of strangers may, at first, sound intimidating yet you will quickly experience the benefit of the members' support.
Regularly talking and listening to others helps put your own problems in perspective. You can realize that you are not the only one struggling, and you discover creative solutions that worked for your peers.
The group leader, a licensed clinician with specialized training, will provide you with research-based strategies for managing specific problems.
Groups have been especially successful in helping students who struggle with stress, eating concerns, problems of intimacy, and bouts of unhappiness or hopelessness.
Groups have demonstrated success in promoting assertiveness, building community, resolving feelings associated with the death of a loved one, and gaining greater appreciation for all that life offers.
Any questions about the Group program can be directed to the CAPS front desk. Please call 805-437-2088.
Group Offerings
Links in this chart and in the group descriptions will take you to sign up for the group interest form. The groups that have Zoom Link available are drop-in groups where no prescreens are needed.
Drop-In Offerings