Need Help Now?
If you would like to speak to a clinician immediately, please call CAPS at 805-437-2088. If you reach the voicemail, select option 1 to access 24/7 phone counseling.
Relax in the famous Egg Chair!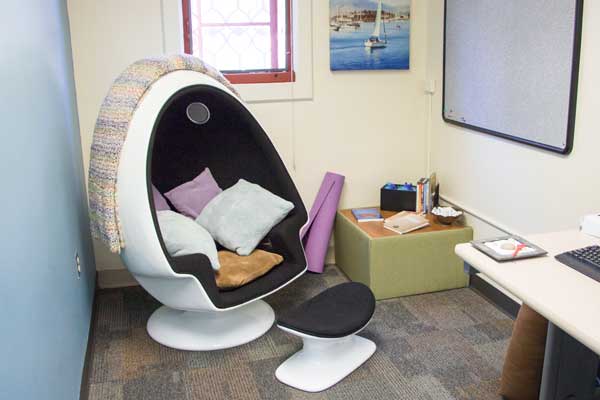 CAPS has a Relaxation Room that students can use, regardless of whether they are in counseling. This room includes a meditation cushion, yoga mat, and an Egg Chair. The unconventional shape and construction of the Egg Chair make it perfect for both sound isolation and excellent acoustics. Its chamber-like shape and upholstered interior cancels out most outside noise.
Listen to your favorite music or watch a relaxing DVD in surround sound like never before. Simply plug in your portable device and listen to music the way it was intended to be heard. Its right and left speakers will create the ideal listening dynamic. Or, just sit quietly it in and relax as it provides a unique environment for meditation, relaxation, and just getting away from it all.
To use the Relaxation Room and Egg Chair, simply come to the CAPS office and express your interest. You can be alone in the room for up to 20 minutes and it is accessed on a first come - first served basis.