Summer 2023 Career Center Workshops
See what we have in store for Summer 2023!
If you're interested in getting to know the Career Center space, meeting alumni and recruiters, getting a job, or just figuring out what you want to do in terms of your career, join our events!
---
New!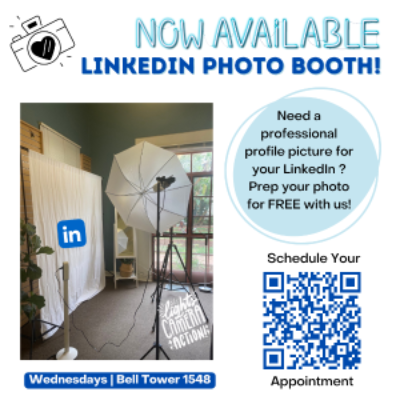 Wednesdays - LinkedIn Photobooth
Need a professional headshot for your LinkedIn profile? Take your photo with us, for FREE!
---
June 2023
06/07 - Summer Internship Month
06/14 - Summer Internship Month
06/21 - Summer Internship Month
06/28 - Making the Most of Your College Experience
July 2023
Learn more about how to make the most of your college experience through valuable experiences like internships. We will be discussing how to take what you are learning in the classroom and apply it in real-world situations through opportunities like academic credit internships, student research, and much more! Whether you're coming into your first year of college or close to graduating, this event is open to all.
Thursday, 7/27 | 12:00pm - 1:00pm | Zoom Meeting ID: 828-9930-5206