Career Development & Alumni Engagement Mission
We establish a Dolphin network by cultivating a distinctive community of students, alumni, and industry to develop meaningful connections fostering lifelong learning and affinity between CSUCI and our graduates.

Employer Recruitment Services
What is our purpose?
Employer Recruitment Services in Career Development & Alumni Engagement works with employers locally, regionally, and nationally by assisting with your recruitment opportunities.
What do we do?
We facilitate relationships between employers and the university community, working to make intentional connections with students, alumni, student clubs and organizations, faculty, and campus partners. Employer Recruitment Services seeks to foster and cultivate partnerships with organizations to provide opportunities for our students, alumni, and the University as a whole for the long-term. CDAE welcomes organizations to recruit at CSUCI for all part-time, full-time, and internship positions via a number of opportunities available on-campus.
Whom do we serve?
California State University Channel Islands (CSUCI) is a four-year, public university located in Camarillo, California. Established in 2002, we're the youngest of 23 campuses in the CSU family. We have a total enrollment of 7,000+ undergraduate and graduate students representing 26+ majors.
At CI, the diversity of our student population is one of our greatest strengths. Many employers appreciate our high quality students who represent multicultural and diverse backgrounds reflective of the local area and the face of the nation. We are also recognized by the U.S. Department of Education as a Hispanic Serving Institution (HSI). Check out the CI Viewbook for more about our campus population.
Services We Offer Employers and Recruiters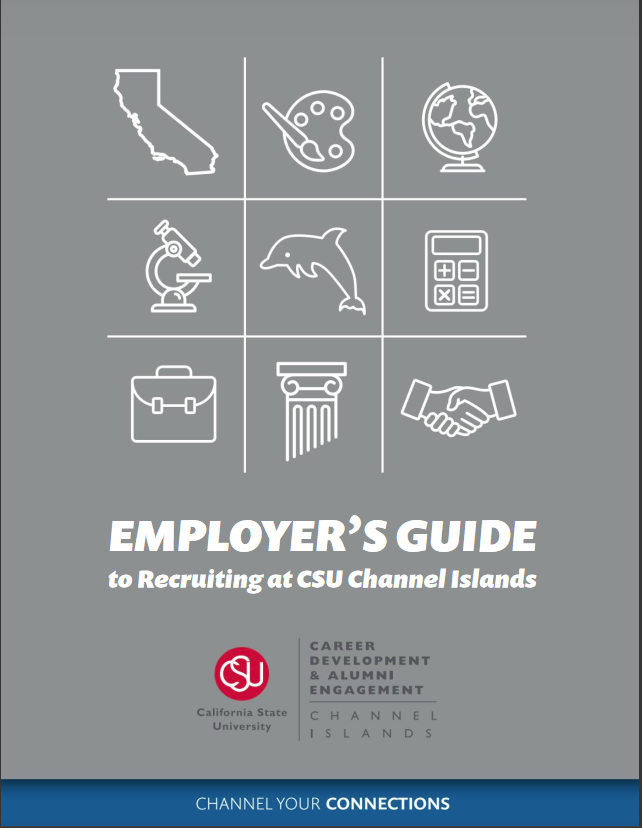 Employer's Guide to Recruiting at CSU Channel Islands
Career Development & Alumni Engagement presents a reference guide to assist you as you look to CSUCI for your recruitment needs. Click the guide to get started!

Career and Internship Fair
October 5th, 10am-2pm
Our fairs are an ideal opportunity for employers to market their business and enhance the organization's brand with our campus community. Through the participation of local, regional, and national businesses and organizations, our students are afforded an opportunity to discover careers, engage with industry professionals, form new connections, and build on connections they previously made.
For more information about the fair, please visit our Fair Information & Registration page. More details to come!