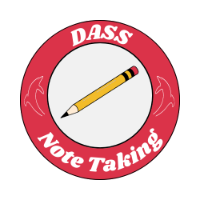 DASS Peer Note Taking
Thank you for your interest in becoming a DASS Peer Note Taker! We welcome students from any major or class level to apply, regardless of whether they are enrolled in the classes that need peer note takers. Students must apply every semester that they are interested in the note taking position.
Peer Note Takers are hired as student employees, paid $15.50 an hour for their services, and can work up to 20 hours per week across all jobs on campus. Peer Note Takers must meet all eligibility requirements and must agree to all Peer Note Taking Responsibilities.This position is based on availability of open positions.
Updates for Applicants:
The peer note-taker general application phase has concluded as of 08/24/2023.  At this time, we are only exclusively accepting applications from students who are currently enrolled in the specific courses for which we require peer note-takers. 
Peer Note-Taker Application:
Note Taker Eligibility
Peer Note Taker candidates must be a current CSU Channel Islands student, in good academic and behavioral standing as well as have a minimum 2.50 grade point average.
Note Taker Responsibilities
Note Takers must attend and review training provided by DASS staff.
Note Takers must attend each class session required by the instructor.
Note Takers must upload legible, comprehensive, and organized handwritten or typed notes to the DASS online portal 24 hours after each class session.
Note Takers must communicate effectively and in a timely manner.