Accessing Absence Management Self-Service (AMSS)
Sign in to myCI
Click on "CI Personnel" under Services:

Use one of the Business Process Guides available below for specific navigation once you are in the system. You can find "Self Service" or "Manager Self Service" in the main menu: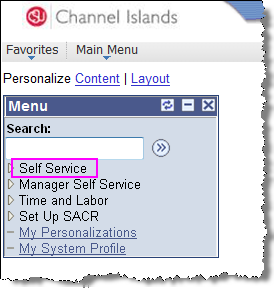 Employee Self-Service
Employees are required to enter their absences into AMSS throughout the month. Absences are electronically reviewed by their department Timekeeper and approved by the employee's manager.
Timekeepers
The main function of a Timekeeper is to review employee-entered absences and make corrections if necessary. Timekeepers have the ability to enter absences on behalf of an employee in his/her department. Absences entered by Timekeepers are automatically updated to a status of "Reviewed" and await Manager approval in the system.
Managers
Managers approve absences which have been entered by employees and reviewed by Timekeepers. Approvers may also enter an absence on an employee's behalf in the event that the employee or Timekeeper is unable to do so. Absences entered by Approvers are automatically updated to a status of "Approved". Alternate or Proxy Approver roles can be assigned to an appropriate manager at the request of the Department Head.
Additional Resources