Investiture Ceremony
The Investiture of CSUCI President Richard Yao was held Friday, Sept. 23, 2022. You may view the ceremony below, and scroll down to learn more about the significance of the Investiture ceremony and learn about President Yao.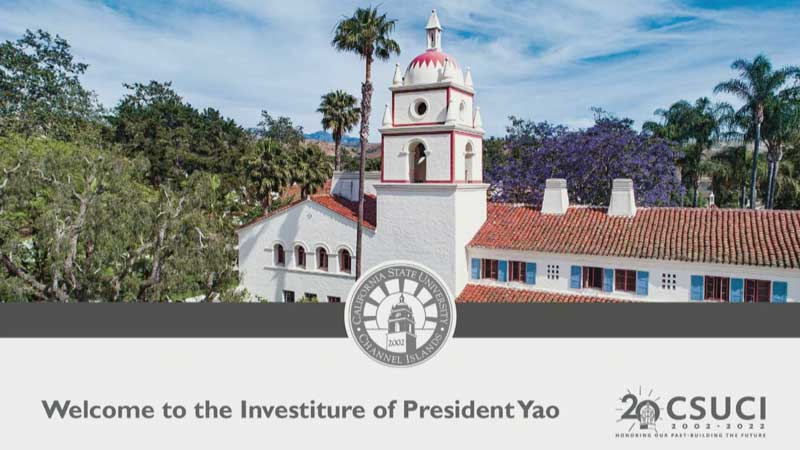 Download Program(PDF, 2.3MB)
About the Presidential Investiture
The investiture of Richard Yao, Ph.D., as CSU Channel Islands' fourth president, will celebrate the University's treasured past, promising present, and ambitious future. 
A week of events will highlight CSU Channel Islands' identity as a place where ideas are tested, minds are expanded, and dreams become reality -- all because of our collective and continuous efforts to achieve our mission and meet the needs of our diverse region and its people.
The investiture will formally welcome President Yao and celebrate not only his leadership at the University, but also our connections and pride in the Dolphin community. 
President Yao was appointed by the CSU Board of Trustees on January 26, 2022 after serving in an interim capacity since January 11, 2021. Upon his appointment he shared, "I am so thankful for the dedication and expertise of our faculty and staff, who are continually striving to improve the success of our talented students. I look forward to working collaboratively with our faculty, staff, students, and community partners in leading CSUCI into our third decade."


About President Yao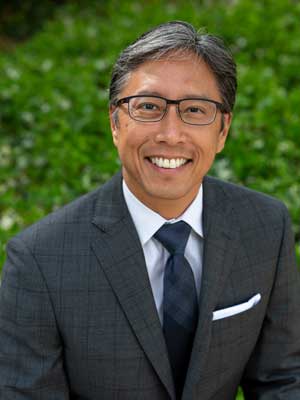 Richard Yao, Ph.D., was appointed to serve as President of California State University Channel Islands (CSUCI) in January 2022. President Yao initially joined CSUCI in June 2018, where he served as the Vice President for Student Affairs.
Since coming to CSUCI, President Yao has ensured that the campus is well equipped to face the imminent challenges the University faces while also focusing on the future and what can be accomplished as CSUCI enters its third decade. He has been committed to supporting industry needs and maintaining consistent collaborations with the community to strengthen the region's close connection with CSUCI.
President Yao's priorities include promoting inclusive excellence, and he led the development and implementation of the Inclusive Excellence Action Plan (IEAP) Framework to achieve this goal. The IEAP Framework helped to document and catalog the many intentional diversity, equity, and inclusion (DEI) efforts happening around campus. This framework was used to create the Inclusive Excellence Action Teams (IEAT), formed by members of the campus community, who created plans with activities to increase the DEI efforts on campus.
In partnership with Academic Affairs and Provost Mitch Avila, and to increase the efforts towards academic excellence, President Yao has also helped to implement the Charting Our Course planning exercise, used to innovate the academic programs offered and reimagine the degrees to further consider how the campus community can best support its students to graduation and beyond. President Yao is also utilizing the Graduation Initiative 2025 goals set by the CSU Chancellor's Office to support students through to graduation and post-graduation. Using new funding allocated for this purpose, he will be leveraging these funds to increase student retention, increase financial support for students, and increase customer service satisfaction for students and campus partners.
While serving as the Vice President for Student Affairs, President Yao increased collaborations between Academic and Student Affairs programs to improve student success and worked to ensure that co-curricular programming was in full alignment with the academic mission of the University. He worked to demonstrate the relationship between Student Affairs utilization and academic success markers, and in collaboration with the Chancellor's Office, helped lead a system-wide pilot program to develop a Student Affairs data dashboard and examine student demographics in relation to utilization of support services.  
Prior to joining CSUCI, President Yao resided in Las Vegas, Nevada for 23 years, where he was an active member of the higher education and mental health communities. Early in his clinical career, he worked with individuals with chronic and persistent mental illness, as well as transition aged youth from the foster care system. President Yao then focused primarily on forensic psychological assessments, with an emphasis on juvenile certification evaluations for the Juvenile Court and Public Defender's Office, parental capacity evaluations for the Department of Family Services, and psychological disability evaluations for the Bureau of Disability Adjudication. Throughout this time, he also served as a full-time Psychology Lecturer with Nevada State College, which like CSUCI, opened its doors in 2002. He was eventually tasked with building out their Student Affairs programming and first served as the Director of Student Development before becoming their founding Dean of Students.
President Yao earned a Ph.D. in Clinical Psychology from Fielding Graduate University, an M.A. in Clinical Psychology from Eastern Illinois University, and a B.A. in Psychology from Eastern Illinois University.


In the News
Richard Yao Appointed President of California State University Channel Islands