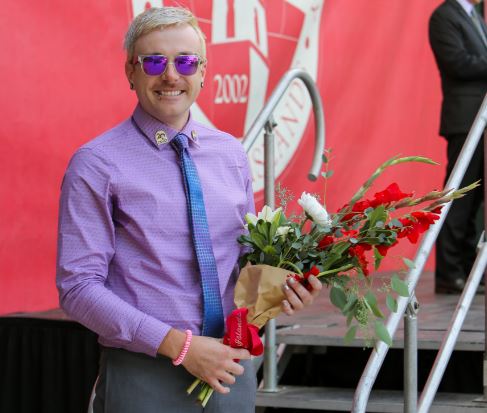 Trent Ruiz
2023 Awardee
Trent Ruiz received the 2022 President's Award for Student Innovation for leading the establishment of the groundbreaking Augmented Reality and Simulation Lab at CI, supported by a prestigious grant from NASA. The ARSL is a cutting-edge Hololens 2 Augmented Reality Lab, equipped with 14 headsets dedicated to simulating corrosion damage in aerospace metals.
By embracing this technology-driven innovation, Trent is actively showcasing the value of integrative approaches, a foundational aspect of our campus' mission statement, by providing CI students with opportunities to engage in interdisciplinary research.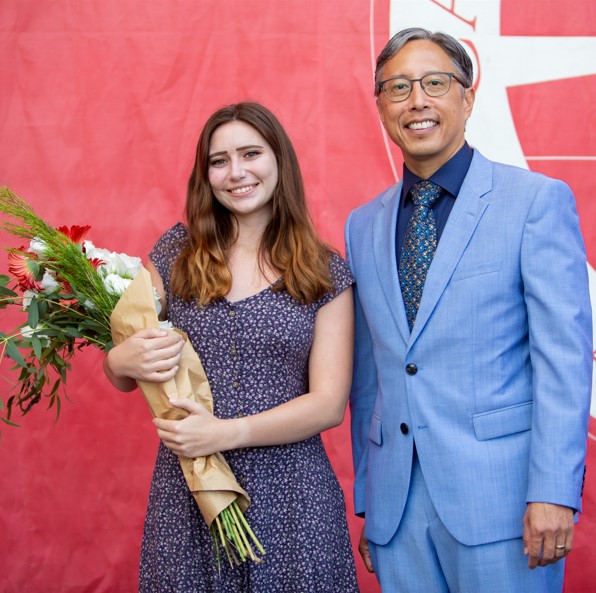 Sheradyn Ruef
2022 Awardee
Sheradyn received the 2022 President's Award for Student Innovation, a Computer Science student, Data Analyst Student Assistant for Career Development and Alumni Engagement, and last but not least, a President's Scholar.
She was nominated for having "established several post-graduate outcome data projects which have a significant contribution to CSUCI and our regional communities."
Sheradyn's work has helped us share our student success stories with external communities and help programs further identify their post-graduate outcomes. Her nomination letter said, "Ms. Ruef is an engaged student who possesses strong values and ethics required of professionals in the technology industry. While her work ethic is stellar, it is her ingenuity, positive demeanor and professional skills that tremendously impress us."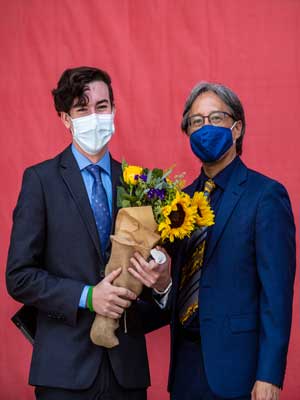 Cameron Bartosiewicz
2021 Awardee
Cameron is the recipient of the 2021 President's Award for Student Innovation for his work on behalf of the LGBTQ+ community. Cameron saw a need in his community and took active steps to address it -- beginning a new nonprofit 501c3 organization to support LGBTQ students called The Youth Pride Association (YPA). YPA works to promote and foster the acceptance of LGBTQ+ people through education, support and advocacy.
In supporting his nomination, a colleague of Cameron's and fellow CSUCI student stated: "Cameron is a driven, exceptional individual that wanted to help his community and found a way to do that through creating the Youth Pride Association (YPA) that strives to educate, support, and advocate for the LGBTQ community. This is an organization that focuses on community engagement and learning to decrease misinformation and hate. Cameron's journey began through attending a communications class on Disparities for LGBTQ individuals, taken at CSUCI. Cameron utilized his knowledge that he learned through his education that he received to found the YPA."
Cameron received this award and shared his experience with the CSUCI community at Fall Convocation on August 19, 2021.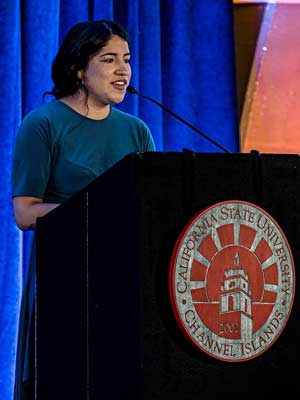 Melissa Soriano
2019 Awardee
Melissa received this award because of her remarkable and innovative efforts to encourage students from under-resourced communities to seek educational and professional opportunities in STEM. Melissa's innovative efforts founded the Society for Advancement of Chicanos/Hispanics and Native Americans in Science student organization, SACNAS at CI, and served as an officer and president within the campus' Louis Stokes' Alliance for Minority Participation group, again helping STEM students raise their aspirations and meet them.
In addition, Melissa's leadership in organizing, and then expanding upon, the STEM Social is a prime example of her extraordinary work. Her efforts are inspiring others to seek careers in the STEM fields.
Professors nominated Melissa noting: "Melissa is devoted to opening the doors to higher education and to careers in STEM to those from populations underrepresented in both. She has been engaged in a number of outreach activities, both as a volunteer and as an outreach STEM assistant through Project PROMESAS. She has volunteered for the Science Carnival annually, preparing activities and training other students on how to present them."
Melissa shared her experience as an innovator at CSUCI at the Fall Convocation on August 23, 2019.
2022 Nominations
This award recognizes a student who has developed and/or implemented an innovative program, learning activity, or service that is unique and provides a significant contribution to student success and increased engagement at CSUCI or the broader community.
Nominations for the President's Award for Student Innovation will open in the spring. Students can be nominated by faculty, staff, their fellow students, or via a self-nomination.
The recipient of this award must be available to speak at Fall Convocation in August 2022. Should you have any questions, please contact Helen Alatorre, Executive Director, Associated Students, Inc. at helen.alatorre@csuci.edu or 805-437-1629.