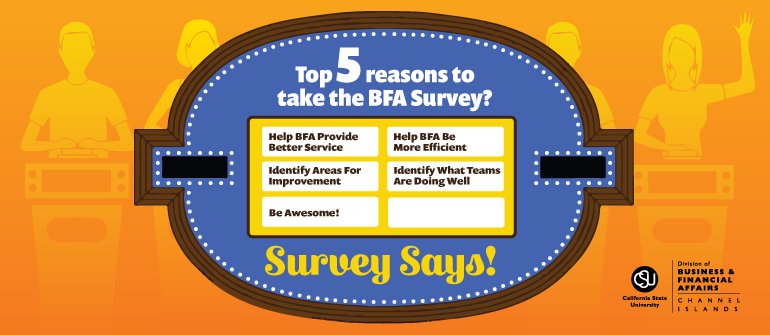 Spring 2020 Customer Satisfaction Survey
March 2 - April 10, 2020
To all Faculty and Staff of CSUCI,
Starting March 2 and running through April 10, you have an opportunity to provide feedback on your experiences with Facilities Services, Financial Services, Information Technology Services and Public Safety. Look in your email for a link to access the survey.
A second survey will be sent in the fall to capture your feedback on the remaining units in BFA. Your valuable and confidential feedback is gathered every two years and is used to not only measure satisfaction with our services, but also to identify areas for improvement and efficiencies to better serve the campus.
Contact Nathan Bowden at nathan.bowden@csuci.edu with any additional questions. 
Past Survey Results
2017 BFA Customer Satisfaction Survey Results (PDF, 1.3MB)