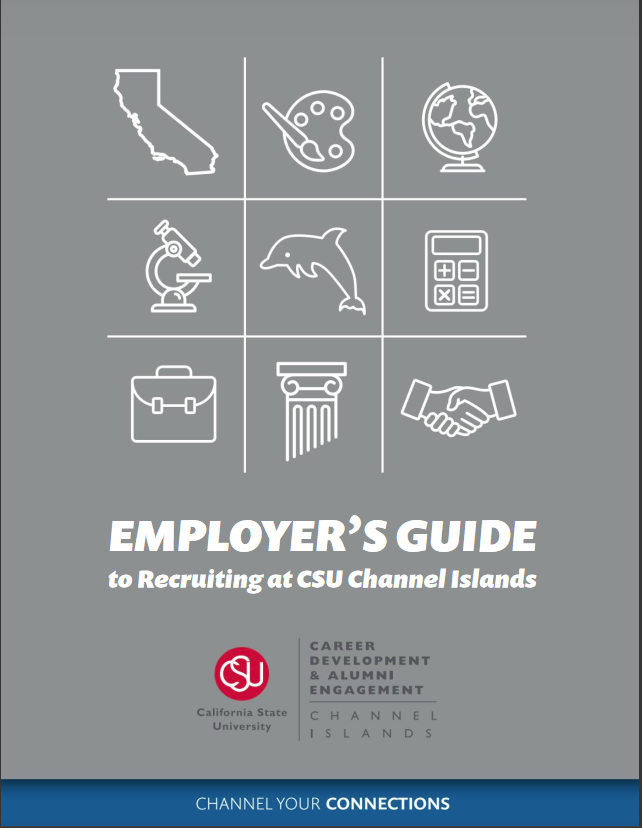 Employer's Guide to Recruiting
at CSU Channel Islands
Career Development & Alumni Engagement presents a reference guide to assist you as you look to CSUCI for your recruitment needs. Click the guide to get started!




The Path to Recruiting at CSUCI Begins Here!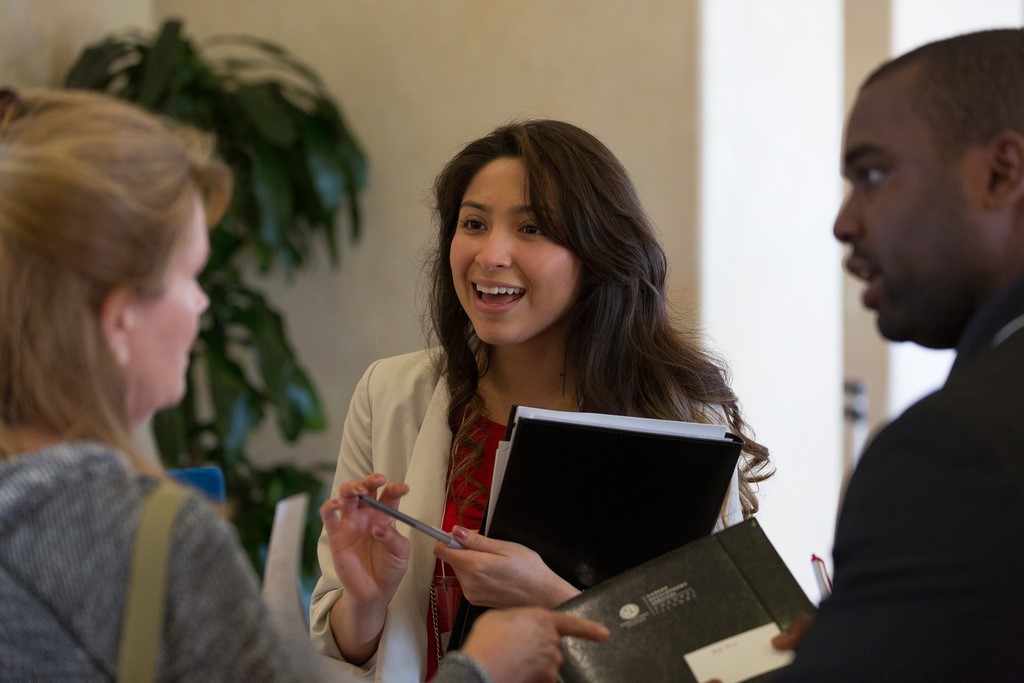 1. Start with Dolphin CareerLink
The first place to start your recruiting efforts with CSUCI is by registering as an employer partner at no-cost on Dolphin CareerLink, CSUCI's online recruitment portal accessed by students and alumni daily.
Dolphin CareerLink is a user-friendly recruiting portal where you can post full-time positions, part-time jobs and internships. You will also receive our monthly newsletter and be the first to find out about new opportunities and events with Career Development & Alumni Engagement.
Follow these easy step-by-step instructions (PDF 331.9 KB).
2. Post a Job or Internship Opportunity on Dolphin CareerLink
Let our students, alumni, and faculty know about the exciting opportunities available at your organization by posting all open positions to Dolphin CareerLink.
3. Connect with our Employer Recruitment Services Team
Reach out to our Employer Recruitment Services area to discuss your organization's needs further and to develop a recruiting strategy. Contact Raquel De Los Santos, Coordinator of Employer Recruitment Services at (805) 437-8493 or via email at raquel.delossantos@csuci.edu.
Employer Guidelines and Principles
Career Development & Alumni Engagement aims to build sustainable partnerships with local employers, and in doing so we expect that all employers adhere to CI's Employer Guidelines and Principles for Employment Professionals (PDF 99.9 KB) designated by The National Association of Colleges & Employers (NACE).
The Career Development & Alumni Engagement team provides recruiting opportunities to organizations/companies/employers who adhere to employment guidelines as designated by the U.S. Department of Labor, the Americans with Disabilities Act, EEOC guidelines, and local, state, and federal laws.
On-Campus Recruiting Opportunities
Review our Fall 2019 Recruitment Opportunities and Events Schedule (PDF 644 KB)for employers.
We offer various strategies for building your organization's brand on campus and connecting CSUCI students and alumni with employment opportunities at your organization. These opportunities are offered during the fall and spring semesters ending the two weeks before final exams. Most opportunities are offered at no charge to the employer and there are a variety to fit every recruitment budget.
For more information and to request a date, please complete the online application. Requests are due at least 2 weeks in advance of the desired date of event.
You are welcome to connect with our Coordinator of Employer Recruitment Services, Raquel De Los Santos by email at raquel.delossantos@csuci.edu or via telephone at 805-437-8493.
Diversity Recruiting
Employer Quarterly Newsletter
May 2019 Newsletter