To order stationery, please coordinate with the appropriate purchasing contact in your division or visit www.clarksprinting.com/csuci.
The California State University Channel Islands letterhead is designed to provide consistency identifying University divisions while allowing offices and areas to personalize their contact information.
Imprinted Information
Three lines of information are editable and imprinted per order:
DIVISION
Uppercase, bold typeface
(Optional second line) Area, Center, School/Institute or Program Name (approved designations)
Upper/lower case, regular typeface
Telephone and Fax Numbers at the Bottom of the Page
Upper/lower case, regular typeface
Letter Closing
It is recommended that colleagues identify their area or office in the close of their correspondence.
Example: Sincerely,
Nancy Covarrubias Gill
Senior Executive Director of University Communication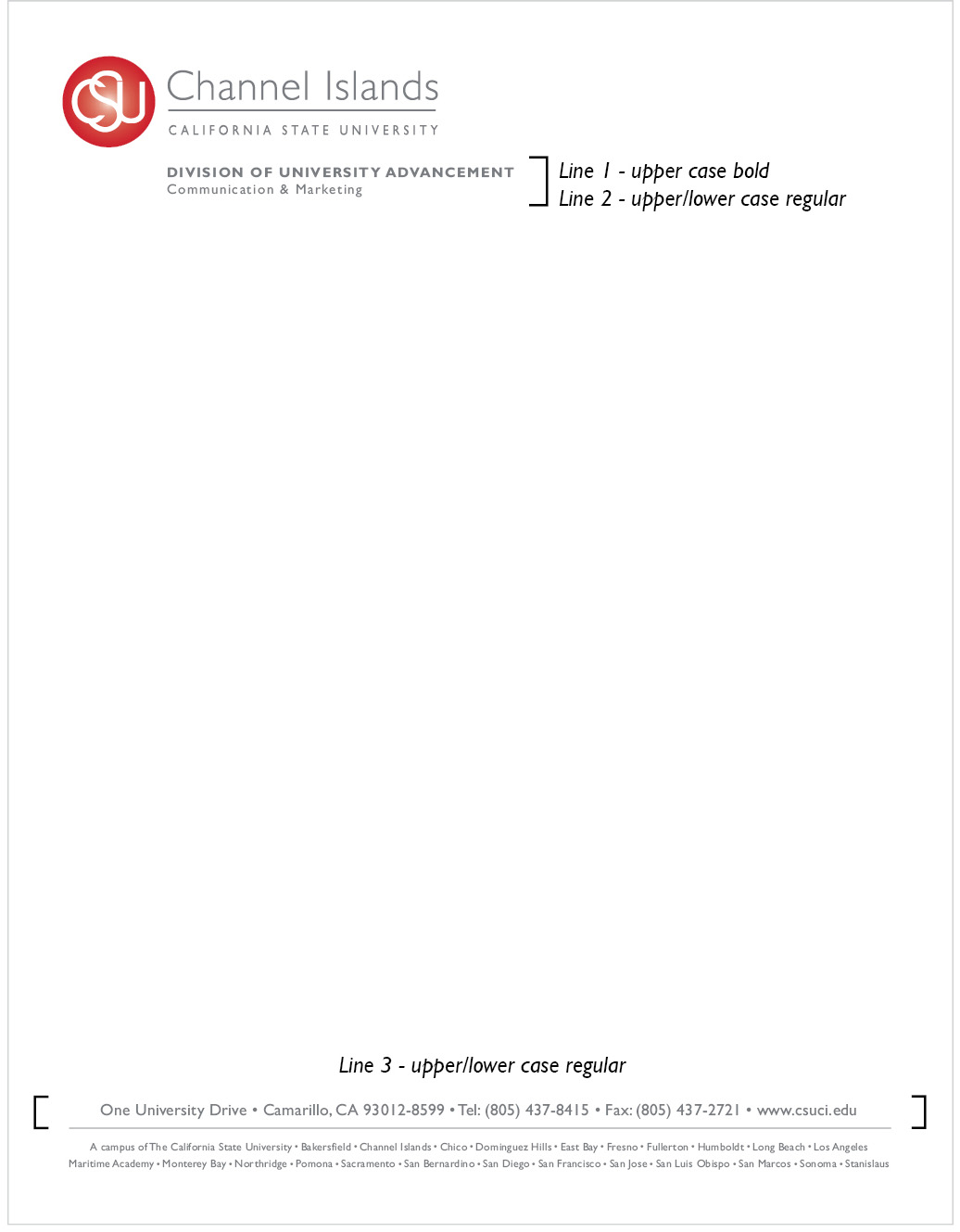 Second Sheet Letterhead
The second sheet of the stationery package will be a blank page in the same stock to match the first sheet. Please see Clark's ordering site for details.
Electronic Letterhead
Communication & Marketing has created electronic letterhead for all campus divisions using the same design as the University letterhead. Contact the division executive administrative assistant for the file needed.
Electronic Letterhead is not meant to replace printed stationery and should only be used for electronic correspondence.
Approved Designations for Letterhead
These designations are available on the stationery ordering website www.clarksprinting.com/csuci. Stationery designations will be continually updated. Please refer to the ordering website for the most updated list of designations.
CENTERS (Do not print this header)
CENTER FOR COMMUNITY ENGAGEMENT
CENTER FOR INTEGRATIVE STUDIES
CENTER FOR INTERNATIONAL AFFAIRS
CENTER FOR MULTICULTURAL ENGAGEMENT
DIVISION OF ACADEMIC AFFAIRS
DIVISION OF ACADEMIC AFFAIRS (Generic-no second line printed)
Provost
Admissions & Recruitment
AVP Enrollment Management
Enrollment Management
Extended University & International Programs
Financial Aid & Scholarships
John Spoor Broome Library
Registrar's Office
Research & Sponsored Programs
Student Systems
Teaching and Learning Innovation
DIVISION OF BUSINESS & FINANCIAL AFFAIRS
DIVISION OF BUSINESS & FINANCIAL AFFAIRS (Generic-no second line printed)
Vice President for Business & Financial Affairs
Administration
Application Services
Facilities Services
Financial Services
Human Resources
Procurement & Contract Services
Public Safety *
Special Projects
Student Business Services
Technology Infrastructure
User Services
Web Services
DIVISION OF STUDENT AFFAIRS
DIVISION OF STUDENT AFFAIRS(Generic-no second line printed)
Vice President for Student Affairs
ASSOCIATED STUDENTS, INC.+ (Generic-no second line printed)
Academic Advising
Basic Needs Program
Campus Life
Campus Recreation
Commuter Services
Counseling & Psychological Services
Dean of Students office
Disability Accommodations & Support Services
Educational Opportunity Program
Housing & Residential Education
Inclusive Student Services
Intercultural Services & Educational Foundations
Multicultural Dream Center
New Student Orientation
Promoting Achievement Through Hope (PATH) Program
Retention, Outreach & Inclusive Student Services
Student Conduct
Student Health Services
Student Leadership Programs
Student Organizations & Involvement
Student Success & Outreach Programs
Student Support Services Program
Students Transition & Engagement Programs
University Outreach
Veterans Affairs Program
Wellness Promotion & Education
DIVISION OF UNIVERSITY ADVANCEMENT
DIVISION OF UNIVERSITY ADVANCEMENT (Generic-no second line printed)
Alumni & Friends Association
Career Development & Alumni Engagement
Communication & Marketing
University Events
FOUNDATION+
FOUNDATION (Generic-no second line printed)
Business & Technology Partnership
Dolphin Classic Golf Tournament
Planned Giving Advisory Council
OFFICE OF THE PRESIDENT
OFFICE OF THE PRESIDENT(Generic - uses different masters)
Community & Government Relations
SCHOOLS/INSTITUTES (Do not print this header)
Alzheimer's Institute
California Institute for Social Business
Henry L. "Hank" Lacayo Institute for Workforce & Community Studies
Martin V. Smith School of Business & Economics
Osher Lifelong Learning Institute at CSU Channel Islands
School of Arts & Sciences
School of Education
MISCELLANEOUS
SITE AUTHORITY# (Generic-no second line printed)
UNIVERSITY OMBUDS (Generic-no second line printed)
Business card options marked with asterisk may include a secondary logo printed in black on the back.
+ Auxiliaries - Associated Students, Inc. and Foundation
# Legislative - Site Authority