To order stationery, please coordinate with the appropriate purchasing contact in your division or visit www.clarksprinting.com/csuci.
The University has a #10 envelope that can be ordered. #10 window envelopes use the same layout.
Imprinted Information
Line 1 and optional Line 2 are editable and imprinted per order using the approved letterhead designations:
Division
Uppercase, bold typeface
(Optional second line) Area, Center, School/Institute or Program Name
Upper/lower case, regular typeface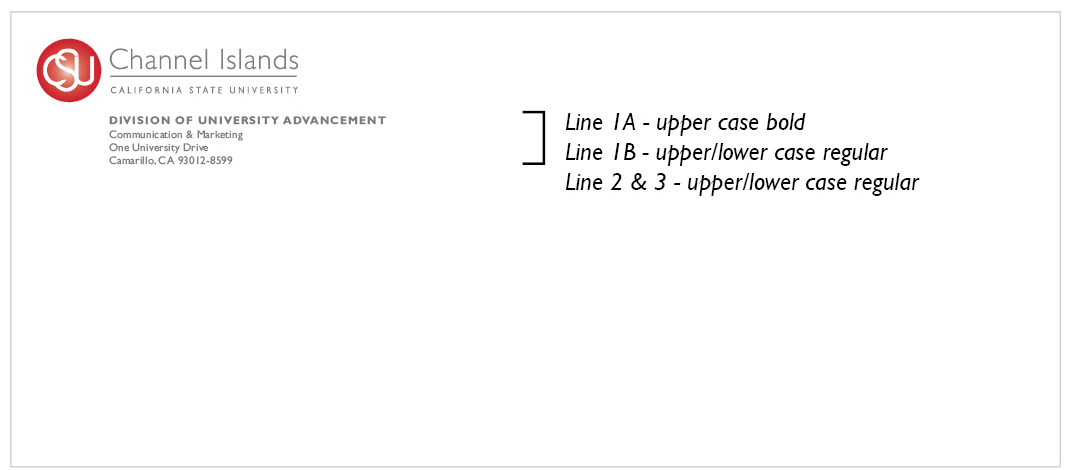 Approved Designations for #10 Envelopes
These designations are available on the stationery ordering website www.clarksprinting.com/csuci. Stationery designations will be continually updated. Please refer to the ordering website for the most updated list of envelope designations which uses the same list as the approved letterhead designations. 
The listing below shows Line 1 options. As of 10/2013, an optional Line 2 below the Division has been approved using approved letterhead designations. 
CENTERS (Do not print this header)

CENTER FOR COMMUNITY ENGAGEMENT
CENTER FOR INTEGRATIVE STUDIES
CENTER FOR INTERNATIONAL AFFAIRS
CENTER FOR MULTICULTURAL ENGAGEMENT
*DIVISIONS (Do not print this header)

OFFICE OF THE PRESIDENT (uses different masters)
DIVISION OF ACADEMIC AFFAIRS
DIVISION OF BUSINESS & FINANCIAL AFFAIRS
DIVISION OF STUDENT AFFAIRS

ASSOCIATED STUDENTS, INC.+

DIVISION OF UNIVERSITY ADVANCEMENT
*If information for Line 2 is desired, use the "Approved Designations for Letterhead" listed here.
OTHER (Do not print this header)
ALZHEIMER'S INSTITUTE
CALIFORNIA INSTITUTE FOR SOCIAL BUSINESS
FOUNDATION+
HENRY L. "HANK" LACAYO INSTITUTE FOR WORKFORCE & COMMUNITY STUDIES
MARTIN V. SMITH SCHOOL OF BUSINESS & ECONOMICS
OSHER LIFELONG LEARNING INSTITUTE AT CSU CHANNEL ISLANDS
SCHOOL OF ARTS & SCIENCES
SCHOOL OF EDUCATION 
SITE AUTHORITY#
UNIVERSITY OMBUDS
+ Auxiliaries - Associated Students, Inc. and Foundation
# Legislative - Site Authority