To order stationery, please coordinate with the appropriate purchasing contact in your division or visit www.clarksprinting.com/csuci.
Imprinted Information
Up to ten lines of information are editable and imprinted per order. Due to limited space, punctuation on academic degrees (e.g., PhD, BA, MA) is optional. Mandatory lines are noted with an asterisk. University-provided information only.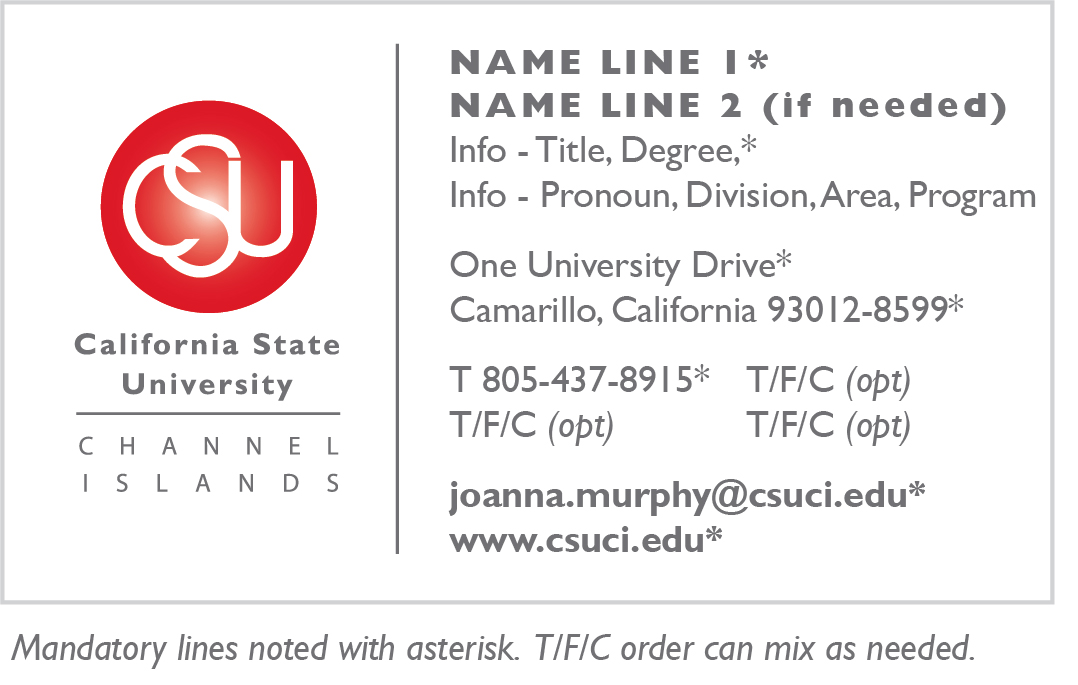 NAME LINE 1* & 2
(Uppercase, bold typeface, Example: NANCY COVARRUBIAS GILL)
INFO* - Title, Degree
INFO - Pronoun, Division, Area, Program
General University Address*
(Upper/lower case, regular typeface, Example: One University Drive
Camarillo, California 93012-8599)
Telephone Number and additional numbers (Telephone, Cell, Fax)
(Regular typeface)
Example: T 805-437-8456
University Email Address
(All lower case, bold typeface)
Example: nancy.gill@csuci.edu
University Website home page◊
(All lower case, bold typeface)
www.csuci.edu
◊ - A university-hosted site such as CI Keys is also approved to list on business cards, placed above the University Website, as space allows.
Approved Designations for Business Cards
These designations are available on the stationery ordering website www.clarksprinting.com/csuci. Stationery designations will be continually updated (updated March 2019 to include Gender Pronoun options; last update July 2019). Please refer to the ordering website for the most updated list of designations.
GENDER PRONOUNS (Do not print this header)
she, her, hers
he, him, his
they, them, theirs
ze, hir/zir, hirs/zirs
CENTERS (Do not print this header)
CENTER FOR COMMUNITY ENGAGEMENT
CENTER FOR INTEGRATIVE STUDIES
CENTER FOR INTERNATIONAL AFFAIRS
CENTER FOR MULTICULTURAL ENGAGEMENT
DIVISION OF ACADEMIC AFFAIRS (Generic-no second line printed)
Provost
Academic Resources
Admissions & Recruitment
AVP Enrollment Management & Marketing
Enrollment Management & Marketing
Extended University & International Programs
Faculty Affairs
Financial Aid & Scholarships
Graduate Studies Center
John Spoor Broome Library
Learning Resource Center
Registrar's Office
Research & Sponsored Programs
Student Academic Success & Equity Initiatives
Student Systems
Title III HSI STEM Project PROMESAS
Title V HSI Project Adelante
Title V HSI Project ALAS
Title V HSI Project iPATH
Title V HSI Project OLAS
Teaching & Learning Innovations
Writing & Multiliteracy Center
DIVISION OF BUSINESS & FINANCIAL AFFAIRS (Generic-no second line printed)
Vice President for Business & Financial Affairs
Administration
Facilities Services
Financial Services
Human Resources
Information Technology Services
Procurement & Contract Services
Public Safety *
Shared Services Solution Center
Special Projects
Student Business Services
Title IX & Inclusion
DIVISION OF STUDENT AFFAIRS (Generic-no second line printed)
Vice President for Student Affairs
ASSOCIATED STUDENTS, INC.+ (Generic-no second line printed)
Academic Advising
Access to College Excellence
Basic Needs
Boating Programs & CIBC
Campus Access, Retention & Equity (CARE) Team
Campus Recreation
Counseling & Psychological Services
Dean of Students office
Disability Accommodations & Support Services
Division of Student Affairs
Dolphin Guardian Scholars Program
Educational Opportunity Program
Housing & Residential Education
Inclusive Student Services
Multicultural Dream Center
Orientation & Engagement Programs
Parent & Family Programs
Student Conduct
Student Health Services
Student Organizations & Involvement
Summer Bridge Programs
Summer Success Academy
University Outreach
Veterans Affairs Program
Wellness Promotion & Education
DIVISION OF UNIVERSITY ADVANCEMENT (Generic-no second line printed)
Alumni & Friends Association
Career Development & Alumni Engagement
Conferences & Events
FOUNDATION+ (Generic-no second line printed)
Business & Technology Partnership
Planned Giving Advisory Council
OFFICE OF THE PRESIDENT (Generic – uses different masters)
Communication & Public Relations
Community & Government Relations
Institutional Research
Regional Educational Partnerships
OTHER (Do not print this header)
SCHOOL OF ARTS & SCIENCES
SCHOOL OF EDUCATION
MARTIN V. SMITH SCHOOL OF BUSINESS & ECONOMICS *
CALIFORNIA INSTITUTE FOR SOCIAL BUSINESS
HENRY L. "HANK" LACAYO INSTITUTE FOR WORKFORCE & COMMUNITY STUDIES *
OSHER LIFELONG LEARNING INSTITUTE AT CSU CHANNEL ISLANDS *
PROGRAMS (Do not print this header)
Anthropology
Applied Physics
Art
Biology
(Business - see MVS School)
Chemistry
Chicana/o Studies
Communication
Computer Science
Early Childhood Studies
(Economics - see MVS School)
English
Environmental Science & Resource Management
Global Studies
Health Science
History
Information Technology
Liberal Studies
Mathematics
Mechatronics Engineering
Nursing
Performing Arts
Political Science
Psychology
Sociology
Spanish
MISCELLANEOUS (Do not print this header)
SITE AUTHORITY# (Generic-no second line printed)
UNIVERSITY OMBUDS (Generic-no second line printed)
Optional "Channel Your Potential" print in black ink on backside available (Sept 2018)
*Business card options marked with asterisk may include a secondary logo printed in black on the back.
+ Auxiliaries - Associated Students, Inc. and Foundation
# Legislative - Site Authority