Extensions
An integral phase of the Dimensional Branding concept, University Extensions will uniformly identify campus entities, allowing for their own expression of the visual brand and instantly recognizable as a part of the umbrella concept.
Divisions
Areas
Centers
Schools/Institutes
Programs
Miscellaneous
A reference list for Extensions is included below. All references have been approved by President's Cabinet. Events and non-permanent areas are only allowed with approval from the respective VP Cabinet member.
Extensions may be used on any collateral print or electronic materials except University stationery, hard copy or electronic.
Existing campus area/organization logos with or without obsolete logos have been phased out and replaced with a University Extension.
If a campus area/organization is not on the approved list above, please contact your Division Vice President or designee. Only VP approved areas/organizations will be added. Communication & Public Relations will produce new Extension files when notified of VP approval.
The President's Cabinet has also endorsed the elimination of any "Office of..." designations on campus except for the Office of the President.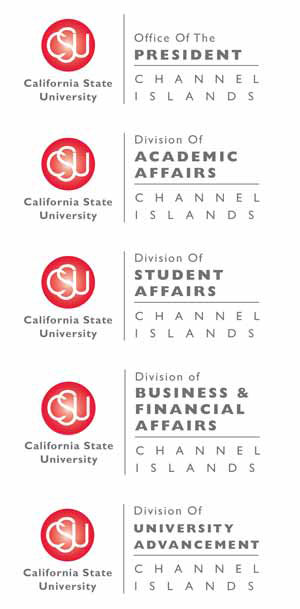 Approved Designations
Extension files available on: Public Drive > Logos Folder > Extensions Folder
CENTERS
Center for Community Engagement
Center for Integrative Studies
Center for International Affairs
Center for Multicultural Engagement
DIVISION OF ACADEMIC AFFAIRS (Generic)
Provost
Academic Affairs Data Analytics
Academic Senate
Admissions & Recruitment
Articulation & Curriculum
Enrollment Management & Marketing
Extended University & International Programs
Faculty Affairs, Success & Equity
Financial Aid & Scholarships
Graduate Studies Center
Instructionally Related Activities
John Spoor Broome Library
Learning Resource Center
Materials, Services, Facilities & Technology
Registrar's Office
Research & Sponsored Programs
Project Adelante Title V HSI
Project ALAS Title V HSI Grant
Project AYUDAS Title III HSI STEM Grant
Project iPATH Title V HSI
Project OLAS Title V HSI
Project PROMESAS Title III HSI STEM Grant
SIGUE: Success and Inclusion for Graduate & Undergraduate Academic Excellence
Student Academic Success & Equity Initiatives
Student Success Tools
Student Systems
Teaching & Learning Innovations
University Experience Program
University Writing & Multiliteracy Center
DIVISION OF BUSINESS & FINANCIAL AFFAIRS (Generic)
Vice President for Business & Financial Affairs
Administration
Application Services
Environmental Health & Safety
Facilities Services
Financial Services
Human Resources
Information Technology Services
Procurement & Logistical Services
Public Safety *
Shared Services Solution Center
Special Projects
Student Business Services
Technology Infrastructure
Title IX & Inclusion
Transportation & Parking Services
University Police Department
User Services
Web Services
DIVISION OF STUDENT AFFAIRS (Generic)
Vice President for Student Affairs
ASSOCIATED STUDENTS, INC. (Generic-no second line printed)
Academic Advising
Access to College Excellence
Basic Needs
Boating Programs & CIBC
Campus Access, Retention & Equity (CARE) Team
Campus Recreation
Counseling & Psychological Services
Dean of Students
Disability Accommodations & Support Services
Dolphin Guardian Scholars Program
Educational Opportunity Program
Housing & Residential Education
Inclusive Student Services
Multicultural Dream Center
Orientation & Engagement Programs
Parent & Family Programs
Student Conduct
Student Health Services
Student Organizations & Involvement
Summer Success Academy
University Outreach
Veterans Affairs Program
Wellness Promotion & Education
DIVISION OF UNIVERSITY ADVANCEMENT (Generic)
Alumni & Friends Association

Black Alumni Chapter - Alumni & Friends Association

Career Development & Alumni Engagement
International Faculty & Staff Association
University Events
FOUNDATION (Generic)

Business & Technology Partnership
Legacy Society
Planned Giving Advisory Council
President's Circle
GROUPS, COUNCILS, ASSOCIATIONS
Black Faculty & Staff Association
ChiLFASA
CSUCI Retiree Association
International Faculty & Staff Association
Staff Council
OFFICE OF THE PRESIDENT (Generic)
Communication & Public Relations
Community & Government Relations
Institutional Research
Regional Educational Partnerships
PROGRAMS
Anthropology
Applied Physics
Art
Asian Pacific Studies
Biology
(Business - see MVS School)
Chemistry
Chicana/o Studies
Communication
Computer Game Design and Development
Computer Science
Early Childhood Studies
(Economics - see MVS School)
English
Environmental Science & Resource Management
Global Languages and Cultures
Global Studies
Health Science
History
Information Technology
Liberal Studies
Mathematics
Mechatronics Engineering
Nursing
Performing Arts
Political Science
Psychology
Sociology
Spanish
SCHOOLS/INSTITUTES
Henry L. "Hank" Lacayo Institute for Workforce & Community Studies
Martin V. Smith School of Business & Economics
Osher Lifelong Learning Institute at CSU Channel Islands
School of Arts & Sciences
School of Education
MISCELLANEOUS
SITE AUTHORITY# (Generic-no second line printed)
UNIVERSITY OMBUDS (Generic-no second line printed)