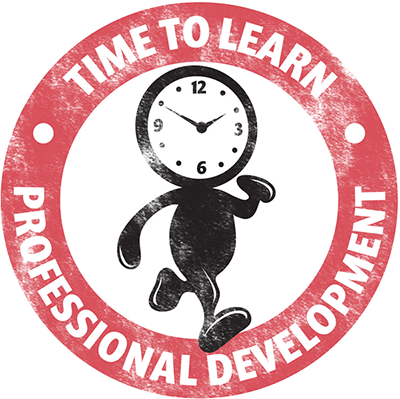 It's Time to Learn!
Your Learning and Development matter, especially during these challenging times. We are committed to keeping you updated and developing "just in time" online trainings as quickly as possible. Don't forget to review the on-demand page where you have the opportunity to develop yourself anytime through CSU Learn, LinkedIn Learning and various recorded sessions.
Don't see any upcoming courses that fit what you're looking for? Let us know! We may have something coming up, and if not, we're always happy to look at adding new courses.
We hope you make professional development a priority in 2020. Take advantage of the courses below to enhance your skills and wellness.
Live On-Line Courses / Top "Just in Time" Courses
Date
Course Description
Time & Location
Oct 19

*What are Your True Colors? Orange, Gold, Green, Blue

Presented by Wendy Olson, Learning and Development Specialist

Don Lowry created the metaphor, "True Colors", in 1978, to translate complicated personality and learning theory into practical information we can all understand and use.  Join me in this easy and entertaining way to understand ourselves and others. This session will help you:

Identify your personality style and work style
Recognize your strengths and weaknesses
Understand your color at work
Build positive and satisfying relationships and teams
Learn how to communicate effectively with all personality styles

*Pre-Work- prior to attending please complete the free online personality assessment and bring results with you. 

RSVP  -  Auto email will be sent to live session link.

9:00a.m.-10:00a.m.

Oct 20

CalPERS Retirement Seminar

Presented by CalPERS representatives, sponsored by HR

Are you prepared for retirement? Do you know what to do? This educational class will help you plan and prepare for retirement. Regardless of where you are in your career, begin now to se­cure your future.

1:30p.m.-4:00p.m.

Oct 21

Microsoft TEAMS overview (encore presentation)

Presented by Microsoft facilitators, sponsored by I.T.

Join Microsoft facilitators as they guide you through the features and functionality of the Microsoft TEAMS system.  Discussion will include an overview of Chat, Meetings, Calls, Files and Teams/Workspaces plus much more.

No RSVP needed.  Join Live Event

10:00a.m.-11:00a.m.

Oct 22

BeCyberSmart | Securing your "Smart" Home

Presented by Carlos Miranda, Associate Director of Information Security

Do you have any of the following smart devices? Cameras, doorbells, smoke detectors, and other internet-enabled devices? October is CyberSecurity Month, and this year's topic is #BeCyberSmart. Join us for a presentation on taking steps to secure your smart home and general best practices around Information Security. There will be 15 minutes at the end of the presentation for Q & A.

We will discuss:

Purchasing a smart device
Usernames and password safety
What IoT is and what to do
Keeping your software up-to-date

RSVP  -  Auto email will be sent to live session link.

10:00a.m.-11:00a.m.

Oct 22

Green Belt Refresher Series: #4: Where are we going? Assessing the Current State, Identifying Value and Creating a New Process

Presented by Brian Lindgren, OE Specialist/Trainer

Now that the "Current State" of the process has been documented step by step, the Green Belt will lead the project team in analyzing each step of the process.  In this session we will walk through our current state (created in Session #3) and identify what process steps add "value" or are necessary to the process and which steps are not.  Keeping only the valuable steps we will create our new process proposal.

RSVP  -  Auto email will be sent to live session link.

2:00p.m.-3:00p.m.

Oct 28

Power Dynamics Series for MPPs #2: My Way or the Highway"- Avoiding Obstinance and Foot-dragging at All Levels

Presented by Mark Patterson, University Ombuds

When uncertainties about capacity, capabilities or status run high, we tend to build walls or try to batter them down. Making things harder, managers often deal with these uncertainties within and without their teams... and themselves. This workshop will present techniques to manage those uncertainties and reframe the "my way or the highway" battles that often follow.

Agreement to abide by the Chatham House (non-disclosure) Rule. https://www.chathamhouse.org/chatham-house-rule#

RSVP  -  Auto email will be sent to live session link.

9:00a.m.-10:00a.m.

 N/A

CSUCI Return to Work During COVID-19

After several months of sheltering in place and working from home, the CSU is starting to welcome essential employees back to the workplace.  All workers must complete this training curriculum, located in the CSU Learn system, prior to beginning work. 

 

*Managers should complete the COVID-19 Hazard Assessment Form and send to HR prior to employee's return.

 

This course was designed to be comprehensive and updated June 3rd, 2020 to comply with Cal/OSHA regulations.  

 

On-Demand 

Can also be found on EHS website under "of special interest"

 
 
 
Remember to alert your Supervisor that you are attending PDPE courses.