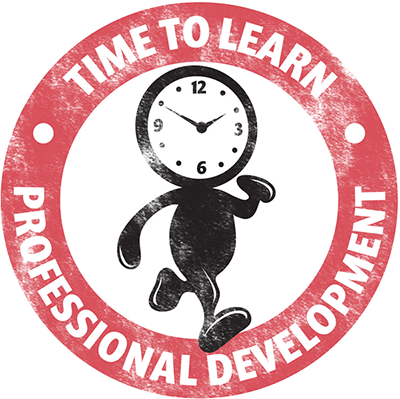 It's Time to Learn!
Your Learning and Development matter, especially during these challenging times. We are committed to keeping you updated and developing "just in time" online trainings as quickly as possible. Don't forget to review the on-demand page where you have the opportunity to develop yourself anytime through CSU Learn and LinkedIn Learning.
Don't see any upcoming courses that fit what you're looking for? Let us know! We may have something coming up, and if not, we're always happy to look at adding new courses.
We hope you make professional development a priority in 2020. Take advantage of the courses below to enhance your skills and wellness.
Upcoming On-Line Courses /Events
Microsoft Recommended Training: Master Working from Home - (20 minutes). Discusses work from home setup, MS Teams tips for organizing, communicating and building an inclusive environment for employees and managers.
Microsoft Recommended Training: Get Started with Microsoft Teams- (60 minutes). Learn the basics of how to use Teams to chat with your colleagues and collaborate on projects.
Date
Course Description
Time & Location

July 14

Green Belt Tools Refresher Series #1:Thinking Lean by Identifying Waste

Presented by Brian Lindgren, OE/Specialist/Trainer

Has it been a while since you completed your Green Belt Training?  Are you feeling like your "Lean" skills need a little sharpening?  Join Brian for the first in a four-part series designed to refresh your Lean skills.

This repeat of our first session will get back to basics by reviewing the 8 wastes and writing a problem statement.

RSVP link coming soon..

 9:00a.m.-10:00a.m.

July 15

Microsoft OneDrive Overview

presented by Microsoft facilitators

Learn about OneDrive functions, setup, storing and retrieving files, and much more.

This encore session will provide an overview of OneDrive and discuss how to:

Access and edit your files
Share inside or outside your organization
Work together in real-time on Office documents
Quickly find files that matter to you

RSVP link coming soon..

10:00a.m.-11:30a.m.

July 16


Green Belt Tools Refresher Series #2:Champion Meeting and Defining the Charter

Presented by Brian Lindgren, OE/Specialist/Trainer

In order to have a lasting impact with process improvement, the Process Champion must be involved to set the scope and direction of the project. Join me in this second session to discuss:

The role of the Champion.
How to lead a Champion Meeting.
How to set the direction of the project by developing a Charter.

If you have not attended the Green Belt Refresher Series #1: "Thinking Lean by Identifying Waste" no worries, you are welcome to join anyway.

RSVP link coming soon...


9:00a.m.-10:00a.m.
 

CSU Learn Course Bundles available:

As part of our "Just in Time" learning and development, course bundles in our CSU Learn system have been created. These are theme based courses, videos and resource sheets that are "packaged" together for easy access. A few examples are listed below.

Mindful Meeting Exercises bundle - do virtually with your co-workers or alone

Communication bundle

Working Virtually (team members) bundle

Return to the Workplace - contains 2 courses and a resource sheet to help managers and employees who are heading back to campus.

1. For employees: Navigating the Post-Pandemic Workplace

2. For managers: Return to the Workplace – Supporting Employees

For managers:Performance Evaluations

 Anytime
Remember to alert your Supervisor that you are attending PDPE courses.