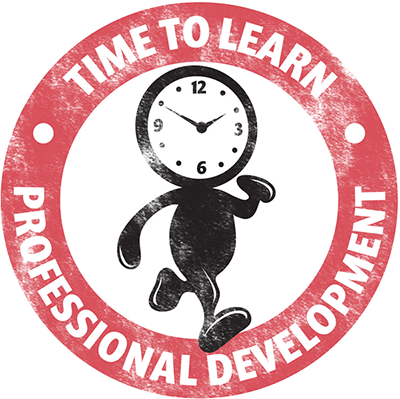 It's Time to Learn!
Your Learning and Development matter.  Review the exciting new sessions available below.  Don't forget to review the on-demand page where you have the opportunity to develop yourself anytime through CSU Learn and LinkedIN Learning.
Don't see any upcoming courses that fit what you're looking for? Let us know! We may have something coming up, and if not, we're always happy to look at adding new courses.
Please RSVP  to attend.  
Upcoming Courses /Events
 *November Spoiler Alert: Mindfulness Monday- November 4; Understanding CSU Admissions-Preparing your child for entrance- November 7; and much more.
Date
Course
Oct 23

Undocumented Student Ally Training: Bronze Level (foundational knowledge)

Natalie Johnson, Underrepresented Student Initiatives

10:00a.m.-12:00p.m., Solano 2210 (ELD)

By engaging in this training session participants will be able to gain the basic information needed to support our Undocumented students on campus. Participants will have the chance to learn terminology to identify and better understand the policies that impact our Undocumented student population. Participants will also have the chance to become informed about some of the lived experiences and barriers that Undocumented students face.

After this session participants will:

Know the national and state policies that impact our student body: AB 540, Deferred Action for Childhood Arrivals (DACA), and California Dream Act
Know the primary resources on campus for Undocumented student support
Identify the four critical barriers that the issue of immigration has on a student's everyday life and academic potential.

Oct 29

CalPERS Retirement Seminar: Planning Your Retirement

CalPERS Representative

1:30p.m.-4:00p.m., Broome 2480

Are you prepared for retirement?  This educational class will help you plan and prepare for retirement. Regardless of where you are in your career, begin now to se­cure your future. Space is limited to 40 participants, so RSVP now.

Oct 30

Managing Probationary Employees (*MPP only)

Angela Portillo, HR & Employee Relations Manager

9:00a.m.-10:30a.m., Solano 2210 (ELD)

This training will provide managers with an understanding of their roles, responsibilities, and suggested best practices for supervising union-represented probationary employees. Attendees will learn about the important timeframes and processes under the various collective bargaining agreements and how to properly document and track employee performance during the probationary period.

*In order to maximize participation, attendees are encouraged to bring with them a list of their employees, their classifications, and their bargaining units.

Nov 4

Mindfulness Mondays

8:30a.m.-9:30a.m., Solano 2210 (ELD)

Staff, Faculty and Students are welcome…

Start your morning off refreshed and ready to go.

Wellness Promotion & Education, together with the Graduate Studies Center and the Professional Development and Personal Enrichment programs, proudly present Mindfulness Mondays! Ever wondered what mindfulness is? How about mindful meditation? The first 30 minutes of the Mindfulness Mondays workshop will provide a brief lesson on the science behind mindfulness and why you should be practicing "mindful" and not "mind-full." The second half of the workshop will provide an open space for learners to explore and practice mindful meditation for up to 30 minutes with their preferred method, plus an opportunity to learn other methods.

Come join us FOR FREE –

no RSVP required! Look for another round in December 
Remember to alert your Supervisor that you are attending PDPE courses.