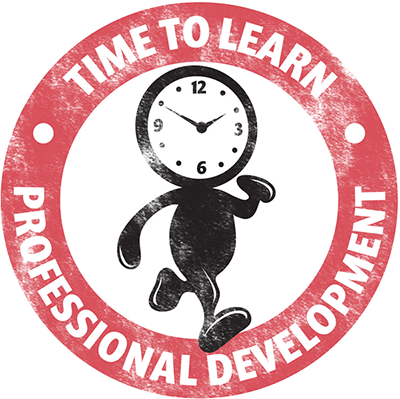 It's Time to Learn!
Your Learning and Development matter. Review the exciting new sessions available below. Don't forget to review the on-demand page where you have the opportunity to develop yourself anytime through CSU Learn and LinkedIn Learning.
Don't see any upcoming courses that fit what you're looking for? Let us know! We may have something coming up, and if not, we're always happy to look at adding new courses.
We hope you make professional development a priority in 2020. Take advantage of the courses below to enhance your skills and wellness.
Upcoming On-Line Courses /Events
"CSU Learn" - Recommended Wellness- Computer Workstation Ergonomics - Setting up your home workstation properly. Please see more details on EHS web page.
Microsoft Recommended Training: Master Working from Home - (20 minutes). Discusses work from home setup, MS Teams tips for organizing, communicating and building an inclusive environment for employees and managers.
Microsoft Recommended Training: Get Started with Microsoft Teams- (60 minutes). Learn the basics of how to use Teams to chat with your colleagues and collaborate on projects.
Date
Course Description
Time & Location
March 27 - April 10


Adobe Sign I & II- Online Sessions via Zoom

presented by Peter Mosinskis, Director of IT Strategy

Adobe Sign is an electronic signature platform that can be used to sign documents electronically (replacing Docusign).

Part 1 requires no prior Adobe Sign experience, and covers the basics of sending existing forms, signing forms, and introduces routing of ad-hoc forms.

Part 2 requires completion of the Part 1 workshop, and covers form design, templates, and workflow.

Zoom information will be provided to those who RSVP below.

various afternoons

60 minutes

April 2


Continuous Improvement Essentials - Online via Zoom

presented by Brian Lindgren, OE Specialist/ Trainer

This workshop is designed for staff to understand the basics of Continuous Improvement at CSUCI using Lean tools. We will discuss:

Your role in helping CSUCI Continually Improve
Learn the basics of Lean and its terminology
Learn how your knowledge can help make CSUCI be more efficient
How the Organizational Effectiveness Team can support you and your department

Zoom Information will be sent to those that RSVP

9:00a.m.-10:30a.m.

April 13


Sustainability Solutions for Work and Home -Online via Zoom


presented by Roxane Beigel-Coryell, Sustainability & Energy Manager

This session will explore methods to incorporate sustainability at work and at home. We will review how CI has integrated sustainability throughout campus operations and the goals we are striving to achieve. Then we will engage in some fun activities to measure your impact plus share practical tips to reduce your impact, save money, and help CI rise as a sustainability leader. Participants will learn how to properly recycle, energy conservation strategies, water conservation tips, alternative transportation options and how to reduce the impact of the food we eat.

Zoom Information will be sent to those that RSVP

10:00a.m. - 11:00a.m.
April 23

Get the Best of Stress - Online

presented by Ellen Contente, Optum EAP representative

In this training, participants will get an overview of stress basics as well as practical suggestions for coping with stressful situations, like in the workplace. The concept of stress hardiness is also introduced as a focus for healthy stress management. In addition, attendees will get tools to help them dial down stress and better understand personal and organizational aspects of stress.

Participants will:

Learn ways to respond to stress differently
Apply several stress management techniques
Identify common sources of stress and our reactions to it

Online Access Information will be sent to those that RSVP

1:30p.m. - 3:00p.m.
Remember to alert your Supervisor that you are attending PDPE courses.