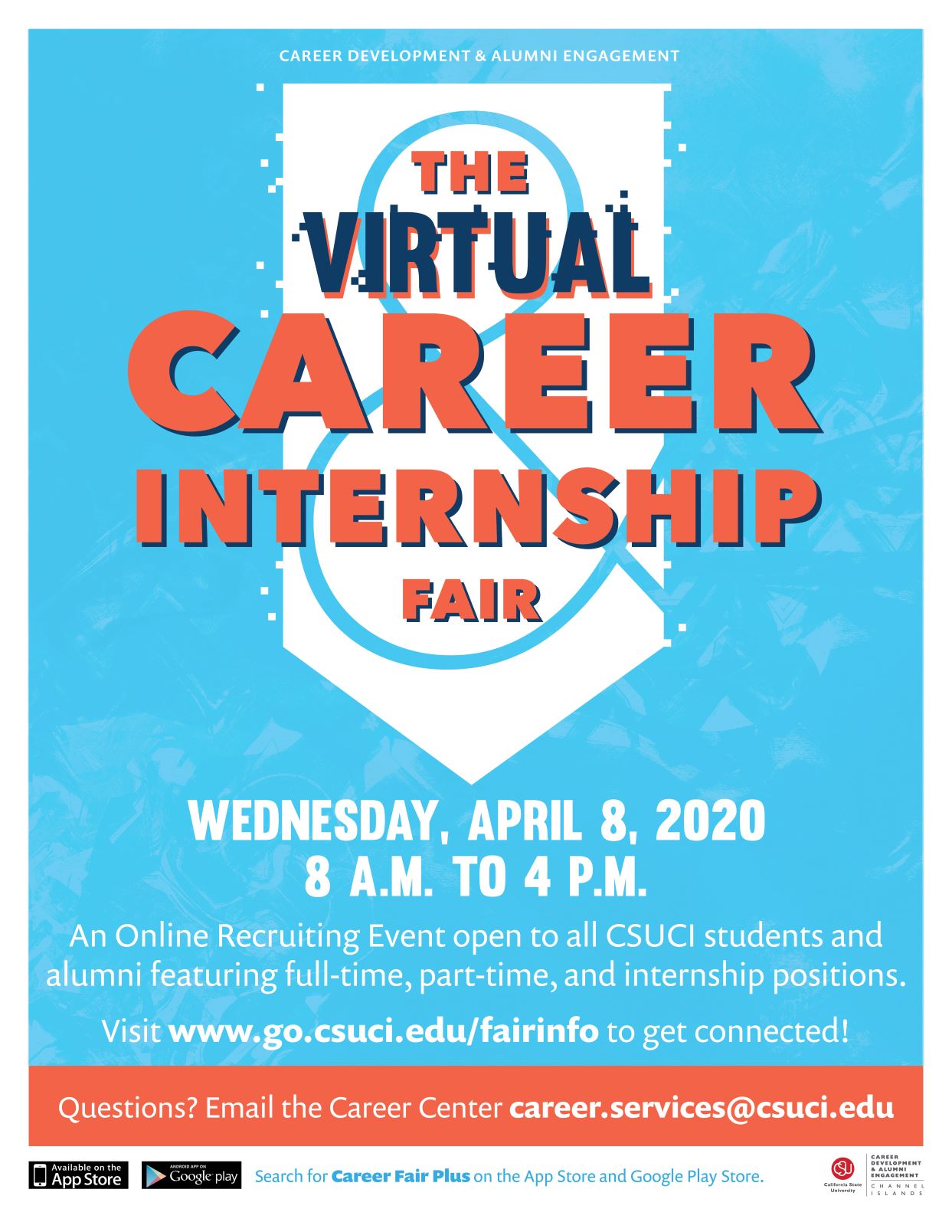 Career Development & Alumni Engagement hosts two major Career & Internship Fairs during the academic year, and offers students and alumni a wide variety of employers, industries, and positions. These fairs are your opportunity to network with local, regional, and national organizations that are actively recruiting to fill internship positions, as well as part-time and/or full-time employment opportunities.
Whether you are seeking your first post-graduation position, researching potential employers and/or industries, or looking for that next level position, the Career & Internship Fair is a must-attend event for all Dolphins!
2020 Spring VIRTUAL Career & Internship Fair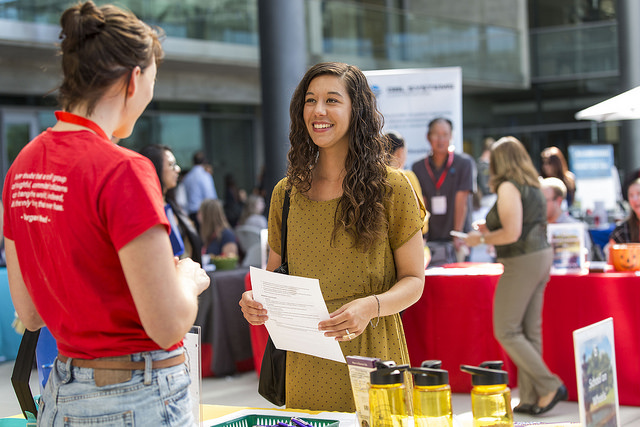 Date: Wednesday, April 8, 2020
Time: 8:00 a.m. - 4:00 p.m.
Location: VIRTUAL via Career Fair Plus
Make the Most of your Virtual Fair Experience
1. What can I expect from a virtual career fair?
It's important to remember, virtual career fairs are just like traditional ones, where employers gather to meet with job seekers and discuss employment opportunities. The only difference here is that it's held virtually on an interactive platform. Virtual career fairs are like online discussion posts. Employers in virtual career fairs are there because they are eager to hire and want to engage with potential candidates. In many ways, virtual career fairs mirror traditional, in-person ones.
Nowadays, employers often screen candidates using phone or virtual interviews prior to conducting an in-person interview. As a result, they save time and money, and can diversify their pool of candidates. It can be appealing to candidates who have limited time and resources for travel. Now, more than ever before, employers will be using this model exclusively. The Virtual Career & Internship Fair will better prepare students and alumni for these rapid changes.
It is easy to feel nervous or intimidated at the prospect of meeting recruiters. What should I say? How should I dress? Is my resume up to par? Career Development & Alumni Engagement (CDAE) staff have resources available to help you prepare:
Virtual Career Fair Guide - CDAE has prepared some helpful tips and guidelines to help you feel successful throughout the process of attending a virtual career fair,Virtual Career Fair Guide, (PDF, 142 KB) Interview Prep Worksheet, (PDF, 87.3 KB) Career Fair Success, (MS PPT, 9.02 MB) Tips for a Phone Interview, (PDF, 381 KB)
Career Center Help - We highly suggest students and alumni contact CDAE for assistance before and after attending this event. Appointments are available via ZOOM or by Phone. Contact us at (805)437-3270 or career.services@csuci.edu
Additional Resources - Resume Resources, Interview Handbook (PDF, 666 KB)
2. Register for the Fair Today!
Career Fair Plus- To register for the fair and to participate, you must download the app on your smart phone or a tablet. Make sure to view our quick video on How to Register for the Fair. Prepare ahead of time and download Career Fair Plus and follow the instructions below.
Create your profile using one of these three options:
Click the blue "Skip the Line" button for the Employer, select a timeslot, and follow the steps to create your Profile; OR
Go to the "Skip the Line" tab at the bottom of the screen to create your Profile; OR
If you already have a Profile you can click "PROFILE" on the top right to review and update.
Once you have created your profile you will need to upload your current resume. Make sure to reach out to the Career Center for resume help. Next, log into the Career Fair Plus App often and click the "Employers" tab as new employers are registering daily. Continue to follow the instructions below.
Find other potential employers you like? Click the employer, click "Skip the Line" and reserve a timeslot.
Recruiter(s) will reach out to you between April 1st and April 7th to verify mode of communication, time, etc.
If you need assistance, please contact the Career Center at career.services@csuci.edu or (805)437-3270.

DOWNLOAD THE APP!
Scan to upload App now!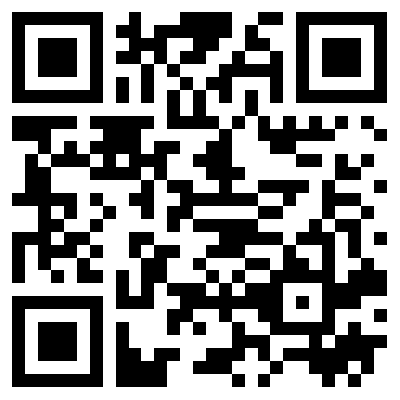 Event Evaluation
Complete an event evaluation after the Career & Internship Fair to assist us with meeting the needs of our students and alumni. All completed evaluations will be entered to win a prize!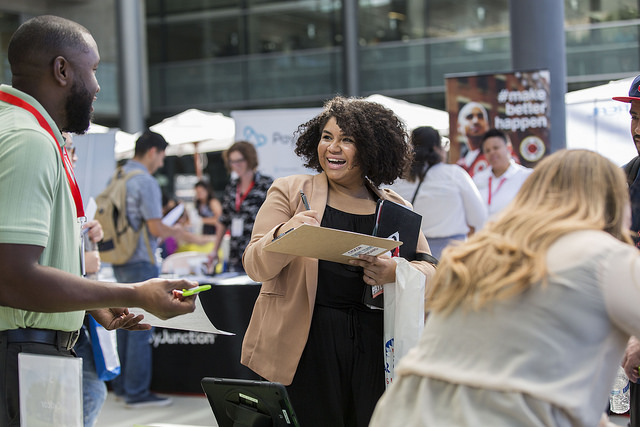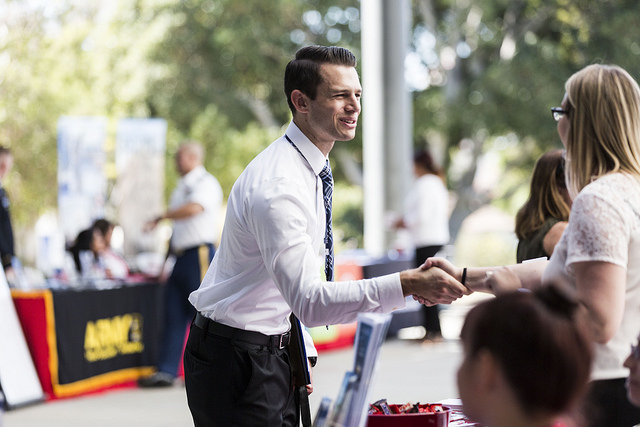 Are you an Employer who has stumbled onto this page? Register now!