It is natural to feel nervous before an interview. We often ask ourselves, "What should I say? How should I dress? What kind of questions will they be asking me? Do I ask questions? Where do I begin?" 
---
Interviewing
Resources:
Interview Handbook

The Interview Handbook guides you through the process on how to respond to common interview questions such as, "Tell me about yourself?" or "Tell me about a time when...?"
Phone/Virtual Interview Tips

Interview Prep Worksheet


The golden rule when answering behavioral interview questions is to use the STAR Method: Situation/Task, Action, Result.
Using this Interview Prep Worksheet can help you prepare to answer behavioral questions and draw from a variety of examples. 
Informational Interviews

An informational interview is an opportunity to connect with someone in your field of interest and to gain information and knowledge about their expertise and the steps they took along the way to obtain their position.
By interviewing someone in your field of interest you will find out tips and strategies on how to enter the field. You will also learn about the challenges associated with the position and get recommendations on how to become a competitive applicant.
Interview Preparation:
Major Area
Typical Questions
How to Prepare

Are you focused?

Do you articulate your career goals and how your skills, interests, and background support your career aspirations?

Typical questions asked include:

What do you see yourself doing in five years?
Describe your ideal job.
What classes did you enjoy the most/least, why?
Do you plan to return to school for further education?

Take some time for self-reflection

Do not just say what they want to hear, really think about what direction you want your career to take, what you want from a job, etc.

If the job is a good fit for you, there will be an intersection between your honest answers and what you will get out of that job.

Do you know about the organization?

Have you taken the time to learn about the company? Do you find the company's work to be important and

interesting?

Typical questions asked include:

Why are you interested in our organization?
What do you know about our services/products?
In what type of setting do you best work? (Do you need few interruptions, do you like working in groups or individually, etc.)

The key for these questions, is to do your research.

Company's website – look at their services; review the staff job titles or biographies if available, etc.

Search on google.com – Internet articles that discuss the company or industry.

Attend a Career & Internship Fair meet with recruiters from local organizations.

Ask around. People you know may be familiar with the organization; get their perspectives.

Are you qualified for this position?

Do you understand the nature of the position and have appropriate qualifications? How do you operate in a work environment? How do you interact with others?

Typical questions include:

What are your greatest strengths and weaknesses?
How does your background relate to the position?
Do you prefer to be directly supervised or to work independently?
What have you learned from some of your previous jobs and activities?

Identify your transferable skills. You may not have had a job that is directly related, but you have built skills that employers want.

Are you a good communicator? When have you demonstrated that previously?

Are you organized? When did you complete a project/assignment or organize an event that required you to juggle many tasks and keep track of multiple deadlines?
Professional Dress
Remember, that you want to make a lasting first impression through professional dress and communicate to employers that you are the person for the job.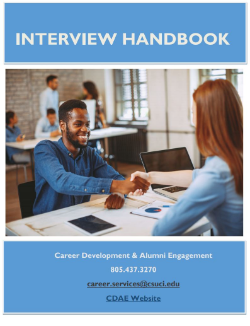 General Guidelines:
A suit is usually best
Wear a long sleeve button up shirt, collared shirt or dress shirt 
Tie is recommended
Wear neutral colors
If you don't own a suit, wear a dark sport coat and nice pants
Dress comfortably and consider wearing something, or bringing something with you that helps you feel comfortable and confident.
Dress professionally for a virtual interview. We tend to display more confidence when we are dressed professionally. 
General Tips:
Prepare your technology and space ahead of time.
Wear minimal jewelry 
Do not wear cologne/perfume. It can be a distraction for the interviewer and some people are sensitive to different odors.
Arrive early to prepare yourself before the interview.
Bring a snack and a bottle of water. 
Bring a Tide stick for unexpected stains/spills on your clothing.
Bring a Notebook or Padfolio and a pen to take notes.
Have your questions ready for the interviewer.
Bring 3 to 5 copies of your resume and references to share with the interviewers.
Mock Interviews
CDAE recommends you schedule an appointment with a Career Counselor to conduct a mock interview and discuss helpful tips and techniques to feel best prepared for an upcoming interview or networking event. For more information please contact us at 805-437-3270 or career.services@csuci.edu.
---
Networking
Networking Resources
Learn how to develop professional networking skills to increase industry contacts in your field of interest with LinkedIn or Dolphin Connect.
Network Like a Pro (PDF, 1.1MB)

Attending networking events is a great opportunity to cultivate and maintain relationships. It can be a mutual exchange of information, advice, and support, and beneficial for both parties.
Virtual Career Fair Guide

Attending a Career Fair can be overwhelming. Preparing for a Career Fair is very similar to preparing for an interview or networking event. 
Dolphin Connect

Connecting the Dolphin Network through mentorship and purposeful connections.
LinkedIn

Allows you to research employers, career fields, industry contacts, and job leads.
Alumni Search Tool

Search for your university (CSU Channel Islands) profile then select the "Alumni" tab to learn about the types of roles alumni have, skill sets, and more.

LinkedIn Learning

FREE courses to make yourself a more competitive applicant. Accessible through your myCI
Local Opportunities
CSUCI Career Center Events

Each semester we host networking workshops and events that are attended by alumni and recruiters. These are great opportunities to practice networking in a low-pressure environment!
Young Professionals Group (YPG)

comprised of young professionals who are members of the Ventura County Chambers of Commerce or prospective members who are interested in creating developmental opportunities. There are many ways to get connected with the YPG including joining the leadership council, volunteering, or serving on a sub-committee. 

As a member of YPG you will: (1) develop advanced leadership skills (2) increase professional development, (3) make valuable networking connections with professionals in the field.
Professional Associations

Professional associations, many of which will allow students to join at a discounted rate, offer an excellent job search resource. We also recommend following them via your LinkedIn profile. 

To find out how to select an association: