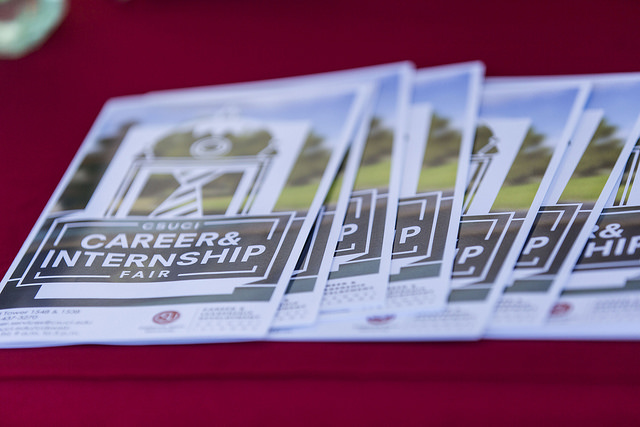 Event Schedule:
8:30 a.m. – 9:45 a.m.              Employer arrival, check-in, & set-up
8:30 a.m. –11:30 a.m.             Self-service continental breakfast
10:00 a.m. – 2:00 p.m.            Career & Internship Fair
12:00 p.m. –1:00 p.m.             Lunch

Continental Breakfast & Lunch:
Continental breakfast will be available on the Broome Library Plaza from 9:00 a.m. - 10:30 a.m.
Lunch will be served from 12:00 p.m. to 1:00 p.m. in Broome Library, 3rd Floor Terrace with seating available.
Reminders:
Please be mindful of inclement weather. Your table will be in located outside placed in either full shade, partial shade, or full sun. We recommend you bring a jacket, hat, sunscreen and/or water to ensure your time at the fair is enjoyable.
Liability Waiver Form (PDF)  (will be collected at check- in from each individual representative)
Each organization will be supplied one table with a red tablecloth and a table sign with the organization's name. Two chairs will be provided per table.
Electrical outlets are accessible in designated areas of the Plaza. Please notify us prior to Fair deadline should you require electricity. Arrangements after the deadline cannot be accommodated.
Guest internet access accounts have been established. An instruction sheet on how to connect to the network will be provided at check-in.
Event volunteers and Career Development & Alumni Engagement staff will be wearing name badges. Please feel free to ask any volunteer or staff member for assistance.

Lodging Information:
If you are traveling from out of the area and need to book a hotel reservation we recommend the Courtyard Camarillo by Courtyard Marriott or the Hampton Inn & Suites Camarillo. CSUCI rates are available.
Courtyard Camarillo
4994 Verdugo Way
Camarillo, CA 93012
805-388-1020
Ask for the Cal State rate at booking, subject to availability. 
Hampton Inn & Suites Camarillo
50 W. Daily Drive
Camarillo, CA 93010
805-389-9898
Use Corporate ID: 0560072378 for special CSUCI rate, subject to availability.
Event Evaluation
Complete an event evaluation after the Career & Internship Fair to assist us with meeting the needs of our student, alumni and participating employers by clicking here. All completed evaluations will be entered to win a free standard registration at the next Career & Internship Fair!