Important Note for Student Employees: 
Student employees are currently not provisioned in Adobe Sign as senders, which will cause errors when students attempt to login to Adobe Sign.
For student employees, a faculty or staff member with access to Adobe Sign should initiate the Telecommuter agreement on behalf of a student; the faculty/staff member should list the student employee's CSUCI email address as the telecommuter. Student employees should request their supervisor submit the temporary telecommuter agreement on their behalf. Once the supervisor initiates the agreement, the student employee will receive an email from echosign@echosign.com with a request to "Review & Sign" the agreement without having to login to Adobe Sign. Thank you for your cooperation. 
Instructions for Faculty & Staff
Watch this 3-minute video for an overview, or read the instructions below: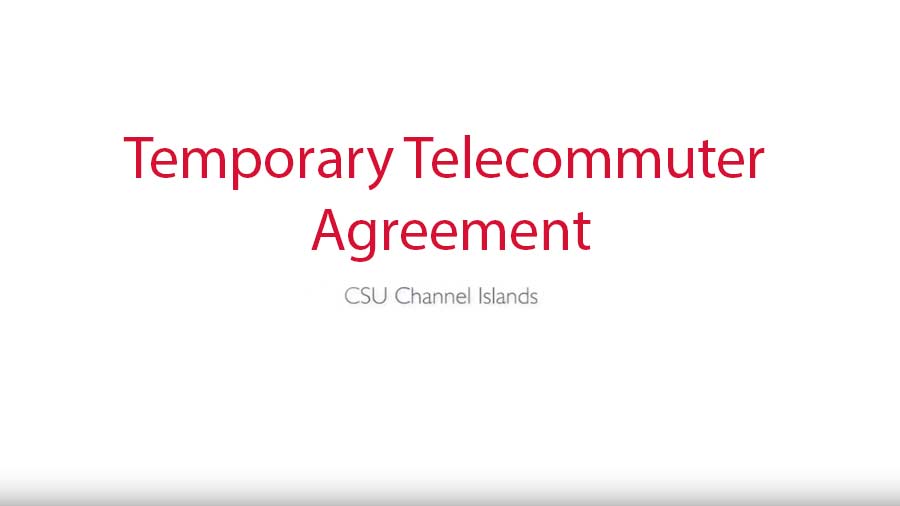 You will be prompted to enter your email address. Enter your CSUCI email address (e.g., peter.mosinskis@csuci.edu) and click the "Sign In" button. If prompted, choose "Company/School Account" 
You will be prompted to login via MyCI. Enter your Dolphin Name and Dolphin Password when prompted. You will also likely need to complete your Duo two-factor authentication. 
Review the instructions. You will need to enter the following email addresses:

Telecommuter: email address for the telecommuter (put your own email address if you are the one making the request)
Appropriate Manager: email address of the telecommuter's manager
Associate VP/Dean: email address of the associate VP or Dean for your unit
Human Resources approval: should be set to laurie.nichols@csuci.edu

Click the "Send" button
If you are the first person to receive the agreement, you will be prompted by Adobe Sign to fill it out. You will also receive an invitation via email to complete the agreement. 
Fill out all required fields (they are marked with a *), and click the "Click to Sign" button at the bottom of the page. Choose to sign the agreement by typing your name, drawing your name, or one of the other available options. 
You will see a success message page once the agreement has been signed. Once signed, the form will be automatically routed via email to the next person in the list for signature. On the success message page, you can click the "Manage this agreement" link to view the status of its signing by others.
Questions?
If you have any questions or problems completing the agreement, please contact Human Resources at Human.Resources@csuci.edu or call 805-437-8490