Oral delivery skills matter!  Visualization techniques matter! Effective communication (oral presentations, videos, research poster pitches) requires attention to delivery and storytelling.
An engaging and effective presenter considers how he or she delivers the presentation (oral delivery techniques) so that audience is emotionally engaged with the subject and the speaker.  This helps increase  interest, makes the presentation memorable, and may help persuade the audience.  In addition an effective presenter considers how the information/argument is framed -- the story of the presentation.
CSU Research Competition and the WMC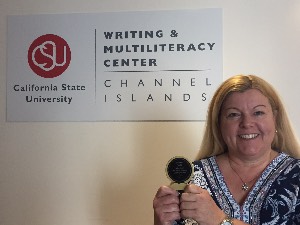 Dierdre Bence, 2nd Place Winner in CSU Student Research Competition 2017
Category:  Behavior and Social Science
Watch the video:  Dierdre's tips on winning at the CSU Research Competition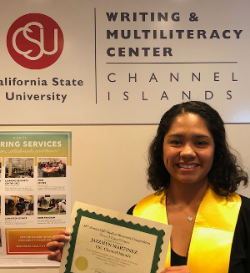 Jazzmin Martinez, 2nd Place Winner in CSU Research Competition 2018
Category:  Behavior and Social Science
Watch the video:  Jazzmin on the CSU Research Competition

The WMC works with CSU's Student Research Committee to prepare students for state-wide CSU Research Competition held every year at a CSU campus.  Student are asked to write 5-page abstract of their research, present for 10 minutes to an interdisciplinary audience, and answer questions.  Last year (2017), Dierdre Bence one of our students in History won 2nd Place in Social and Behavorial Science category, beating students from 21 other CSU campuses! This year (2018), Jazzmin Martinez also won 2nd Place in Social and Behavior Science category. 
WMC Handouts
Presentations/Pitches (slideshow and research posters)
Videos
The following are useful resources for exploring oral delivery, arguments.
Oral Delivery
"Your body language shapes who you are" (Amy Cuddy, TED):  Social psychologist Amy Cuddy's speech will change how you think about your posture, and the body language you use when giving oral presentations.
Tips for public speaking (CBS News with Jennifer Wallace): Tip #1--think of public speaking as a conversation.  By working in interactive questions early on, you can channel your nervousness into positive energy.
Oral/Visual Arguments
"8 Classic Storytelling Techniques" (courtesy of Sparkol):  These eight narrative styles are used in books, movies, journalism, and infographics -- basically any format that tells a story.  They are also effective in presentations, especially because storytelling tend to be more memorable than expository presentations.
Silva Rhetoricae, Figures of Speech:  Want to know why some lines in writing and oral speeches seem to be so memorable?  Figures of speech (particularly "figures of repetition"  like anaphora, repetition at the beginning of a phrase or sentence) can be highly effective ways to emphasize ideas, build emphasis, and draw attention to sounds/words.  Martin Luther King's famous "I Have a Dream" speech is filled with anaphoras.  Try applying one technique in a key line in your speech.