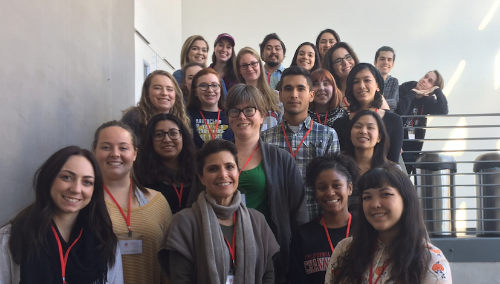 Learn more about the WMC team and why they love what they do: watch our video!
Elizabeth Bennett

Peer Consultant

Junior
English

My areas of specialty in writing are brainstorming and thesis creation. I have an interest in creative writing, intersectional feminism, and the complete animated Disney filmography.

Ashley Cameron

Peer Consultant

Junior
Psychology

I am a junior and a Psychology major. My specialties in writing include literature review papers, organizing ideas, and writing in APA format.

Julia Cheng

Peer Consultant

Junior
English

I'm a transfer here at Channel Islands and I plan on becoming a high school English teacher. I am confident with researching, basic linguistics, and Powerpoints/Prezi. I'm also on the CI View Newspaper.

Lilyan Curtis

Peer Consultant

Junior
Anthropology

I specialize in brainstorming methods to get those thoughts on the page, grammar, creative writing, and conducting research. Even though I am working towards my bachelor's in Anthropology, I am currently trying to finish a young adult novel for publication.

Rafael Deligio

Peer Consultant

Consultant Coordinator

Super Senior
Business major, Communication minor

APA MLA Chicago, technical writing, research/finding sources and incorporating them. Really anything because I can do it all and love it! I have been a panel speaker for the Southern California Writing Center conference.

Scott DeLoach

Faculty Consultant

Multiliteracy Specialist (English)

Madison Desmond

Peer Consultant
Junior
English

I am a junior here at CI and I am an English Education Option major. I have a specialty in creative writing and personal story development, thesis development, and developing argumentative essays. A little tid bit about myself is that I am an aspiring high school English teacher. Other than reading and writing, practically all the time, I also spend the same amount of time eating in-n-out.

Mia Fernandez

Peer Consultant

Junior

Political Science major/
Communication minor

Specialty in database research, argumentative writing, APA citation, and public speaking. I play bass, guitar, and sing in a punk rock band called Raddicus Finch.

Cristal Gamez

Peer Consultant

Junior
English/Education

I specialize in MLA formatting, creative writing, brainstorming,and thesis development. Need help with grammar? I can assist with that too! In my spare time I enjoy writing short stories and reading with my dog Linus by my side.

Megan Herskowitz

Peer Consultant

Senior
English/Education

My areas of interest include researching topics, strong organization, and I like to dabble in creative writing. I have background knowledge in MLA format and have taken Linguistics and Grammar here at CI. Even though my main training has been in academic writing, I like to get out of my comfort zone and write my own creative short stories. I also really like Disney.

Jaimee Horn

Peer Consultant

Sophomore

Health Science / Psychology

As a Health Science and Psychology student, I work a lot with APA citation and formatting. I love working with prompts and developing ideas from the ground up, and also have experience presenting at research conferences. Although I am a science major, I am also a musician and have a great love for reading.

Adam Johnson

Goleta Consultant

Graduated in English

I have a little more life experience than most of the students

here at Channel Islands, and frankly, I think that is invaluably applicable

to almost any type of writing. Research driven papers are where my strength

lies, as I love the challenge of organization and brainstorming.

Rebecca Karathanas

Peer Consultant

Senior

English with double emphasis in Education and Creative Writing

I specialize in academic and creative writing. I work in APA and MLA citation styles, and I am confident in helping students in linguistics and grammar. I have self-published a fiction novel, and am currently working on a collection of poetry and other pieces of creative writing.

Jennifer Kelley

Peer Consultant

Senior

English, Creative Writing

I specialize in pre-writing, strong thesis statements, creative writing, and structure. I write poetry, short stories, and just finished editing my first novel.

Jarret Krone

Assistant Director

Lecturer, Writing & Multiliteracy Center

I am excited to join the WMC as an Assistant Director where I'll be working with both students and faculty. Part of my role is to help students think critically and rhetorically about how to make their multimedia projects and presentations more visually impactful. My strengths as a writing tutor include strategies for research, development of academic inquiries and arguments, and methods for outlining and organization.

Madeline Lanois

Peer Consultant

Senior
English/Education

I enjoy topic research, brainstorming, and reviewing the organization and structure of papers. I also have experience with the linguistics and grammar courses here at CI.; MLA and APA citations. National Novel Writing Month Winner (NaNoWriMo) 2012.

Sohui Lee

Faculty Director

Assistant Professor, Writing & Multiliteracy Center

Undergraduate essays and writing, research projects, graduate writing, research statements, personal statements, application letters, creative thinking, multimedia arguments, visual design rhetoric, oral presentations, time management. All citation styles.

Sheryl (Eddie) Leonard

Faculty Consultant

MA in English

Rhetorics, Creative Writing, TESOL, Business Writing, Oral and Visual Presentations, Documentary Films (production, storyboarding, story development), MLA. I was born with curiosity, a creative spirit, and a pen. I thrive on the process of collaborating on written or visual works,. I'm looking forward to hearing your ideas and helping you develop your projects!

Shay Liess

Faculty Consultant

English

Shay(ne) Liess is a teaching associate at CSU Northridge, currently finishing a MA in English with an emphasis on Creative Writing. Shay specializes in narratives writing, as well as traditional MLA style papers on literature, popular culture, critical theory, and queer/gender studies. As an educator, Shay strives to teach utilizing a combination of traditional texts and contemporary ones like anime and video games.

Jochelle Macalma

Peer Consultant
Junior
Psychology

I love working with science-related topics and ideas, however, other topics are also very interesting to work with! Area of specialty with research, outlines, essay structure, powerpoints, presentations, organization, APA citation, and MLA citation. In addition to academic writing, I enjoy working in the medical field and hands-on clinical experiences. For hobbies and preferences, I love playing the ukulele and spending time with family.

Leah Ostermann

Peer Consultant

Junior
Business

I love backpacking,skiing and almost anything in the great outdoors.

Nick Rada

Peer Consultant

Sophomore
CS/English

I specialize in literary theory and research based writing. I enjoy stretching prompts to fit the purpose and interest of the author - in essence personalization. I have experience in presenting at research conferences as well. I act semi-professionally and do creative writing as a hobby.

Vanessa Rodgers

Peer Consultant

Junior

English/Education emphasis

I specialize in essay structuring in pretty much any discourse. I also provide advice for all forms of communication. I look forward to helping with interesting and/or challenging assignments. I'm happiest when I'm out of doors; I know how to read.

Tiona Sykes

Peer Consultant

Junior

Psychology / counseling emphasis

"I feel most comfortable in the areas of Psychology and Chicana/o Studies and English, but I am excited to step out of my comfort zone and assist with other subjects. As a writer, I am in a constant state of change and learning. I want to help others reach a cohesive and organized final product they are proud of and can say 'I did that!' For me, it can take many drafts to reach a well-written paper, and I must come to the WMC to receive help from my coworkers/tutors. Writing is hard, but I look forward to taking that journey with each and everyone of you."

Luke Travis

Peer Consultant

Junior

Political Science

My specialties lie in working with students on oral presentations, as well as academic paper revision. I have practical experience in both conducting and organizing research. That being said, I have a strong background in creative means of expression as well! I pride myself on being patient and easy to talk to, and enjoy working with students from all walks of life. APA, MLA.

Elizabeth Perez

Student Assistant

Senior

Studio Art

I enjoy drawing a lot so I will most likely have a sketchbook with me.

Jocelyn Serrano

Student Assistant

Emilee Grochowski

Student Assistant

Senior

Performing Arts-Dance Major, Psychology Minor

"I have plans to perform professionally in musicals with the hopes of being in a touring Broadway show. Later in life, I would like to receive my Masters in Dance/Movement Therapy and use self-expression to provide healing and exploration opportunities for individuals who have both mental and physical disabilities."

Deisy Santana

Student Assistant

Junior

Chicano Studies

My academic interest is in Chicano Studies. Something about myself is when I'm not in school or at work, you can most likely find me enjoying the outdoors and going on difficult hikes with scenic views.

Kirsten Sanchez

Student Assistant

If you don't find me at the front desk, I'm probably hiking, shopping, or at Disneyland. I enjoy interacting with new people, so don't be shy to stop by and say hi. I am excited to be a part of the team here at the Writing and Multiliteracy Center!

Emily Cohen

Student Assistant

Senior

Psychology

Although my undergraduate degree (in 4 months)! is in psychology, I plan on getting my masters degree in hospitality. My area of interest in psychology is family and parental relations. I love to be active and being outdoors! I enjoy going on hikes, as well as playing tennis, baseball, and racquetball.