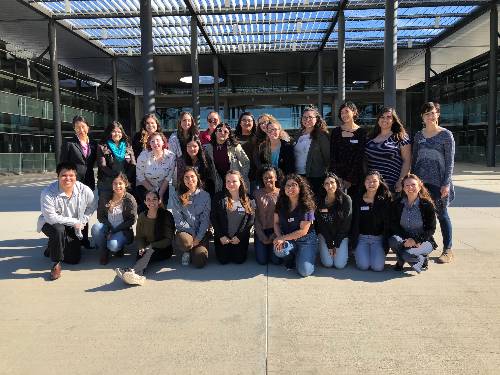 Learn more about the WMC team and why they love what they do: watch our video!
Christabelle Angeles

Peer Consultant In Training
Sophomore
Psychology and Sociology

After writing countless essays throughout my academic career, I specialize in creating essay outlines and building solid theses. As a psychology and sociology major, I am most comfortable with ASA and APA, but I am also familiar with MLA. I have written a couple of vignettes for the local community and also completed a mini novella, but I'm on a mission to find or create a waffle house.

Ashley Cameron

Peer Consultant
Senior
Psychology

My specialties in writing include APA citations, literature reviews, brainstorming ideas and presentations. In my spare time I am either going running or watching cartoons.

Lilyan Curtis

Peer Consultant
Senior
Anthropology

I specialize in creative and scientific writing. I understand Chicago Style citation, but I can help with any citation needs. Even though I'm an anthropology major, I love to write short fictional stories. I am currently working on a young adult novel about chairs.

Chrissie Cutbirth

Peer Consultant In Training
Freshman
English / Creative Writing

I specialize in any type of English writing, especially fiction, narrative, creative writing, along with journalistic writing. I am the only freshman tutor, but have prior knowledge of various writing styles and editing experience. So whether it's putting together a short story or finding an angle, I'll be happy to help!

Scott DeLoach

Multiliteracy Specialist
MA in English, CSU Humboldt)

Madison Desmond

Peer Consultant
Senior
English/Educ

I specialize in creative writing, analysis and effective presentation techniques. I am (unfortunately) a donut addict and would love to sit down with you and chat about your paper, presentation and questions about writing.

Jackie Espinoza

Peer Consultant In Training
Senior
English, emphasis in Education

I have worked with MLA and APA citations. I am bilingual and can help with any paper or presentation in Spanish. I recently wrote my first short story in Spanish. If you want any book recommendations, I am your girl.

Mia Fernandez

Peer Consultant

Senior
Political Science major/
Communication minor

I specialize in APA citations, oral presentations, and persuasive/argumentative writing. I play bass, guitar, and sing in a one-woman punk rock band.

Cristal Gamez

Peer Consultant
Senior
English/Education

I specialize in brainstorming, thesis development, and revisions. I also specialize in oral and powerpoint presentations.

Need help with citations? I specialize in the following: MLA, APA, and Chicago. In my spare time I enjoy writing short stories but I mostly watch Netflix with my dog Linus. I'm a selfie expert.

Megan Herskowitz

Post-Bac Consultant
Graduated with B.A. in
English, emphasis in Education

I have experience in research and academic writing. I'm comfortable in using MLA and APA citation style. I can help with any stage of the writing process, whether it be brainstorming or final drafts. In my spare time, I'm most likely either reading, binge watching a show on Netflix, or at Disneyland.

Jaimee Horn

Peer Consultant
Junior
Health Science / Psychology

As a Health Science and Psychology student, I work primarily with APA in my own classes, but I am happy to help you with any and all citation styles. I love working with prompts and developing ideas from the ground up. I also have experience presenting at research conferences. I spend most of my free time as a musician, avid reader, and designated high-shelf reacher.

Jennifer Johnsen

Peer Consultant In Training
Sophomore
English, emphasis in Education

I love working with any sort of creative writing or long term research projects--at any point in the process. I want to put my heart into helping you with anything that you have put a lot of effort into working on. As an English major I am very comfortable in MLA, but have also had experience in APA and ASA. During my free time, I love listening to and discovering new music.

Abigail Michelini

Assistant Director
Lecturer, Writing & Multiliteracy Center
MA in TESOL, Troy University

Sohui Lee

Faculty Director
Assistant Professor, Writing & Multiliteracy Center
M.A./Ph.D. English (Boston University)

Undergraduate essays and writing, research projects, graduate writing, research statements, personal statements, application letters, creative thinking, multimedia arguments, visual design rhetoric, oral presentations, time management. All citation styles.

Sheryl (Eddie) Leonard

Multiliteracy Specialist
MA in English, CSU Northridge

Rhetorics, Creative Writing, TESOL, Business Writing, Oral and Visual Presentations, Documentary Films (production, storyboarding, story development), MLA. I was born with curiosity, a creative spirit, and a pen. I thrive on the process of collaborating on written or visual works,. I'm looking forward to hearing your ideas and helping you develop your projects!

Shay Liess

Multiliteracy Specialist
MA in English, CSU Northridge

Shay(ne) Liess is a teaching associate at CSU Northridge, currently finishing a MA in English with an emphasis on Creative Writing. Shay specializes in narratives writing, as well as traditional MLA style papers on literature, popular culture, critical theory, and queer/gender studies. As an educator, Shay strives to teach utilizing a combination of traditional texts and contemporary ones like anime and video games.

Jochelle Macalma

Peer Consultant
(Class of 2020) B.A. in Psychology and B.S. in
Nursing

In my previous experiences, I have worked with various writing assignments, research, and project assignments (including capstones). In addition, I have experience working with many citation styles and helping revising final projects and/or writing assignments. The citation styles I am very familiar with are: APA, MLA, and ASA etc. Although I live and breath studying, I enjoy daily walks with my dog and work-out as often as possible.

Leah Ostermann

Peer Consultant
Senior
Business and ESRM

I specialize in Business technical writing and Environmental Science and Resource Management papers. I am always happy to help students with Marketing and Management papers as well as ESRM research projects. I am most confident with MLA and APA citation styles.

I am very interested in researching and finding out the most effective ways to pitch information to students and grasp people's attention at the beginning of a presentations

Vanessa Rodgers

Peer Consultant
Senior
English/Multicultural emphasis

I specialize in essay structuring in pretty much any discourse. I also provide advice for all forms of communication. I look forward to helping with interesting and/or challenging assignments. I'm happiest when I'm out of doors; I know how to read.

Lisa Palencia

Peer Consultant In Training
Junior
Sociology / Health Science, Minor in Psychology

I specialize in ASA and APa citations, research, and other forms of writing, especially those within the sociological field. Since I have completed capstone for sociology, I can also provide a lot of advice for capstone students, especially sociology capstone students. In my free time, I enjoy watching videos on YouTube and reading posts on Reddit.

Lizzie Segovia

Peer Consultant In Training
Sophomore
English, emphasis in Education

I am experienced in MLA and APA citations, personal narratives, fictional writing, and many other types of creative writing. I am a fairly experienced public speaker and can put together speeches and presentations well. I love to write (and even rap) in my free time, and I love giving presentations on things I"m passionate about!

Elizabeth Shabazian

Peer Consultant In Training
Junior
Psychology

As a pscyhology major, I specialize in brainstorming, research, and revising. The citations I am experienced in are APA and MLA. During my free time, I enjoy reading mystery novels, visiting museums or historical sites, and hanging out with my friends.

Jared Sunada

Peer Consultant In Training
Sophomore
English (Creative Writing)
Minor in Game Design, Asian Pacific Studies

I specialize in argumentative/persuasive essays, creative writing, and personal narratives. I can also help with brainstorming for topics. In my free time, I like to do literary analysis, specifically novels, comics, and songs. I also like to look into works that aren't necessarily in prose such as cartoons and video games.

Elena Trigueros

Peer Consultant In Training
Junior
Communications

I specialize in oral presentations and creative writing; APA citation. I am dyslexic and work very hard to be a great writer.

Julia Perez

Student Assistant
Senior
Studio Art with emphasis in Graphic/Motion Design

Aspiring art director for things music related as well as staying connected to the music industry through online music platforms.

I love cats, pico de gallo, and watching scary movies.

Sara Ruiz

Student Assistant
Sophomore
Political Science

I am a big fan of adding humor to academic essays. I love theatre. You can catch me in this fall's production at CI!

Kiana Sailor

Student Assistant
Senior
Biology

My academic interest is the study of the structure and function of the human body.

reland is a place I've always waited to visit (experience) because of the greenery that covers the islands's beautiful coast.

I love the outdoors, meeting new people, and watching romantic comedies.

Jocelyne Serrano

Student Assistant
Senior
Psychology & Political Science Major

When I'm not working or in classes, you would probably find me paoining, cooking, or hanging out with my friends.

Deisy Santana

Student Assistant

Senior

Chicano Studies

My academic interest is in Chicano Studies. When I'm not in school or work at Writing and Multiliteracy Center, you can most likely find me enjoying the outdoors and going on difficult hikes with scenic views.

.

Kirsten Sanchez

Student Assistant

If you don't find me at the front desk, I'm probably hiking, shopping, or at Disneyland. I enjoy interacting with new people, so don't be shy to stop by and say hi. I am excited to be a part of the team here at the Writing and Multiliteracy Center!

Avery Peavy

Student Assistant
Senior
Biochemistry

I am an aspiring medical student interested in changing lives by providing healthy alternatives to the more destructive foods we eat. I want to help those who cannot help themselves while providing care for everyone I come across. I also yearn to study more about our environment so that I can do my part in reducing environmental damage. I love God!