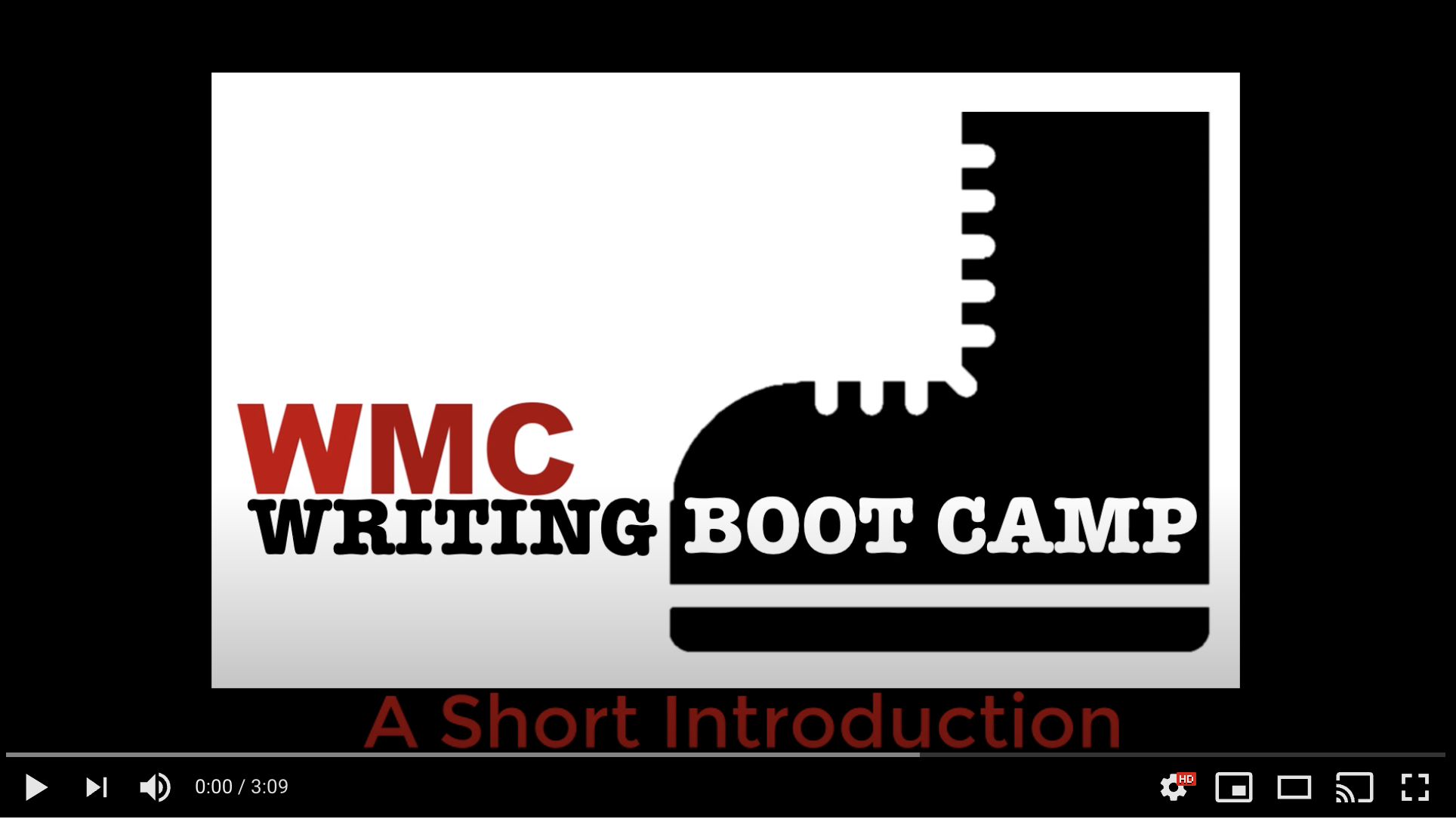 <-Watch our short video and learn how it can help you!

Virtual Writing Boot Camps: Spring 2022
Sessions
#1 Saturday, May 7, 2022
#2 Sunday, May 8, 2022
#3 Saturday, May 14, 2022
#4 Sunday, May 15, 2022
Each session runs 6:00pm to 10:00pm. Sign up for as many as you'd like.
Studies in social motivation suggest that people persevere and stick to finishing difficult tasks when they see others in the room doing the same thing. This is the rationale for group writing environment of the Writing Boot Camp. Writing Boot Camps provide CI students with a quiet, dedicated, and monitored space to write. A WMC faculty consultant is available for feedback and answering questions on writing. Spaces are limited to 25 students per session and require students to register in advance. Students who register must commit to attending the entire session (four hours).
Virtual Writing Boot Camps are FREE, but you must register. Spots are prioritized for capstone students and seniors but any student (including graduate students) may apply.

February 25-26, 2022
Plot-a-thon invites students of all disciplines to explore and expand their skills in plotting and visualizing data.  
Students have five and a half hours to create an visually interesting and revealing infographic from the data visualized using Excel, Tableau, R, or Python. Workshops on these tools are provided during the event. 
No experience in using Excel, Tableau, R, or Python is necessary to participate. Students can join in groups as large as 3 or be designated in an interdisciplinary group. 
Past guest speakers represented Tableau, Atlassian, MarketMaven, and Axios! 
All student participating on the day of the event receive a gift card!
Registration is required. To register or learn more, visit the Plot-a-thon website.
Plot-a-thon is paid for by the Instructionally Related Activities (IRA) Fund and our corporate sponsor TradeDesk.  
Writing & Multiliteracy Workshops 
WMC workshops can be requested by faculty or organizations to support writing, oral, and multimedia communication for undergraduate and graduate students.  WMC also collaborate with faculty to customize workshops to fit the needs of the course and students.  Please contact the Faculty Director  (sohui.lee@csuci.edu) or Assistant Director (abigail.michelini@csuci.edu) for customizing workshops.
Preparing for Graduate School: Open & Free to All Students
The WMC workshops listed below has been videotaped and is available on our WMC Videos page.
Crafting Your Personal Statement (or Statement of Purpose)
Learn how to write an effective personal statement for graduate school applications.
Writing and Time Management
In this workshop, students will learn how to effectively manage long-term writing projects while balancing life obligations. Some goal-setting tools include developing manageable goals, accountability, writing groups, and making the most of your time.
Other Resources:
Tutoring for Graduate Students
Graduate students and students applying for grad school should make an appointment through our online appointment form. Students can make appointments for virtual or in-person consultations with WMC writing experts.