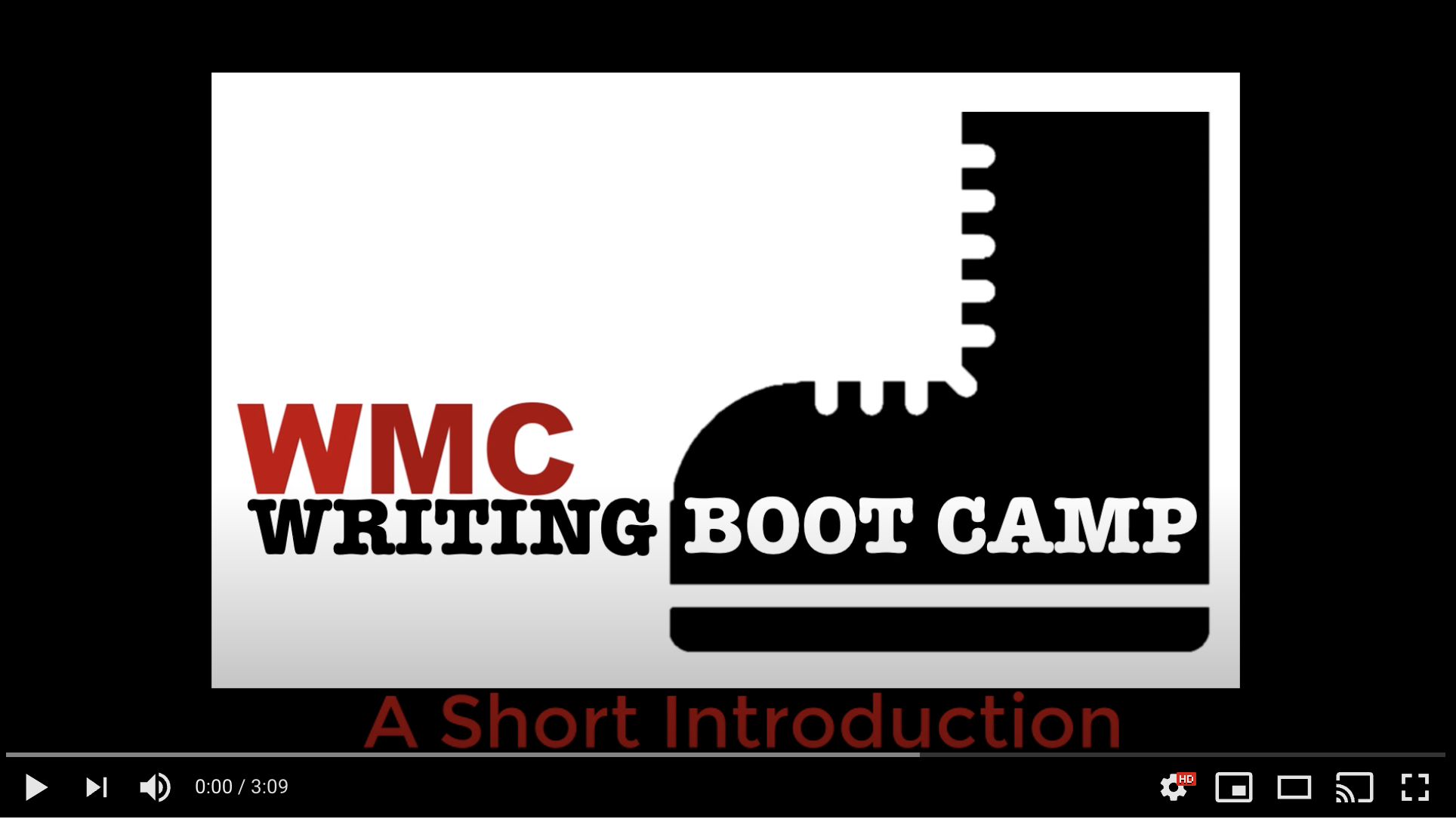 <-Watch our short video and learn how it can help you!

Virtual Writing Boot Camps: Fall 2021
Register now!
Sessions
#1 Saturday, Nov 20, 2021
#2 Sunday,Nov 21, 2021
#3 Saturday, Dec 4, 2021 
#4 Sunday, Dec 5, 2021
Each session runs 6:00pm to 10:00pm. Sign up for as many as you'd like.
Studies in social motivation suggest that people persevere and stick to finishing difficult tasks when they see others in the room doing the same thing. This is the rationale for group writing environment of the Writing Boot Camp. Writing Boot Camps provide CI students with a quiet, dedicated, and monitored space to write. A WMC faculty consultant is available for feedback and answering questions on writing. Spaces are limited to 25 students per session and require students to register in advance. Students who register must commit to attending the entire session (four hours).
Virtual Writing Boot Camps are FREE, but you must register. Spots are prioritized for capstone students and seniors but any student (including graduate students) may apply.
COMING SPRING 2022!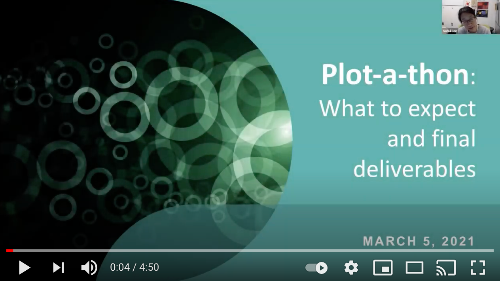 <--You can also watch our video about the Plot-a-thon (click on the image).
Plot-a-thon invites students of all disciplines to explore and expand their skills in plotting and visualizing data.  
Students have five and a half hours to create an visually interesting and revealing infographic from the data visualized using Excel, Tableau, R, or Python.  Workshops on these tools are provided during the event. 
No experience in using Excel, Tableau, R, or Python is necessary to participate.  Students can join in groups as large as 3 or be designated in an interdisciplinary group. 
Guest speakers include a representative from TradeDesk and a data visualization journalist from Axios! 
All student participating on the day of the event receive a gift card!
Registration is required.  To register, visit the Plot-a-thon website.
PAST PRIZES FOR PLOT-A-THON
"Best in Show" Grand Prize--$250 per team member
Best in Excel --$100 per team member
Best in Tableau--$100 per team member
Best in R--$100 per team member
Best in Python--$100 per team member
 Plot-a-thon is paid for by the Instructionally Related Activities (IRA) Fund and our corporate sponsor TradeDesk.  
WMC Studio Hours
Currently WMC Studio Hours is not available, but we hope to make it available in the future Here is a description of our service:

WMC Studio Hours are open for all students (no appointments necessary). Students have an opportunity to actively write in a group environment and get writing support from a professional consultant and one of our peer consultants so that they can keep writing. Each session for writing lasts two hours but students can drop in and leave at any time. While we do not take appointments, students can stop by for 30 minute drop in tutoring on Tuesdays, Wednesdays, and Sundays.
Setting aside time and being motivated to write can be hard -- use WMC Studio Hours to help you keep on track with writing and other communication projects so that you don't fall behind. Read about it (then called "Writing Labs") in CI'sInformation Technology Services Blog.
If students need one-to-one dedicated help for more than 30 minutes, we recommend that they make an appointment with one of our tutors during our regular operational hours.
Preparing for Graduate School: Open & Free to All Students
The WMC workshops listed below has been videotaped and is available on our Workshops page.
Crafting Your Personal Statement (or Statement of Purpose)
Learn how to write an effective personal statement for graduate school applications.
Crafting Your Research Statement
If you are in the STEM field and planning to apply to graduate school programs, this workshop will jumpstart you on writing the research statement.
Writing and Time Management
In this workshop, students will learn how to effectively manage long-term writing projects while balancing life obligations. Some goal-setting tools include developing manageable goals, accountability, writing groups, and making the most of your time.
Other Resources:
Tutoring for Graduate Students
Graduate students and students applying for grad school should make an appointment through our online appointment form. Students can make appointments for online consultations.