Writing Resources: Citation Guides, Handouts, Links
Resources for Courses
WMC Videos On Writing and Presentations
WMC Videos are produced to cover a range of topics related to writing, presentation, and technology-based communication. Many are created by our tutors for CI students.
Resources for Speakers / Presenters
Resources for Communicators: Giving an slideshow presentation? Pitching a research poster? Learn more about oral/visual resources that can help you with understanding oral delivery, impact of body language, storytelling, and rhetorical techniques.
In WMC's main room, we provide computers and software to help you compose with text, visuals, graphics, and audio. We have three iMac stations for student use and they include the following software:
- Microsoft Word, PowerPoint
- iMovie
- Garageband
- Adobe CC suite (Acrobat, Illustrator, InDesign, Photoshop, Premiere Pro),
- Camtasia
Multimedia Room:  Our multimedia room is designed for group tutoring sessions, videotaping, presentation rehearsals with a tutor, working with and creating multimodal projects.  The space includes:
- Green Screen
- Sound Booth for recording and creating audio clips, video
- Presentation space for recording individual or small group presentations
- Space for small group viewing media
The room can be reserved as long as the student(s) work with a tutor.  Please submit an appointment request form to make a reservation.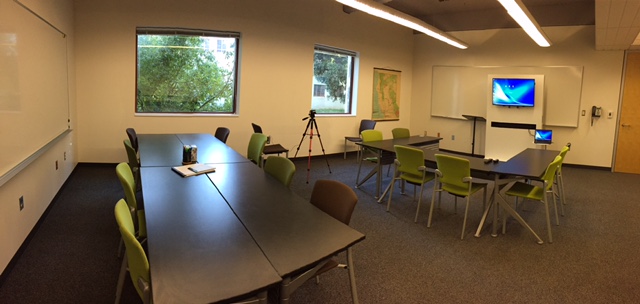 General Services
Our main services are:
one-to-one or group consultations (oral, written),
online consultations, and
workshops (classes, administrative and student groups, and others upon request)
One-to-One or Group Consultations for Writing or Speaking (30m or 1 hour)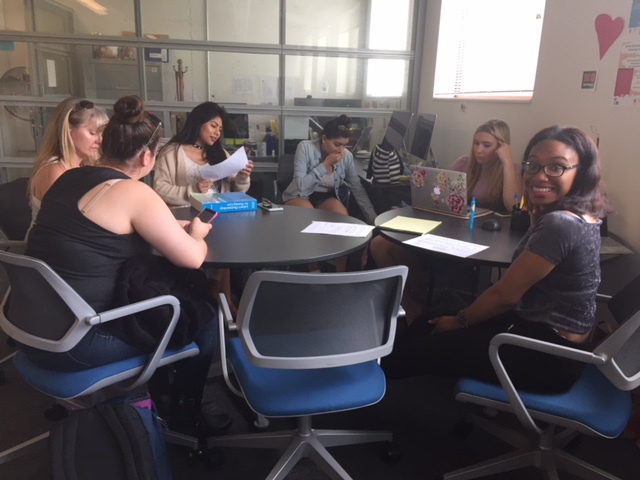 Get personalized feedback and support through one-to-one consultations. Students can sign up for a writing or oral consultation by making an appointment or "dropping in" at the Center. Drop In consultations are provided on a first-come, first-serve basis. Appointments guarantee your session, and we recommend that students make an appointments. Appointments may be made up to two weeks in advance.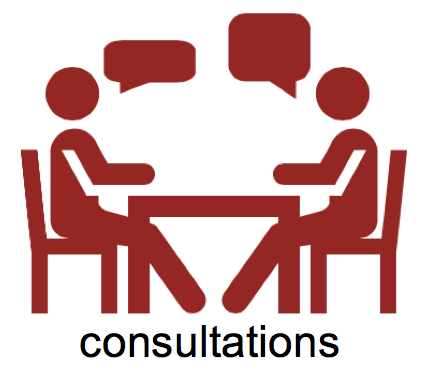 * For oral consultations, we recommend that you call us or make an appointment through email (please visit our page "Making an appointment" for more information.
* Students are limited to two 30-min appointments (1 hour) per week and one drop-in tutoring session (up to 30 min) per day.
Learn more about how to make an appointment for appointments for consultations in the center and for online consultations.
Online Writing Consultations (1 hour)
The WMC Center provides online writing consultations for students unable to visit the Center in person. For instance, you may request online writing consultants if you are studying abroad, commuting far from campus, or you have child-care concerns that prevent you from coming to campus. Normal tutoring hours and rules apply for online writing consultations. Learn more about online writing consultations and what you'll need to do to prepare.
Workshops
The Writing and Multiliteracy Center provide a range of workshops for faculty and students. For more information or to make a request, visit our workshop page.
Services for Students with Diverse Needs
The Writing and Multiliteracy Center strives to serve all CI students and accommodate their diverse learning needs. While most students request 30-minute appointments, we recommend that all students, who would like extra time on writing or communication, request a one-hour appointment. In order to ensure that we provide quality support for as many students as possible, students are limited to one-hour appointments per week. However, students can check in once a day to see if any tutors are available for a drop-in session (up to 30 min).
In addition, students can submit a request for asynchronous voicethread tutoring (learn more): after student submit their request with their assignment, they can receive a recorded video feedback from a tutor within 72 operational hours (may be longer during the summer and winter intercession when we have limited hours). Asynchronous tutoring counts as an hour appointment, but its benefits are many: students can replay the video many times; students can submit their request at any time of day; student do not need to be in person or interact directly with the tutor to get feedback; video/visual feedback may help visual/auditory learners but students can also request text-based feedback and close captioning. If you have any questions, please feel free to email us or visit us online!
Please note that all students, with or without disabilities, must adhere to WMC policies and procedures.
WMC Student Advisory Board
Interested in making a lasting impact at CI and helping the WMC help students? Join the WMC Student Advisory Board. Visit our SAB webpage for more information on how to apply.
Grants, Internships, and Summer Research Opportunities
Please visit our web page listing Student Funding Opportunities.
Subject Tutoring Resources
Please visit this link to learn more about other subject tutoring resources in the Learning Resource Center and programs on campus.