Ways to Make Appointments 
Appointments for WMC consultations are the best way that students can ensure that they will meet with a consultant on CI Campus.  Students can make appointments for individual consultations or for group consultations two weeks in advance.  There are four ways to make an appointment:
Go directly to TutorTrac,
Visit us at the Center to talk to a person,
Call 805-437-8934 during business hours, or email us at writing.tutors@csuci.edu
Send us an appointment request (please provide a day to process)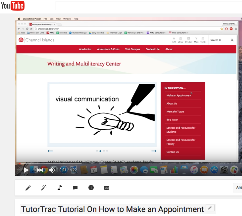 TutorTrac allows students to see all available appointments in a given week.  For more information for how to make an appointment on TutorTrac, please watch our short video.  One of our peer consultants will give you a step-by-step guide for this easy process.  
Making Online and Oral Presentation Appointments 
Online Appointments:  Students may need to make online writing consultations because they are unable to get to campus at the available business hours. This can be due to work, commute, family, or studying abroad. While we believe face-to-face consultations (in person) provide the best interactions and opportunities for learning, we try to provide online consultations that replicate the tutorial experience students would have at the Center. These online consultations are conducted in real time and live through a video conference and Googledocs.  
Oral Appointments:  We now also provide support for speeches, pitches, oral slideshow presentations, conference presentations, etc.  We recommend two 30min appointments (one hour) for both online and oral presentation appointments.
Send us an appointment request
There are limited slots available for both online and oral presentation consultations, so please be sure to make your reservations at least 3 working days in advance for best results.