What is the EMT program?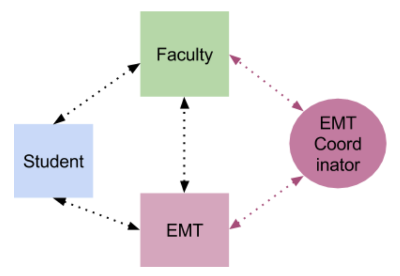 Embedded Multiliteracy Tutors (EMTs) are Writing & Multiliteracy Center tutors who are "embedded" in writing intensive and/or communication intensive courses. Their role has been recently redefined to fit the needs of online (synchronous and asynchronous) as well as hybrid/in person courses.
The EMT is the "go to" or dedicated tutor for the class whenever it is possible, because the tutor has learned about the assignment and course goals in advance. However, because of challenges with schedules, students in courses with EMTs are encouraged to work with any tutor in the WMC if their EMT is not available. EMTs often work with students who work on group projects, so EMTs also help students manage group dynamics, time management, and focus on their project. During tutorial sessions, EMTs work with students whose assignments in the course can include a range of communication projects (essays, research posters, presentations, videos).  For more information for how to use EMTs effectively, please read Emily Spitler-Lawson's TLi blog on using EMTs!
Why should you have an EMT?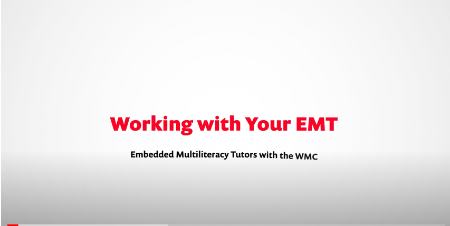 Hanni Jallil, History
How EMTs can support your class:
A video "pitch" or live pitch of our services of their role in the class
Tutorial sessions (one-to-one or with groups) on writing, presentations, or other multiliteracy projects
Record and provide feedback on oral presentations/research poster presentations
Offer general reports (if requested) of patterns and trouble spots of students' work as seen in tutorials
Provide short video or synchronous workshops (making the most out of tutorial sessions, peer review, plagiarism, and possibly other custom workshops)
Make announcements in Canvas to remind students of their availability or send links for students to sign up for appointments with them
Lead mini "boot camp" (2 hour sessions) where students from the class can meet virtually and synchronously to work on their assignments while the tutor is there to answer questions that arise
Attend synchronous class meetings (if applicable) to gather information about a certain assignment or topic
Customize their support if it is possible
What to Expect
The following describes the typical process in which the WMC works with faculty who want EMTs:
Faculty Consultations and the Tutor Plan:
WMC faculty coordinator meet with CI faculty interested in receiving EMT support;
they build a "tutor plan" together working through faculty needs and timing of assignments.
WMC faculty coordinator can also provide assistance in improving or designing new writing/communication assignments.
⇓
Matching: WMC tutors are matched with faculty.
We match by time availability, skill, major, and personality
⇓
Meet & Greet:
WMC faculty coordinator meet with tutors to go over the tutor plan, preparations needed, etc.
Tutors then contact EMT faculty and meet with them to go over the course and course expectations for written and/or oral-visual assignments.
⇓
WMC Canvas Module for EMT Courses:
EMT faculty receive a customized EMT module to embed into their course. It provides general WMC information, EMT's picture and hours, links to make appointments, links to special EMT-led activities, etc. Tutors are also added to the course canvas, and tutors regularly send out messages to students through the Course Canvas such as sign-up reminders.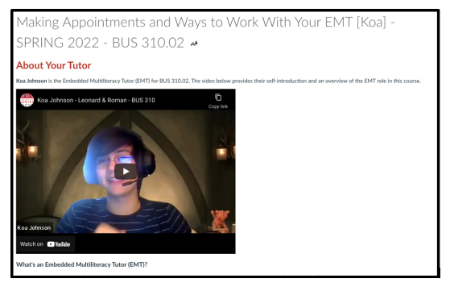 ⇓
Mid-term Check In:
WMC faculty and EMTs check in with faculty regarding how the semester is going.
EMTs report on general number of students who visits, kinds of questions they are getting, etc. Sometimes EMTs meet with faculty again, or faculty ask for additional EMT visits in classes.
⇓
Final Communications and Assessment:
WMC faculty check in with EMT faculty at the end of the semester.
Faculty are provided with a survey to share with students to assess the tutoring sessions.
EMTs also check in with faculty via email to provide an overview of the semester.
Best practices of using EMTs
EMT program works best when faculty are willing to:
Provide a meeting with the EMT to communicate priorities and objects of the course clearly
Stay in touch with the EMT through the semester (receiving feedback and giving feedback at mid term and at the end of the semester)
Provide EMTs with sufficient time to respond to changes of course assignments, or new needs
Consider providing substantial synchronous or asynchronous interactions between EMTs and students in the class
Understand the limitations of the EMTs (may not be able to meet with all students across multiple sections of classes; may be a student of a different discipline) as well as the potentials of EMTS (relate assignments in a way a student might understand, offer backchannel feedback of how students are responding to assignments, etc.)
Be imaginative in how EMTs might help students in writing and/or communicating
Inform your students: share Introduction to the EMT (web information) with your students.
Request an EMT
The Faculty Director and Assistant Director review requests for EMTs based on a variety of factors, including availability of tutors, need, and efficient use of EMTs. Requests should be made a month before the start of the semester.
To make a request, please submit a EMT request form.
If you have any questions, please contact the Faculty Director of the Writing & Multiliteracy Center, Dr. Sohui Lee (Sohui.Lee@csuci.edu).