Equity-Minded Faculty Recruitment
Best Practices of Equity-Minded Tenure-Track Faculty Recruitment: Planning and Processes (9/27/2022) (PDF, 260KB)
If you are building or reviewing faculty recruitments, you can find information on using the CHRS Recruiting system at https://www.csuci.edu/hr/chrs/chrs-recruiting.htm. There are process guides for faculty recruitment. 
Senate Tenure-Track Recruitment Policy (SP 20-08, 05/11/2021) ( PDF, 318KB)
Note: "... goes into effect immediately but will not be applicable to those searches already in progress and having the goal of hiring one or more individuals into the tenure-line faculty before Fall 2023."
Faculty
For current vacancies and to apply to the university for Unit 3 positions (Faculty, Counselors, Extended Education Instructors), please visit our recruitment website here: CSUCI Jobs
Tenure Track Faculty Positions for Fall 2023 Start
MVS School of Business & Economics- Assistant Professor of Marketing
School of Education - Associate Professor or Professor of Counseling and School Psychology
Outreach and Engagement Librarian
School of Education - Associate Professor or Professor in Educational Leadership
School of Education - Assistant Professor of Special Education/Education Specialist
School of Education - Assistant Professor of English Language Arts/Literacy Education

---
Academic Student Employees
The Trustees of the California State University (CSU) recognize the International Union, United Automobile, Aerospace and Agricultural Implement Workers of America (UAW), AFL-CIO and its Local 4123 as the sole and exclusive representative of the bargaining unit (Unit 11) in accordance with the certification by the Public Employment Relations Board (PERB) in petition number LA-RR-1099-H.
Collective Bargaining Unit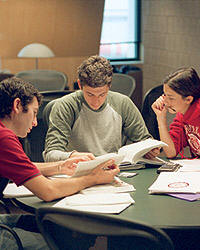 Collective Bargaining Agreement Between the Board of Trustees of The California State University and the United Auto Workers (Unit 11-Academic Student Employees)
Please note:  This is a direct link to System-wide Human Resources at the Chancellor's Office.
Compensation and Benefits
Employment
For current vacancies and to apply to the university for a academic student position, please access Dolphin CareerLink through your myCI student portal under Services.
Instructional Student Assistants
All applicants interested in tutor positions are required to receive recommendations from two current CI faculty members. Recommenders are encouraged to use the Tutor Recommendation Form above; however, letters will also be accepted.
Graduate Assistants
Teaching Associates
Questions about the UAW?
---
General Employment Information
In line with our commitment to innovative systems, applicants shall apply via the Internet on our recruitment website. Those who have difficulty applying via the Internet should call 805-437-8455 for technical assistance, 8-5pm, Mon-Fri, PST. Inquiries for Administrative and Staff positions should be made to Human Resources.
Applicants will need a full curriculum vitae and any other documents required for the position ready in electronic format for submittal. It is possible to begin the application process, save the initial work, and continue the application at a later time.
Please do not send unsolicited hard copy materials to the campus, they will not be considered in lieu of an electronic application.
Employment is contingent upon proof of eligibility to work in the United States.
To view all CSU vacancies, please visit the California State University Job Board.
AN EQUAL OPPORTUNITY/TITLE IX EMPLOYER
Upon request, reasonable accommodation will be provided to individuals with protected disabilities to (a) complete the employment process and (b) perform essential job functions when this does not cause an undue hardship.
---
Compensation
Benefits