Select the links below to jump to the desired section of this page:
Overview of Village
Anacapa Village (AV) is home to over 400 juniors, seniors, transfers, international, and graduate students and is comprised of 87 four-bedroom, two bathroom apartments. Most apartments are shared by six students and offer two single bedrooms and two double bedrooms. Some apartments may be shared by four or five students. Each apartment is fully furnished and includes living and dining room furniture. Anacapa also offers a variety of common areas, including study rooms, computer labs, presentation room, surfboard storage, a built-in barbeque, swimming pool, and hot tub.
Pictures and 360-degree views of AV can be found on the campus virtual tour.
Map
Anacapa Village is labeled as "ANV" on the campus map (near Oxnard Street & Potrero Fields)
Floor Plan & Dimensions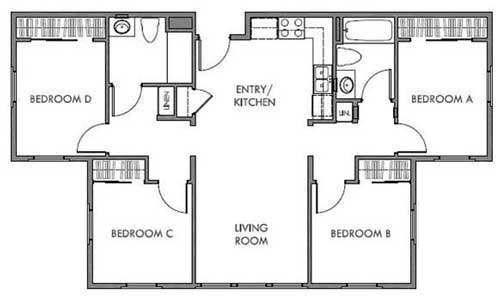 Approximate room dimensions:
A & D bedrooms (may be single or double occupancy): 8'10" X 11'2"
B & C bedrooms (single occupancy rooms): 9'10" X 9'8"
Living Room: 11' X 11'8"
Windows: 4'11" in length & 2' 10" in width
Entire apartment: 958 square feet
Pictures
Click on a thumbnail below to view full size image.
Tip: To navigate to the next or previous image, click on the right or left side of the image window. To exit back to thumbnails click on the "close" button on the right corner of the image window or click anywhere outside of the window area.
Room Rates & Meal Plan Options (2022-23):
Room Rates
| Room Type | Room Fee | Minimum Board Fee | Total Fees | Amount Billed Each Semester |
| --- | --- | --- | --- | --- |
| Single | $12,670 | $1,410 | $14,080 | $7,040 |
Meal Plan
Minimum Board meal plan is the Basic 60, averaging 3.8 meals per week and $125 Flex Cash per semester.
Additional options include:
Other Anacapa Village meal plans:
Any of the Santa Cruz/Santa Rosa meal plan options:

Basic 160
Enhanced 224
Premier 304
See license agreement for pricing and additional information.
Meal credits at Islands Cafe expire on the last day of each semester. Unused flex dollars will roll-over from the fall to spring semester, and will expire on the last day of the spring semester. Unused meals or flex dollars are non-refundable. Students are strongly encouraged to maximize the use of the meal plan benefits to obtain the full value of the plan.
| Dining Plan | Meals per Semester | Flex Cash per Semester | Weekly Meal Average | Total Cost | Amount Billed Each Semester |
| --- | --- | --- | --- | --- | --- |
| Basic 60 | 60 | $125 | 3.8 | $1,410 | $705 |
| Enhanced 75 | 75 | $125 | 4.7 | $1,680 | $840 |
| Premier 90 | 90 | $125 | 5.6 | $1,960 | $980 |