Select the links below to jump to the desired section of this page:
Overview of Village
Santa Rosa Village is CSUCI's newest residence hall, which opened in fall of 2016. It currently houses 600 - 700 freshmen and 15 Resident Advisors (RAs) in 15 pods. Some sophomores may be housed in Santa Rosa depending on occupancy needs. Each RA has a pod of approximately 45 - 55 residents. Each pod has a family room with flat screen TV, refrigerator, microwave, toaster, Keurig machine, sink, couches, kitchen table, and chairs. Study rooms are adjacent to pods and have computers and a printer for residents to use. Santa Rosa is designed as a more traditional residence hall. Bedrooms are primarily double occupancy, although some triple or single occupancy bedrooms may be available depending on occupancy need. Each resident receives an extra-long twin bed and mattress, three drawers, desk, bookshelf, chair, and lockable file cabinet. Each bedroom also has a ceiling fan, cube-sized mini-fridge, and shared closet. Bathroom facilities are shared by gender-specific residents within their pod, and an all-gender/ADA/single bathroom is available as well.
The complex has a large community kitchen with three cooking surfaces and an eating area for use by residents or for cooking lessons. A large community lounge offers several gathering and sitting areas, including bench seating for group projects or meal time, tables with chairs, lounge chairs, TVs, and a game area with a pool table, poker table, and ping-pong table. The village also features a mail room, administrative offices, and a laundry room. The outside courtyard offers additional seating areas, hammocks, and outdoor games. Residents may enjoy the use of amenities within all of the villages.
Santa Rosa Village also features several Living-Learning & Theme Communities.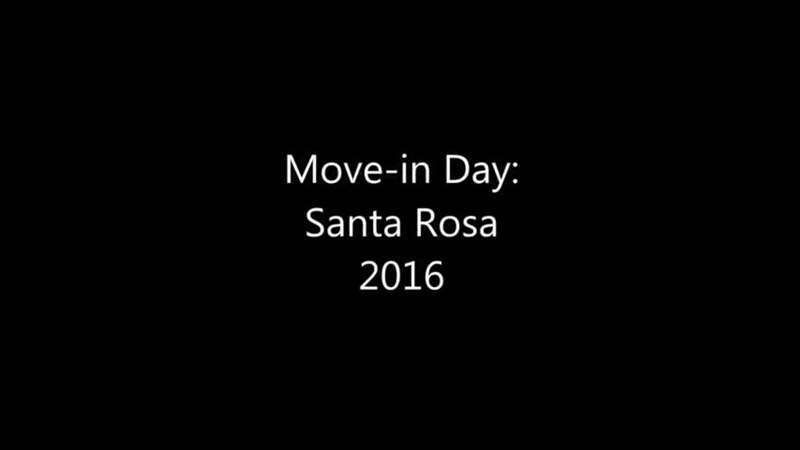 Map & Video Tour
Santa Rosa Village is listed as "SRV" on the campus map (near South Quad).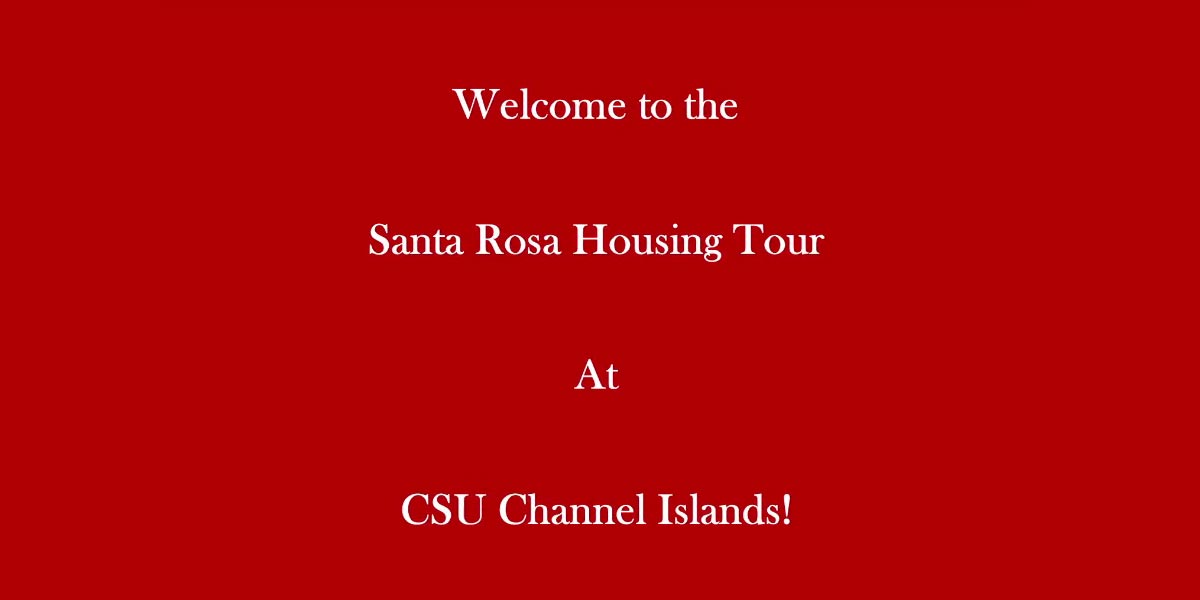 Floor Plan & Dimensions (approximate):
Room Dimensions (approximate):
Triple Occupancy Bedroom: 10'2" X 16'6"
Double Occupancy Bedroom: 9' X 17' or 10'2" X 16'6"
Closet Space: 3'6" X 5'
Furniture Dimensions (approximate):
Extra long twin bed & mattress: 3'2" X 7'1"
Desk & bookshelf: 42"(L) X 24"(D) X 54"(H)
File cabinet (fits under desk): 17" X 24" X 26"
Under bed stackable drawers (3 per resident): 26" X 24" X 10.5"
Square Footage (approximate):
Bedroom: 145 - 175 square feet
Pictures
Click on a thumbnail below to view full size image.
Tip: To navigate to the next or previous image, click on the right or left side of the image window. To exit back to thumbnails click on the "close" button on the right corner of the image window or click anywhere outside of the window area.
---
Exterior Spaces
---
Community Spaces
---
Double Bedrooms
---
Triple Bedrooms
---
Bathrooms
---
Family Room
Room Rates & Meal Plan Options (2022-23):
Room Rates
| Room Type | Room Rate | Minimum Board | Total Cost | Amount Billed Each Semester |
| --- | --- | --- | --- | --- |
| Double | $9,740 | $3,630 | $13,370 | $6,685 |
| Single | $10,820 | $3,630 | $14,450 | $7,225 |
Meal Plan
Minimum Board meal plan is the Basic 160, averaging 10 meals per week and $300 Flex Cash per semester.
Additional Options Include:
Meal credits at Islands Cafe expire on the last day of each semester. Unused flex dollars will roll-over from the fall to spring semester, and will expire on the last day of the spring semester. Unused meals or flex dollars are non-refundable. Students are strongly encouraged to maximize the use of the meal plan benefits to obtain the full value of the plan.
| Dining Plan | Meals per Semester | Flex Cash per Semester | Weekly Meal Average | Total Cost | Amount Billed Each Semester |
| --- | --- | --- | --- | --- | --- |
| Basic 160 | 160 | $300 | 10 | $3,630 | $1,815 |
| Enhanced 224 | 224 | $200 | 14 | $4,500 | $2,250 |
| Premier 304 | 304 | $50 | 19 | $4,920 | $2,460 |