Although CSUCI is now offering virtual class instruction due to COVID-19 developments in the region, the WMC is open to CI students and will provide remote support through synchronous online tutoring using Zoom and Google Docs.
ONLINE TUTORING FOR WRITING AND ORAL COMMUNICATION
Online tutoring are available by appointment and drop-in (based on availability). In addition, online appointments can be individual or group appointments. Appointments can be made by:
Email for Appointment: wmc.tutors@csuci.edu.
Appointment Request Form: WMC appointment request
Live Chat or Online Drop In Tutoring:  

Visit our

 Drop In Room

to see if any tutors are available to meet with you during our working hours.  Drop-In tutoring is 30 min long and based on availability.  You can also drop in to ask our friendly staff about tutoring or to make an appointment.
All responses to the appointment request form will be provided during our regular business hours.
WMC SUMMER TUTORING HOURS
June 1-June 4:
Mondays 10:00am-1:00pm
Tuesdays 10:00am-1:00pm
Wednesdays 10:00am-1:00pm
Thursdays 10:00am-1:00pm
June 8-July 30:
Mondays 10:00am-3:00pm
Tuesdays 10:00am-3:00pm
Wednesdays 10:00am-3:00pm
Thursdays 10:00am-3:00pm

August 3-6:
Monday 10:00am-1:00pm
Tuesday 10:00am-1:00pm
Wednesday 10:00am-1:00pm
Thursday 10:00am-1:00pm
REMOTE WORKSHOPS VIA WEBINARS
WMC will continue to provide class-based workshops through Zoom Webinars (live or recorded). Interested faculty can make a workshop request. Once workshop requests are processed, faculty will be contacted and webinar registration links will be provided to distribute to students.
WMC STUDENT RESOURCES
WMC Tip:  How to Work from Home
WMC Citation Resources--Handouts and Links to APA, ASA, Chicago, MLA, ESA (ESRM), ASM, etc.
WMC Handouts on writing and multimedia/oral communication
WMC Videos on writing and communication
ONLINE PROGRAMS OFFERED SPRING 2020
Virtual Weekend Writing Boot Camp (flyer).  
Write with fellow CI students, stay accountable and get quick writing help with a WMC faculty consultant.  CI students, faculty, and staff are welcome! Virtual Weekend Writing Boot Camps will be offered again in Fall 2020.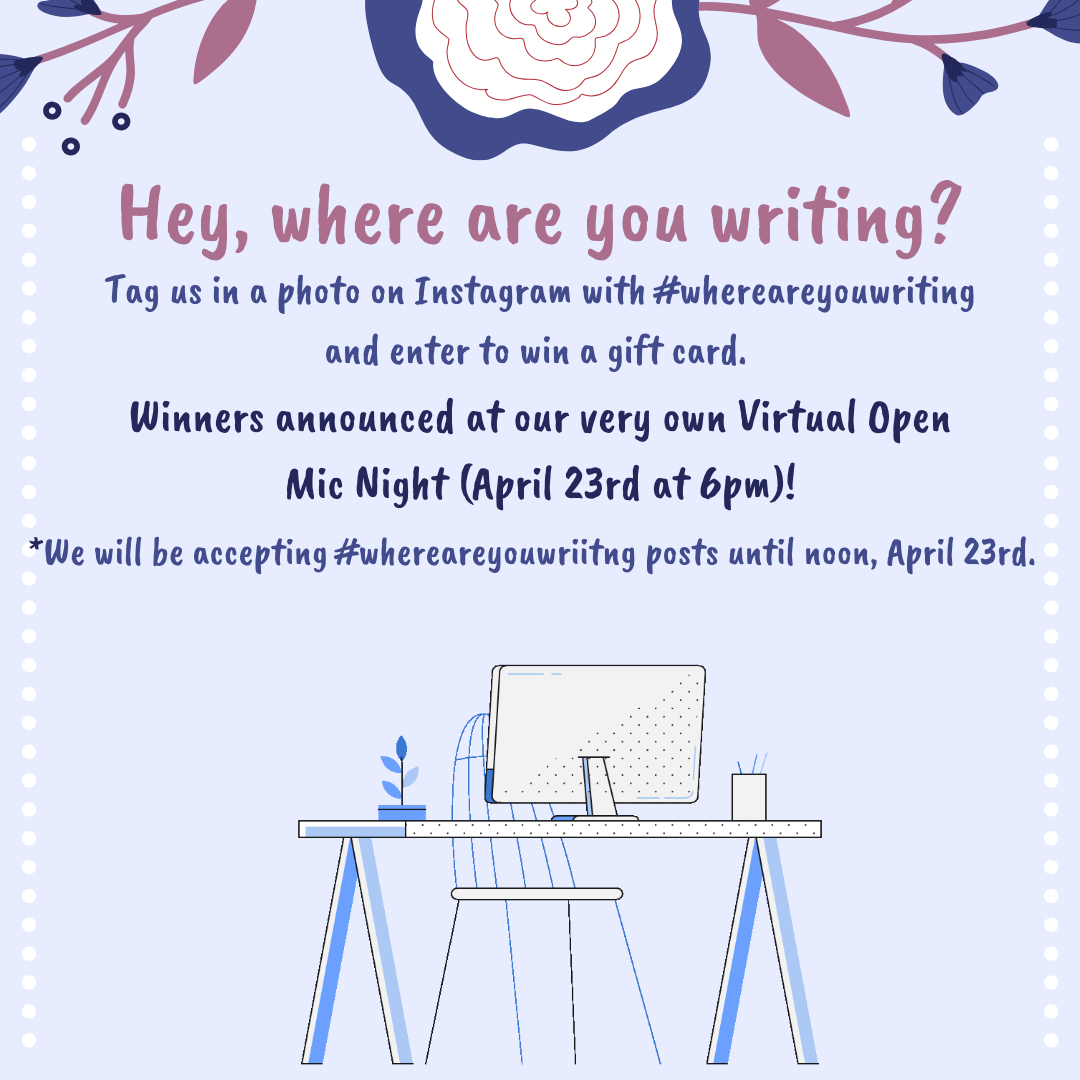 Virtual Open Mic 
CI students met with others online to share poetry, short stories, and music.  Virtual Open Mic will be offered again in Fall 2020.